FURNISHINGS REPORT: D-I-Y!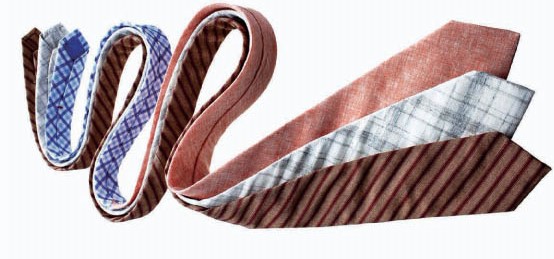 As the furnishings market continues to evolve, better men's specialty stores are finding new ways to stand out.
For Drinkwater's in Cambridge, Mass., it's a combination of a strong custom shirt program, private label filling-in where brands fall short and a point of view when it comes to neckwear.
"We've been doing custom shirts with Individualized for going on nine years and it's a huge part of our business," says Gary Drinkwater. "We're on track to do 1,000 shirts this year, which for a store that's only 1,000 square feet is huge. Last year we did about 700. It's just keeps growing. I tell our customers this is a way of buying where there's no compromise–you get everything you pay for. With a custom shirt, you get everything you want."
With neckwear, Drinkwater's is committed to wovens. "We like the depth and texture of a woven tie, it just has more luster," he adds. "And we tell our customers it's more of an art form than a piece of fabric that's been printed."
Another retailer that took the private label route–and took it even further–is Martin Freeman in Sarasota, Fla. "The Britalia Collection is London meets Milan," explains Harold Freeman. Adds Nelson Martin, "We went to the trouble of having the name 'Britalia Collection' both trademarked and registered, and we protect it and promote it." It's a private label collection of dress shirts ($250 to $300 retail), ties ($135 to $150) and jackets ($1,500 and up). The Britalia dress shirts (made in Italy) have a tailored fit and are offered in several collar styles. Much of the neckwear, made in Como, Italy,is exclusive–Martin Freeman bought the strike-offs from the mill.
Coachman Clothiers in Knoxville, Tenn. takes a stand on their dress shirts: for the last four years, they have carried only cutaway collars. "We all gravitated toward cutaway collars when we were doing custom shirts for ourselves and the guys we thought were really cool were doing the same thing," says Coachman's Jeffrey Openshaw. "So rather than trying to convince guys to try it, we thought, let's not even offer anything else." Coachman does custom shirts with Skip Gambert and Individualized and carries Circle of Gentleman and Gitman Bros.
Market Update
Michael Mombello, PVH Neckwear's SVP of product development & design,says business is picking up after a slow spring, with bow ties and pocket squares selling strong, and prints and seasonals driving the business.
"Men are getting increasingly creative about how they put themselves together," says Mombello. "We're seeing really strong business in alternative fabrications: we're printing on chambray, wool flannel and linen. There are two camps: the guy who's embracing solid ties, and that could mean solid chambray, knit or proper silk with a patterned shirt. Then there's the other guy who's wearing a solid dress shirt and buying ties in plaids and checks. We make it seasonal anywhere we can, in linen, cotton or silk blends for spring."