GIANLUCA ISAIA ON HOW RETAILERS CAN HELP MEN FOSTER THEIR PERSONAL STYLE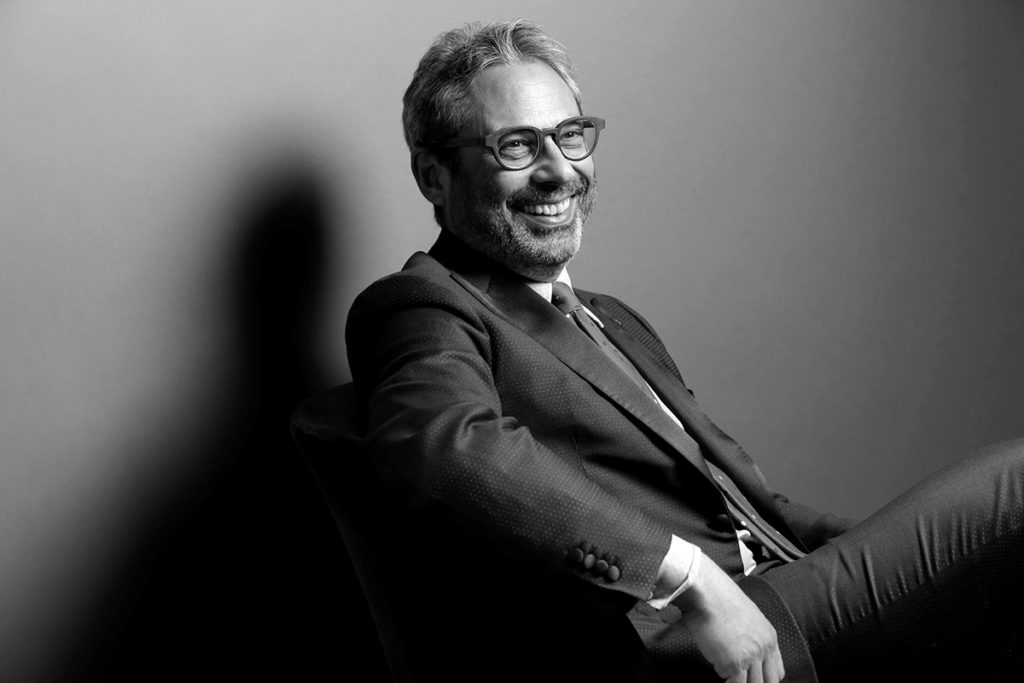 Founded in Naples in the 1920s, Italian luxury lifestyle brand Isaia reflects the essence of Neapolitan sartorial tradition, re-interpreted in a contemporary way. Worn by stylish men around the globe, we wanted to catch-up with the tastemaker running one of the hottest luxury tailored brands around.
Here, we chat with Gianluca Isaia, third-generation CEO, about how American men can create a personal sense of style, how retailers can help them do so, and how a family business can survive in today's highly competitive era.
Q: Did you always want to be part of the family business?
A: I've always been passionate about my work, and hope to inspire those I work with to bring the same level of dedication, creativity, and appreciation for Napoli's sartorial tradition to everything we do. However, I spend much of my time in Capri, (especially in summer), and am always entertaining and hosting. If I had to choose another career, I would likely become a hotelier and open a boutique hotel (perhaps on Capri). I would create an environment where interesting people from all over the world could come and experience the best of Capri or Napoli in a luxe but eccentric environment.  (Of course with the best wines, art, food, etc).
Q: What are the challenges and rewards of running a multinational fashion company?
A: I am most proud that next year, in 2017, we will be celebrating the 60th anniversary of our brand in Napoli. We have held true to our traditions as a family-owned company, but have also grown immensely by always looked to what is new and contemporary. (We call it contemporary tradition.)
Of course, there are many challenges running an international business: adapting best practices in each market requires a bit of patience. For instance, business rules and product assortment that might work in Beverly Hills are different than what works well in Mongolia. Even so, while understanding these differences, we must keep a consistent brand message. Recently, we launched our e-commerce platform globally, which presents a whole new set of challenges that we didn't have to deal with before. Luckily, I have a fantastic team with expertise in multiple areas to help guide us.
Advertisement
Q: What are Isaia's best-selling items in the fall '16 collection? The best booked for spring '17?
A: Our fall/winter 2016 collection is dedicated to the 25th anniversary of Isaia in New York City, which was our first place of distribution in the U.S. The collection features exclusive-to-us reinterpretations of amazing fabrics from our historical archives that are recreated in today's most luxe fabrics. The patterns are extremely interesting and have a touch of vintage feel to them. Also our overcoats are selling well this season: they feature multiple colors, textures and cuts that make them unique yet classically elegant.
Of course, with the rise of business casual dressing, we've put a lot of focus into developing the ultimate luxury sportswear items for the Isaia man to wear to the office. This season's focus was creating the ultimate polo shirt to be worn under a sportcoat. Made of cashmere and silk in a variety of colors, it speaks to the man who knows that dressing down never means sacrificing luxury.
Q: Why are Italian men so much more adventurous than American men when it comes to fashion? What can be done to raise the bar for American men?
A: True style comes from being comfortable in your own skin. In Italia we have a word called "sprezzatura" which roughly translates to having effortless style and not appearing to try too hard. The art of being well put together and elegant without appearing to try too hard is something that is in our DNA. However, we have seen a great resurgence in men all over the world caring more about what they wear and trying new things. It's a gradual education process and fortunately, things are changing.  The most difficult aspect with American men is introducing them to proper fit. There is a misconception that in order for a suit to be comfortable it must be loose and big! This is not true! A suit is most comfortable when it fits you appropriately.
Q: Among your U.S. accounts, what distinguishes the more successful stores from the less successful ones?
A: The most successful retailers are the ones who are helping their customers discover their own sense of style. One cannot buy true style: you must create it for yourself.
Q: You are known for your very fashionable personal style: can you describe it? What do you generally wear to work? To go out at night? To lounge around the house?
A: I am very well known for wearing my suits with sandals, handmade in Capri. I love the summer and the warmer weather, and do not love wearing shoes. (Of course when I go to NYC in the winter, I must wear my Isaia shoes and cashmere socks.) Also, some men don't like to wear ties, but I wear one every day to work. It is the most important accessory a gentleman can wear. (Have you seen my video of what makes our ties so special? I will send it to you!)
Advertisement
Q: What are some of your other interests/passions? What do you do to relax? What's your favorite vacation spot?
A: Capri is my "happy place" – I love entertaining and enjoying the island and surrounding areas by boat. I frequently cruise back and forth from Napoli to Capri. We recently opened a boutique on Capri where we enjoy live music and aperitivo at night with clients, celebrities, and friends who visit the island. I also love the music of Guido Lembo, who plays at the world famous Anema E Core on Capri.  I am very fortunate because my job takes me all over the world, and I enjoy experiencing different cultures and markets. I live on a plane.
Q: Who are your mentors or role models, in business and in life? What is the most important lesson you've learned? 
A: Three people who have influenced me the most in life and in my career are 1) My father, Enrico Isaia. 2) Sergio Loro Piana 3) the late Murray Pearlstein of Louis, Boston. The most important lesson I have learned from all three: When you decide to do something, do it in the right way and with all your passion, or don't do it at all. These three men embody that spirit.
Q: As a family business, is there an heir apparent?
A: Managing an international family business is both rewarding and difficult. These days, to run a company, the heir apparent must show personal growth and then prove himself a strong manager. He must be prepared and ready from day one to bring great value to the company. We are no longer in a day and age where it's okay to be handed a leadership position just because of your last name.  Today's competition is much tougher than yesterday: you have to understand and master all aspects of the business to ensure success. In our family, we've all agreed on this, which bodes well for our future. Already, our brand is distributed in the finest stores across globe and we are poised for further growth: at wholesale, with stand-alone boutiques, and now online.