IDEA LAB TO HOST FIRST POP-UP SHOP IN KINGSTON, NEW YORK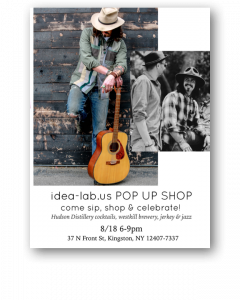 Idea Lab, a recently launched website that specializes in men's sportswear and accesories that is made from recycled and salvaged materials, will hold their first pop-up event at 37 N. Front Street in Kingston, New York on Friday, August 18 from 6pm to 9pm. The event will also allow guest o sample Hudson Distillery cocktails.
The company's initial limited edition collection, which features  military inspired shapes, vintage denim and handcrafted details, was launched on August 1. The company has also partnered with other handcrafted brands such as J. Augur, Matias Denim and Penelope Cream. In the fall, Idea Lab will expand its offerings to include novelty knits, sweaters, pants, and other non-apparel items.
Prices range from $125 to $228 for shirts, $128 to $175 for most bottoms and $250 to $600 for handmade jackets. In additon, accessory prices can vary from $88 to $1,500.
"We believe the process of up-cycling materials will help chip away at the excess and reduce landfills," state co-founders Glenn Mance and Ben Stock. "We are too much of a 'throw-away' society, and that needs to change if we're to keep the planet in good health for future generations."