IT'S TIME TO CELEBRATE NATIONAL SUNGLASSES DAY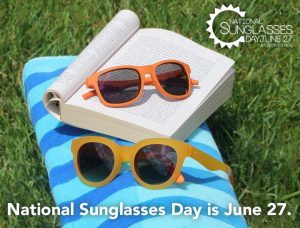 June 27 is National Sunglasses Day, a now-commemorative date sponsored by the Vision Council to remind consumers about the importance of wearing ultraviolet (UV)-protective sunwear and eyewear.
While millions of Americans make the conscious and seemingly harmless decision to not wear sunglasses or other UV-protective eyewear, this habit carries serious vision risks, many of which are not known or understood by those who fail to wear protective frames. For example, UV radiation is often recognized as the culprit for sunburns and skin cancer, as the sun's unfiltered UV rays can harm unprotected eyes.
In addition, spending a full day outside without adequate protection to UV rays can cause immediate, temporary issues, such as swollen or red eyes, and hypersensitivity to light. Moreover, years of cumulative exposure can cause cancer of the eye or eyelid.
If you want to participate in National Sunglasses Day, you are encouraged to post a #SunglassSelfie of yourself in your sunglasses to the social media channel of your choice using #NationalSunglassesDay.