DEF LEPPARD COLLABORATES WITH SIX HUNDRED FOUR ON LIMITED EDITION SNEAKERS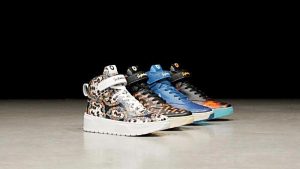 Luxury etailer Six Hundred Four has created a limited-edition collaboration of 604 sneakers with iconic rock band Def Leppard. Each of these individually numbered pairs of the sneakers is made utilizing specialized printers, so that each art piece is essentially tattooed onto the shoes, allowing them to be worn freely without fearing the art will peel or crumble away.
Consisting of four different styles, the premium collection draws inspiration from the album art of Def Leppard's three most iconic albums, "On Through the Night," "Pyromania" and "Hysteria," along with a style dedicated to their highly recognizable Def Leppard logo. The sneakers will retail for $269.
"It all started last summer when Phil Cohlen, the lead guitarist, entered our store," says James Lepp, founder of Six Hundred Four. "That resulted in a 30-pair exclusive collaboration with him, and now has led to a full collaboration with Def Leppard. Like the Phil Collen series, the Def Leppard collection will be unlike anything that's hit the market before."
Adds Cohen: I know first-hand how thoughtfully they treat collaborations. From seeing this new Def Leppard collection, it's no surprise that the shoes look flawless." Meanwhile, the group's lead singer Joe Elliott says: "I always knew the fans we're going to love the shoes, but when I finally saw the shoes in person, I fell in love with them. I'm looking forward to wearing them on stage