HOW LIZ RODBELL WORKS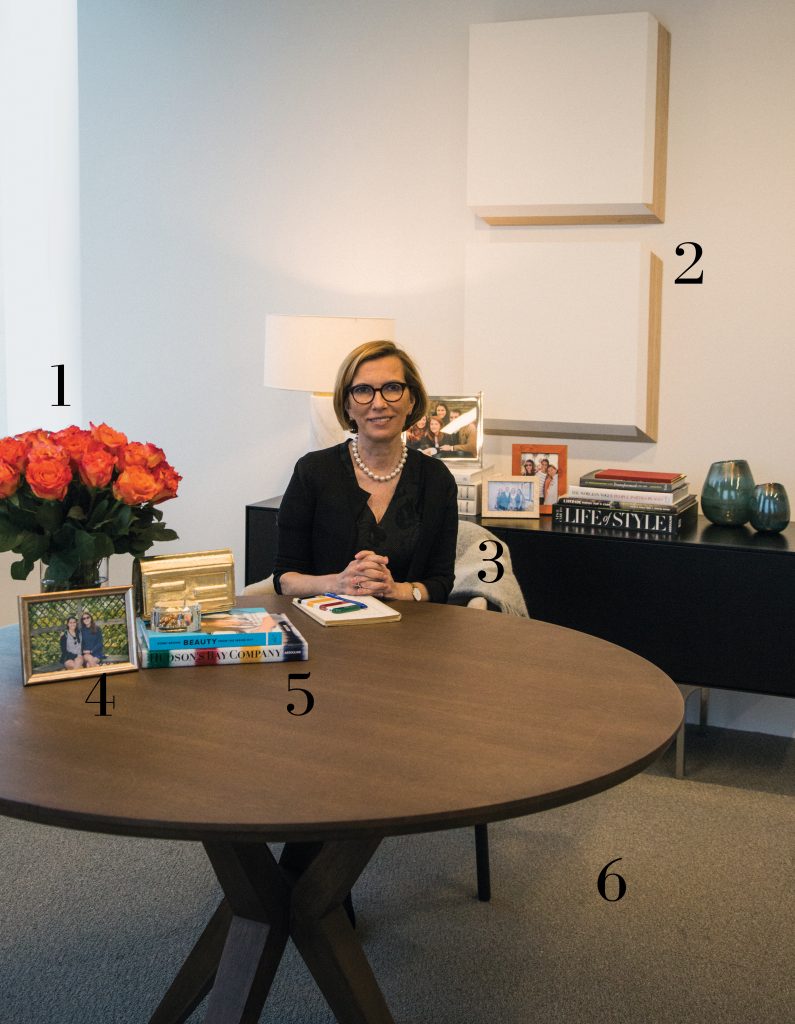 The president of Lord & Taylor, Liz Rodbell began her career in retailing over three decades ago as a dress buyer for the store. Since then, she has worked her way up the ranks to the top leadership, while also finding time to be a wife and mother. (She was named "Outstanding Mother of the Year" in 2015 by the Mother's Day Council.) I recently spent the morning in her executive living room to see how she works.
1. FREE SPIRIT ROSES If you're lucky enough to ever receive flowers from Rodbell, it will be these gorgeous, pink, coral and orange Free Spirit Roses. The rose has a long history at Lord & Taylor. It's an iconic brand symbol that was first introduced by the store's then-president Dorothy Shaver, in 1946. Lord & Taylor re-introduced the rose to customers last year. The Free Spirit signifies Lord & Taylor's adventurous spirit and modern approach to fashion.
2. THE ART This white/wood geometric artwork is "Tranche, 2016" by Stéphane La Rue. It is part of the HBC Global Art Collection, for which Lisa Baker, wife of HBC's governor and executive chairman Richard Baker, is the director and chief curator. This amazing collection of art is scattered throughout the company's chic headquarters in Manhattan's trendy Financial District.
3. THE ICONIC PATTERN Hudson Bay Company, is famously known for its iconic "4 stripe" blanket, which has been interpreted into everything from Swiss-Army knives and canoes to iPhone covers, such as the one Rodbell herself carries. The Caribou Ice Throw, which sits on the back of Rodbell's chair, was released earlier this year in honor of Canada's 150th Anniversary.
4. THE DAUGHTERS Rodbell's two daughters, Hannah, 21 and Sarah, 17, provide a live-in focus group for the retail executive, who does listen to what they have to say. About 10 years ago, Rodbell met with Sam Edelman and told him that he had to sell his line to Lord & Taylor because one of her daughters was incessantly asking about it. She and Edelman are still doing a great business together.
5. BOBBI BROWN Makeup guru Bobbi Brown recently re-launched herself as a lifestyle brand and chose Lord & Taylor to be her retail partner. She has done numerous appearances around the country with the store and Rodbell feels that she is the perfect fit for the Lord & Taylor woman to identify with.
6. DAY INTO EVENING Like most high-profile retail executives, Rodbell finds herself going out almost every night of the work week. She streamlines this process by relying primarily on black dresses (Lord & Taylor is "America's Dress Address" after all). She wears them to work all day and then does a quick change of shoes, bags and jewelry to create her nighttime look.