MAJESTIC ATHLETIC ENLISTS PLAYERS FOR NEW MAJOR LEAGUE BASEBALL CAMPAIGN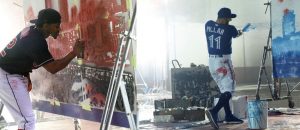 Majestic Athletic, which designs, markets and manufactures performance athletic apparel, team uniforms, outerwear and licensed athletic wear, as well as being the maker of the official on-field uniform of Major League Baseball, will unveil its new "My Team My Colors" campaign at the beginning of the MLB season. The campaign will be shown across multimedia platforms including MLB.COM, MLB Network, MLB venues, and with leading retailer partners.
The campaign emphasizes the deep-rooted connection between player, fan and city by showcasing player personalities as they paint a canvas depicting their MLB city, along with their team colors, using their tools of the trade. Pitchers threw paint-covered balls and sluggers swung away at them in individual shoots. Majestic's 30 player-ambassadors include a representative from each MLB club and include such high-profile names as Noah Syndergaard, Kyle Schwarber, Miguel Cabrera, Francisco Lindor, Giancarlo Stanton, Gary Sanchez, Nolan Arenado and Joc Pederson.
"We are fortunate to have a group of top MLB player-ambassadors that wear cutting-edge, on-field product providing a broad color pallet," said David Goerke, VP of marketing. "We wanted to tell a dynamic story in an unexpected way with great energy and passion. This campaign will expand our social ecosystem because it's just so vibrant and fun. The players were covered in paint and they loved it!"
Added Evan Kaplan, Major League Baseball Players Association's director of licensing and business development: "Our guys respond positively to creative storytelling through music, art and fashion. I attended the Majestic shoots in Los Angeles and there was literally paint flying off the bats and balls. The players were very engaged, enjoyed the creative process, and it's reflected in the finished product."