MARINE LAYER DEBUTS NATIONAL PARK FOUNDATION CHARITABLE T-SHIRTS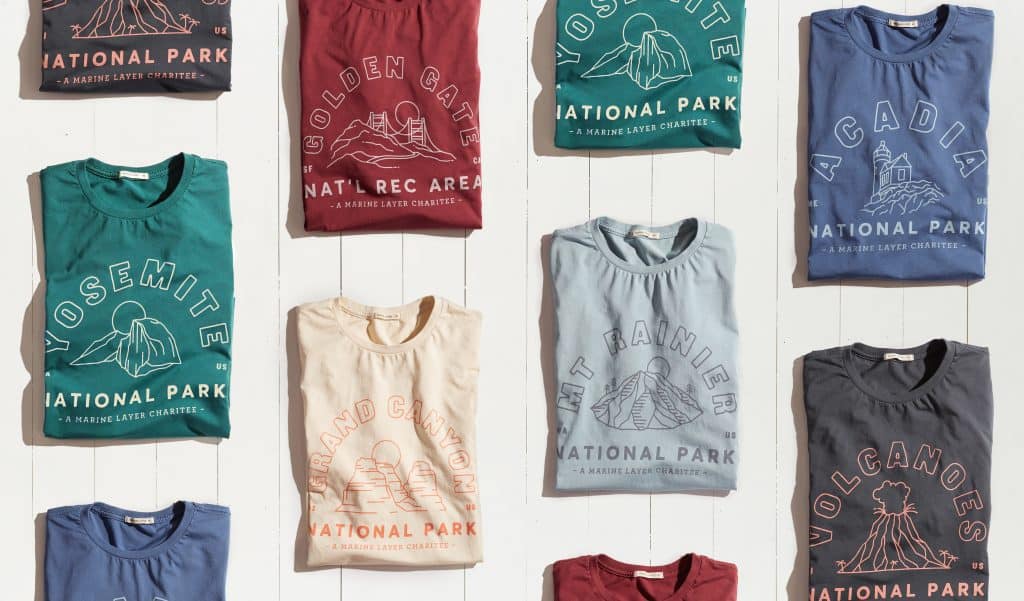 San Francisco-based independent brand Marine Layer, known for its soft and sustainable fabrics, has launched a new collaboration with the National Park Foundation.
The line consists of a group of T-shirts that feature special-edition graphics. The initial launch will include men's and women's tees with custom graphics based on six different national parks: Mount Rainier National Park, Yosemite National Park, Golden Gate National Recreation Area, Grand Canyon National Park, Hawai'i Volcanoes National Park, and Acadia National Park.
As part of the brand's "charitees" program, which aims to support local communities, $15 of each shirt sold will go directly to the National Park Foundation to help support America's national parks and programs.
"This is a great project all around," said Michael Natenshon, CEO of Marine Layer. "It was an amazing design opportunity for us, our customers are getting some awesome new shirts, and we're going to make our largest charitee donation ever to an organization we all feel a strong connection to."
"For more than a century, our national parks have been inspiring people's wanderlust and we're thrilled to continue this tradition through our partnership with Marine Layer," added Stefanie Mathew, vice president of corporate partnerships at the National Park Foundation. "With these new park-inspired t-shirt designs, people can show off their love for our parks and support them at the same time."
Marine Layer's partnership with the National Park Foundation will extend through July 31, 2018, and will generate a minimum of $50,000 to go directly toward the National Park Foundation's mission to protect national parks through preservation efforts, connect all people to them, and engage the next generation of park supporters.