MEN'S WEARHOUSE TEAMS UP WITH CHRIS LONG FOR ITS 11TH ANNUAL SUIT DRIVE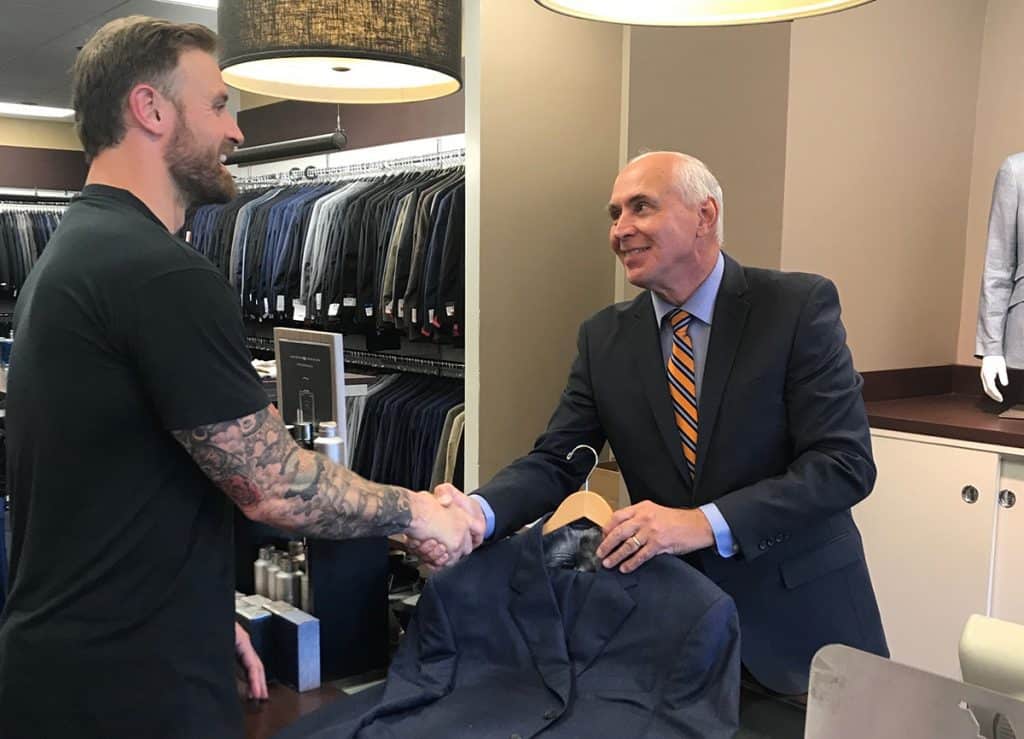 As Men's Wearhouse continues its 11th annual Suit Drive throughout July, the company is teaming up with football star Chris Long to collect donations of gently-used professional attire for unemployed Americans. Attire collected at Men's Wearhouse stores through July 31st will be distributed to more than 150 local non-profit organizations across the country that help disadvantaged individuals regain employment through job readiness programs and workforce assistance.
"Training for the upcoming season, I can personally relate to the feeling of empowerment when you suit up for a day on the field," said Long. "When you're getting ready for a job interview, it's similar to preparing for a game – you need to approach it with a positive, confident attitude. By donating to the Men's Wearhouse Suit Drive, you're helping people head into their next interview with the right mindset to score the job."
Men's Wearhouse is also partnering with both the National Basketball Coaches Association (NBCA) and the National Hockey League Coaches Association (NHLCA) to generate awareness for the Men's Wearhouse Suit Drive. Coaches including Steve Kerr (Golden State Warriors), Kenny Atkinson (Brooklyn Nets), Fred Hoiberg (Chicago Bulls), Rick Carlisle (Dallas Mavericks), John Stevens (Los Angeles Kings), Jeff Blashill (Detroit Red Wings) and others have committed to donating suits of their own.
"Our strength as a team helped us win the championship this year, and we want to use that same team mentality to rally our communities to come out and support the Men's Wearhouse Suit Drive this July," said Coach Steve Kerr, head coach of the Golden State Warriors. "This continues to be an important cause for the NBCA, and we hope our fans will join us in helping Americans put their best foot forward as they seek employment."
Over the past ten years, the Men's Wearhouse Suit Drive has collected more than 1.6 million items of professional clothing. People can donate their gently-used professional clothing, including men's and women's suits, ties, jackets, shirts, pants, belts and shoes at more than 750 Men's Wearhouse locations across the country. As a thank you, donors will receive 50 percent off their next purchase of regular priced retail items (excluding shoes, clearance, custom and Exceptional Value items).
"We're proud to support the Men's Wearhouse Suit Drive for the second year in a row," said Gerard Gallant, head coach of the Vegas Golden Knights. "It is a privilege to partner with Men's Wearhouse and call upon our fellow coaches, fans and players to donate towards this life-changing cause."