MODERN TIMES: FASHION-FORWARD LOOKS ARE DOMINATING SPRING '19 CONTEMPORARY COLLECTIONS
The contemporary menswear category continues to serve up more fashion-forward options to its customers, as it faces increasing competition from the streetwear juggernaut. Color (as contrasted with the minimalistic black and white of a few seasons back) and florals were key trends for spring 2018 and will still be seen next season, while alternative large prints and colorful basics are anticipated to grow in importance for the spring 2019 market. Moreover, "Logomania" and "Dadcore" looks (throwbacks to the 1990s) are also key to expansion in this market.
"The entire range of pale colors is resonating with our customer, as well as the floral short-sleeved shirt trend, which is explosive! The tropical prints that his dad may have worn are being reimagined in new silhouettes and now offer the younger guy a moment to self-express and get credit for his fashion choices," says Durand Guion, fashion director at Macy's. "The 'logomania' trend has definitely captured the attention — and wallet — of our consumer, creating a new platform for legacy contemporary brands."
One reason men want to make a bold statement, say experts, is the desire to stand out on Instagram and other social media. "If it looks good in a photo, then our customer is interested," says Justin Berkowitz, fashion director at Bloomingdale's. "Embroideries, patches and appliqués, pastels, and tropical florals were all strengths this season.
Adds Todd Bernstein, president of Original Penguin. "Prints of all kinds are resonating: food, flowers, and anything related to music all seem to be working. Even in fashion swim and board shorts, color and prints are very good performers. And color is working! Sophisticated colors that complement black and navy are particularly strong."
Matteo Maniatty, co-owner of Descendant of Thieves, echoes their assertion. "Men are buying bolder prints, more color and are less afraid of fashion. Animal prints are also very important to us next season, as is striped shirting. As for color, washed pinks and blushes were very strong this spring and will continue to be an important color next year as we bring in more golds and browns that really complement it."
Another hot designer, Carlos Campos, took a bold approach to color in his new 2019 collection, incorporating tones he called "pale sienna," and a brilliant "amarillo yellow," with bold stripes executed in deep navy and white.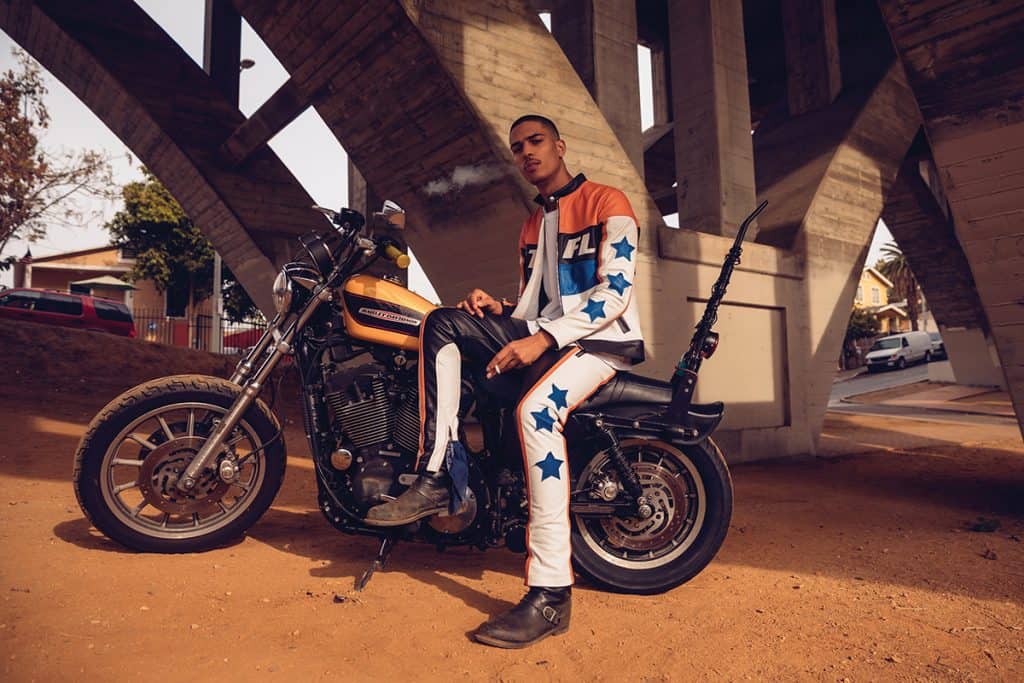 BIG, BOLD AND BEAUTIFUL
The importance of making a bold statement also seemed to drive one major trend from this past season, that of the "ugly" or "dad" sneaker. Prada introduced the Cross-Section sneaker back in January, which streetwear blog Highsnobiety promptly declared as being "ugly in all the right ways." So it's not surprising the trend will continue next season, not only in footwear, but in knitwear and sweaters as well.
"I think our consumer is reacting to fashion items that are new to him," says Guion. "As he evolves beyond skinny silhouettes he is intrigued by the chunky sneaker." Adds Berkowitz, "The chunky sweater specifically is where we are focusing on the 'ugly' trend. However, we are also seeing it from quite a few of our footwear partners and consumers definitely like the fresh silhouette."
As Maniatty notes, silhouettes are also relaxing and gaining volume. "Men are responding to new silhouettes, including wider and looser items in both top and bottom categories. It's great to see men feeling comfortable enough to really step it up. That's a big reason we will continue to offer wider silhouettes in more categories, including wovens and knits."
Fibers and fabrics are also important elements to consider in this category, as consumers, used to the performance and comfort provided by the athleisure trend, have come to expect them across all offerings. For a recent collection, Los Angeles-based Beautiful Fül placed maximum importance on what they consider their take on classic, standard pieces, but rendered them in carefully selected fabrications.
"Our hoodies are made from custom knitted French terry, while our heavyweight T-shirts are modeled after vintage army 'physical training' models," says designer Alejandro Rodriguez. "Stretch denim has taken over much of this market, and our customers appreciate that we use a 14-ounce Japanese selvedge denim, but still get a slim fit. The brand has also been seeing success with making its own shirting fabrics."
"From custom-printed cupro to hand-painted silks, we've gotten an unbelievable response," adds Rodriguez. "This is something we're even taking into knits."
Renowned for incorporating technology and innovative fabric choices into his offerings, Christopher Bevans, creative director of DYNE, utilized the most advanced Schoeller fabrics from Switzerland, lightweight wool from Tollegno 1900, along with recycled fabrics in his spring '19 collection. "Our connection is not only to the modern technological world but also to the natural world in which we all must coexist," he says. In addition, the collection was full of pieces in strong colors such as bright poppy red, maritime blue, charcoal and sleek onyx and featured silhouettes that reflected the season's interest in volume, especially in its extremely functional outerwear.
TAKING IT TO THE STREETWEAR
As streetwear brands like Supreme remain strong sellers, it's not surprising that sportier silhouettes and graphics have gained further prominence in the contemporary market. "With a new generation of designers and a very prominent, dominant group of influencers, it makes perfect sense that streetwear is having a resurgence," says Guion. "As the strict codes defining menswear have finally started to dissolve, we can confidently predict that this is a fashion direction that will continue to inspire the mainstream."
"We feel the resurgence of streetwear is a sign of something larger," says Berkowitz. "The current intersection of street and luxury — especially as we just saw with Virgil Abloh's debut at Louis Vuitton — also implies a certain sense of inclusivity, shifting the traditional luxury paradigm to a mode of thinking that relates to a larger social context."
Adds Maniatty: "I think we can't talk about streetwear anymore as an isolated genre. The lines have blurred as streetwear has crept into contemporary and luxury markets. It has given new life to fashion and is evolving beautifully. There is a continuation of sophisticated elements of streetwear that I'm loving."
Adds Bernstein: "I think streetwear will have a profound long-term effect on fashion. Certain brands will fully embrace it, while heritage brands like Original Penguin will translate what makes sense. For us, logoed product and all-over graphics are working thanks to streetwear and designer brands' influence. I am quite surprised by how well graphic tees continue to sell."
In fact, consumers throughout the country, not just on the East and West coasts, are embracing this new trend. "For example, we carry Rag & Bone, but our customer wears it with a Champion sweatshirt. There's a lot of mixing of brands going on," says Todd Epperly at Halls in Kansas City. "On one hand, Gucci has done extremely well for us, bringing in a great customer. We just can't keep the line in the store. It appeals to everyone from a junior high kid to an athlete to a guy in his 60s. On the other hand, we also carry Chubbies, and some of our guys will mix a Chubbies knit with Frame jeans. We really just call it modern dressing!"