MR AWARDS TO CELEBRATE MENSWEAR INDUSTRY INNOVATORS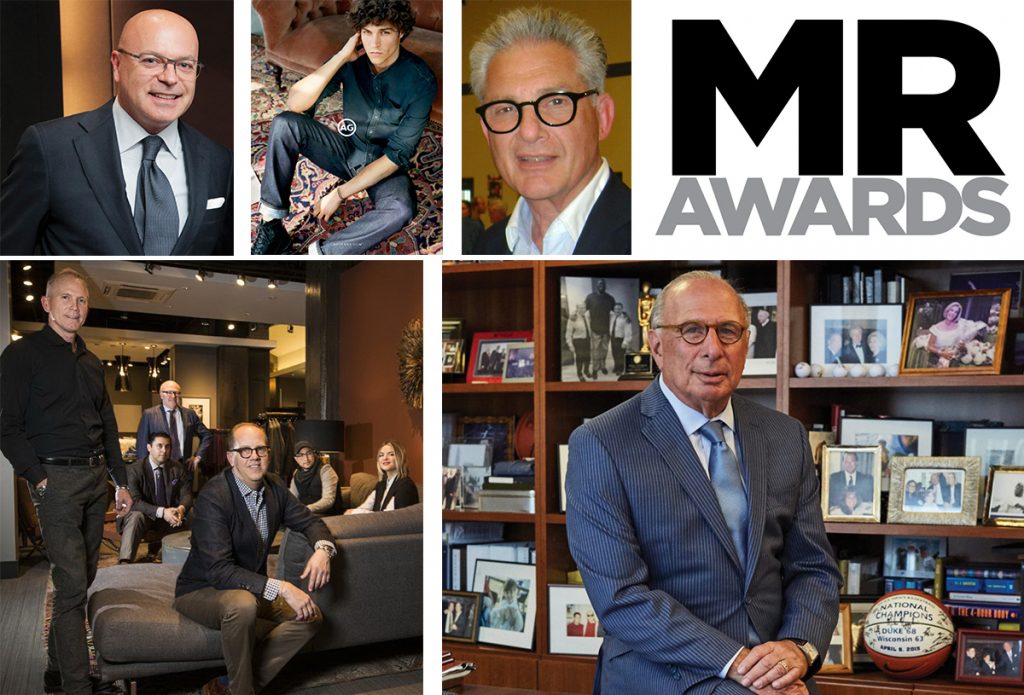 Ron Wurtzburger of Peerless Clothing, Harry Rosen's Jeff Farbstein and Giorgio Canali will be among the honorees at the 12th annual MR Awards dinner, to be held on July 17 at Spring Studios in New York City. Men's specialty store MartinPatrick3 and the AG Jeans brand will also receive special awards.
The annual MR Awards event recognizes people and companies that have had a profound impact on the men's apparel and accessories business; it is one of the most anticipated events and coveted tickets in the industry. Attendance is limited to 300 guests, and it is a perpetual sellout. In addition to the honorees and participating vendors, MR invites about 100 top retailers to attend, including every past recipient of a Lifetime Achievement or Hall of Fame award.
Master of Menswear: Ron Wurtzburger, Peerless
Wurtzburger, one of the icons of the men's business in North America, will receive the first ever Master of Menswear award. He has literally spent his entire life in the menswear business where, as a young boy, he cut his teeth at Eagle Clothes, his grandfather's suit company, learning the art of the sale. In the last 28 years, he's helped to build Peerless Clothing into North America's largest tailored clothing company by acquiring licenses for about 20 hot brands including Calvin Klein, Ralph Lauren, Tommy Hilfiger, Michael Kors, John Varvatos, Todd Snyder, Hart Schaffner Marx and others. All agree that Ronny (as he's known to his friends) wrote the book on licensing, managing, relationship-building and salesmanship. In addition to being our industry's quintessential dealmaker and negotiator, he is known for his generosity, his willingness to help anyone in need, and his genuine relationships with everyone from top retail executives to athletes, celebrities and literally hundreds of big and small retailers and apparel executives. He is witty, smart, creative, humble and clearly deserving of this honor.
Merchant's Merchant Award: Jeff Farbstein, Harry Rosen
Jeff Farbstein is the highly respected but somewhat low-profile EVP of Harry Rosen, the largest independent luxury men's clothing retailer in the world with a dominant share of the upscale men's business in Canada. Known for his exceptional taste level, managing and mentoring skills, relationship-building talents, cautious risk-taking, and ability to maximize the talents of his team, Jeff has been largely responsible for Harry Rosen's impressive growth across Canada. Walk into any one of Harry Rosen's 15 breathtaking stores (plus three outlets) and one must be impressed by the magnificent well-curated assortments of all the amazing brands that Jeff travels around the world to discover. Even more impressive is his willingness to share his knowledge and expertise with other retailers, including luxury merchants in the United States. For his 37 years of innovation and risk taking at Harry Rosen, MR is proud to recognize Jeff Farbstein.
Sprezzatura Award: Giorgio Canali, Canali
Giorgio Canali is the Vice President of North America for Canali, the Italian clothing company founded by his family. He is credited with building it into one of the powerhouse clothing and sportswear brands in the U.S. and Canada, and is certainly the face of the brand to the hundreds of luxury retailers he works with. Over the years, Giorgio has made it his business to nurture these relationships and has attended just about every MR Awards dinner since its inception. A warm, charming and gregarious person, Giorgio is both respected and loved by many in the industry. We are delighted to honor him with the Sprezzatura Award for the effortless style that he and his brand so beautifully represent.
Retail Vision Award: MartinPatrick3
MartinPatrick3, the dynamic Twin Cities specialty store, has expanded four times since its opening in 2008. The store features an eclectic mix of goods and services ranging from elegant custom clothing to contemporary sportswear, cool accessories, home furnishings, apothecary, unusual gifts and even a wonderful barber shop with a robust following. While most retailers today struggle with the challenge of turning apparel shopping into an "experience", MartinPatrick3's owners, Dana Swindler and Greg Walsh, have figured it out, both in store and online. We believe they represent the menswear store of the future and a blueprint for the next successful wave of independent retailing.
Denim Brand of the Decade: AG
AG will receive a special award as Denim Brand of the Decade. In addition to their spectacular success at retail (they are the number one denim brand in many luxury independents and department stores), the company is an American success story in every way. Founder Yul Ku came to America in 1975 from Seoul, Korea, built a huge, state-of-the-art production facility in California with a major focus on sustainability, created an exceptional product in terms of fashion, function and fit, and marketed the brand brilliantly. In fact, he increased demand so dramatically that they are now replicating the production facility in Mexico, always with an eye toward sustainability and conserving natural resources. With Yul's son Sam now at the helm, AG continues to be the denim world's shining star and we are delighted to honor them.
To reserve your seat or to get more information about this year's dinner, contact Michelle Brown at Michelle.Brown@ubm.com.