NORDSTROM TO LAUNCH POP-IN WITH GENTLE MONSTER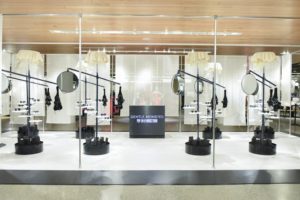 Seattle-based retailer Nordstrom is unveiling a three-part shop in its series of pop-up shops, KPOP-IN@Nordstrom, which will feature the cultures of Korean fashion and beauty. The new program, to be curated by Olivia Kim, will begin with men's and women's products from conceptual eyewear line Gentle Monster. It will debut on Friday, January 6.
In addition to Nordstrom's downtown Seattle location, the shops will be found at Bellevue Square in Bellevue, Washington; NorthPark Center, Dallas, Texas; The Grove in Los Angeles, California; Michigan Avenue, Chicago, Illinois; CF Pacific Centre, Vancouver, British Columbia; CF Toronto Eaton Centre, Toronto, Ontario.
Each Pop-In location was created with a unique look and design, yet with a common thread mixing a variety of fabrics and textures as the structure, like a thick knitted wall or chiffon drapes to suggest an atmosphere of tranquility. Fabric walls are accented with mirrors and objects to create a unique experience for the visitor, following the brand's ethos of using space and design as tools to lead visual conversations with its loyal fan-base.
The Gentle Monster collaboration will offer a selection of 40 styles of men's and women's frames reflecting the brand's unique design sensibility with angular and rounded styles fit for high fashion magazines and casual everyday wear, including six styles exclusively available at Pop-In@Nordstrom.
For the launch, Pop-In partnered with the Gentle Monster team to produce unique virtual reality and 360 video content that allows customers to explore the experience in Gentle Monster flagship stores in Shanghai, Nonhyeon-dong and Bukchon stores in Seoul, South Korea, as well as the Downtown Seattle Nordstrom Pop-In shop.
"Gentle Monster is excited to be a part of Pop-In@Nordstrom," said Taye Yun, VP Gentle Monster USA. "This amazing opportunity allows us to reach out to Nordstrom customers through space and design. Although we have been present in select Nordstrom stores, Pop-In provides us with the platform to creatively connect directly with customers and introduce our brand in a new and exciting way."