HOW THIS ONLINE SHIRT COMPANY IS FINDING SUCCESS IN MEN'S SPECIALTY STORES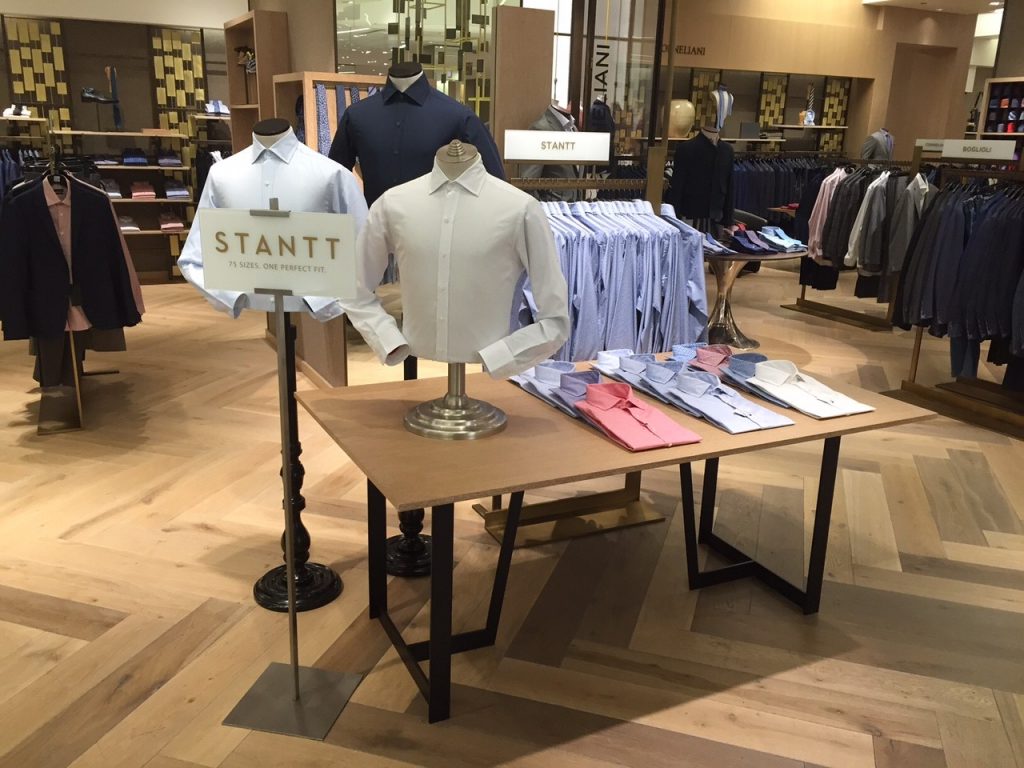 While most menswear vendors these days have made the decision to sell direct-to-consumer, Stantt has slowly shifted its business the other way: partnering with independent specialty stores – which the brand believes are the experts in selling menswear. It's a novel concept but one that is clearly working for them.
About four years ago, two young marketing guys with no fashion industry experience had an interesting idea for men's shirts: instead of offering the standard two options (custom and off-the-rack), why not something in between? And so Kirk Keel and Matt Hornbuckle quit their day jobs (marketing Johnson & Johnson's Neosporin and Aveeno brands) and got to work on a new concept. Taking 200,000 measurements from Gerber 3-D body scans, they created an algorithm that can match virtually every male body type to 99 shirt sizes. And this using just three measurements (chest, girth and sleeve length)!
"Our system works for 95 percent of male customers vs. traditional S/M/L sizing that fits 15 percent," says Keel. "We started out two years ago selling these shirts in our own pop-up shops but after showing at the MRket show and getting in front of the right retailers, our wholesale business is growing exponentially. We prefer partnering with better men's specialty merchants to going direct because they're the experts in selling menswear. And from what they tell us, their customers are loving the unique experience we offer."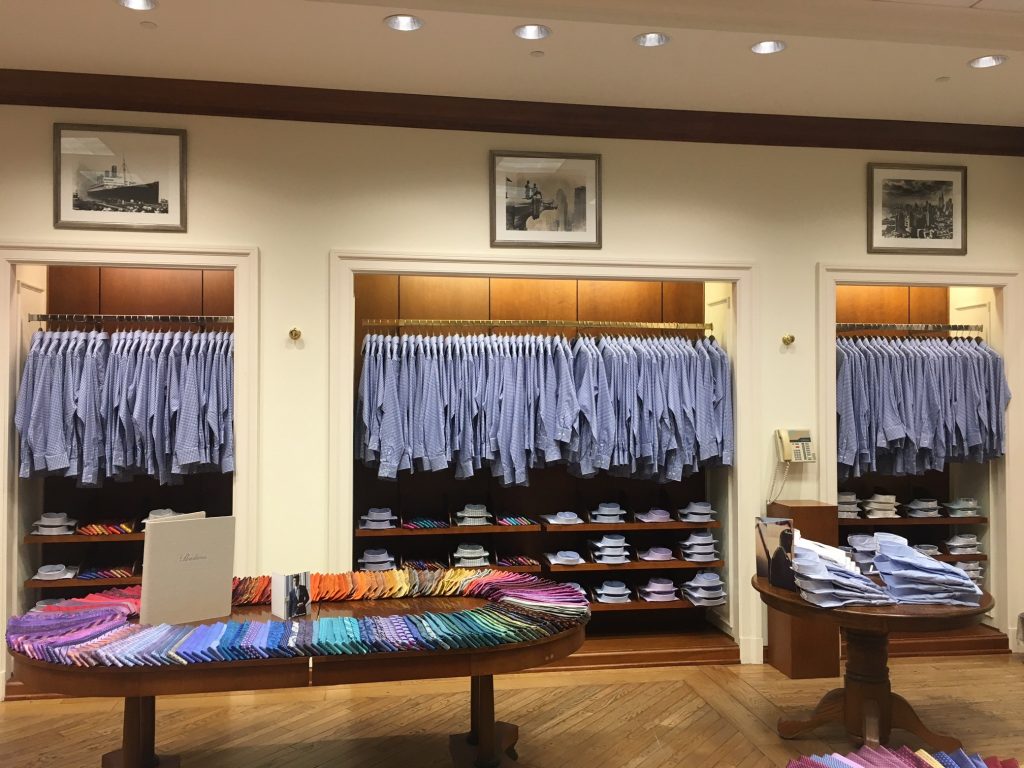 The Stantt collection features four retail price tiers: $98, $125, $150 and $225. Style options include four collar styles (modified spread is #1), two cuffs (barrel is most popular) and 150 fabric swatches from which customers can choose. Keel notes that half of their accounts use the Stantt label, half use their own store name. And unlike most custom shirts that require multiple minimums and take many weeks to produce and deliver, Stantt shirts (produced in Honduras) arrive within seven days with a minimum order of one.
Michael Duru from Michael Duru Clothiers in Shrewsbury, NJ is one of many new Stantt enthusiasts. "I was skeptical at first but since I'm not an easy-fit, I decided to try it out. Well my shirt came out great (using only three measurements!) and I felt that if it can work for me, it can work for any one! So I invested in some try-on shirts and I'm very pleased: not only can I offer my customers great-fitting MTM shirts at a good price ($125) but I believe this will serve as a stepping stone to true custom. The concept also reduces upfront inventory and improves turn as this company is great with fill-ins! I've probably sold 550 Stantt shirts (under my own label) since September and although I was worried at first, it's hardly cut into my more expensive custom business. This is a younger customer who will eventually transition to true custom. "
Dana Katz from Miltons near Boston is also pleased with early selling. "Simply said, these are custom shirts for millennials (although we've sold to customers from mid 20s to late 50s). We take only three measurements and enter them into an app which instantly tells us which model (named after streets in NYC) will fit them best. Then they try on the sample and if it's not a perfect fit, we simply hit a plus or minus sign on the measurement and the app recommends a different model. We sold about 50 shirts (many in multiples) in the first three weeks: 16 have been delivered and we have 16 happy customers. Stantt offers both dress and sport shirts and they're launching polos and tees which should be great for guys who want a specific fit. Kudos to Katie and Kirk for all the attention they've given to make the concept work."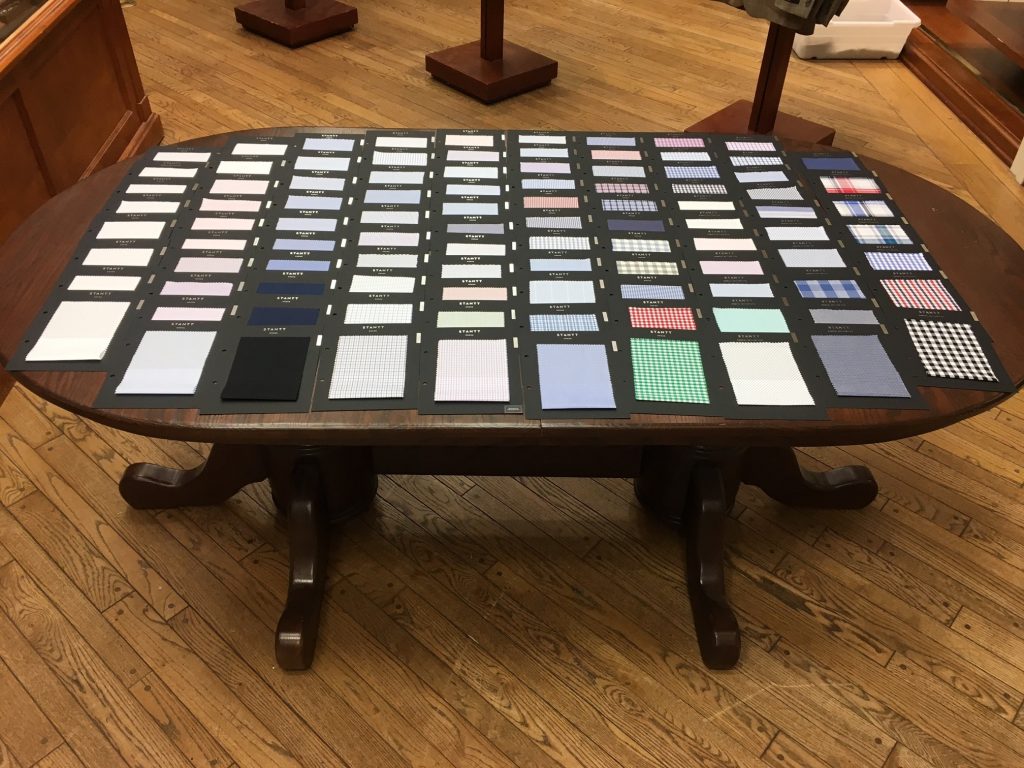 Andy Mallor from Andrew Davis Clothiers in Bloomington, Indiana, one of Stantt's first accounts, agrees. "The team at Stantt is amazing to deal with: they truly listen," he confides. "We hang about 100 shirts, all in the same pattern, and house them in our custom/wedding part of the store. The concept works because the shirts are 1) a great value (we focus on $98 retail but we buy additional shirts in luxury fabrics to keep in stock), 2) a great fit; and 3) they come in on time. I just worked this Sunday with one of my most affluent customers who can afford anything and he was so intrigued by this concept that he ordered Stantt shirts in multiples."
Finally, says Van Weinberg at James Davis in Memphis, "This is the most innovative cutting-edge concept to ever come out of the shirt market! We sold more than 100 shirts in less than three weeks and the comment I hear most often from my customers is that they've never had a shirt fit so well. Really: the fit comes out perfect, even without taking a neck measurement! We've devoted 20 linear feet to Stantt with a big table in front; we're planning to increase the space as the business grows, which we're sure will happen. This is just the beginning."
According to Keel, Stantt's success is due mostly to two factors: their ability to listen to each retailer's needs ("every store is different") and their good fortune to have had strong direction from industry insiders along the way. He singles out Fred Derring from DLS who believed in the concept from Day 1 and encouraged his member stores to try it, and John Minahan, a former Gitman executive who readily shared his knowledge of the shirt business. Since the company's growth is now wholesale, they are actively looking to hire a strong sales team. They just added Howard Goldman as Midwest rep and they're now looking for a West Coast sales person.
For more information: Kirk Keel can be reached at 732-547-8692 or kirk@stantt.com.