THE RETURN OF THE FANNY PACK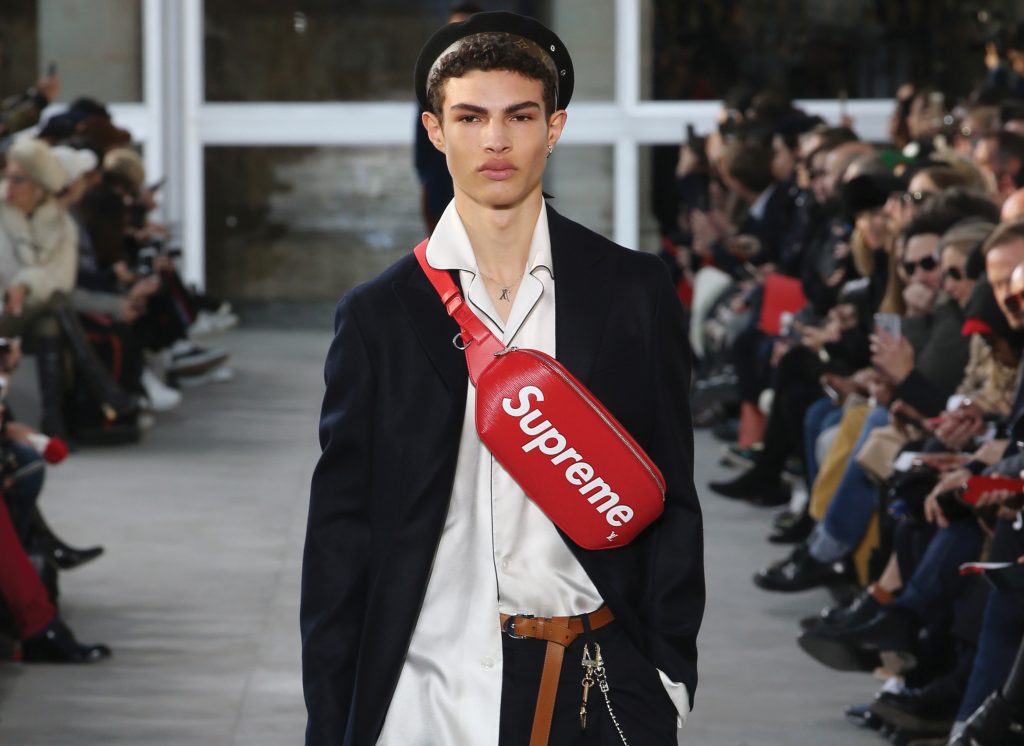 When Kim Jones sent the autumn/winter '17 Louis Vuitton collection down the runway in January, he caught the attention of the fashion elite in attendance. The Paris house, known for its collaborations with artists like Jake and Dinos Chapman and Jeff Koons, and other designers like Stephen Sprouse and Comme des Garçons, had joined forces with the uber-cool street brand Supreme for a series of products that included denim jackets, skateboards, iPhone cases and bandanas.
But it was the opening look, considered the most important one in a fashion show and which sets the designer's mood for the collection, that really caught everyone's eye. Slung across LV exclusive model, Noah Luis Brown, was a bright red leather fanny pack emblazoned with the Supreme logo.
Before that seminal moment, we had seen fanny packs creep into the fashion ether, primarily in women's wear, and, then from the street, worn by the cool kids (with the requisite sense of irony). But when two of the coolest yet most disparate brands in fashion joined forces to create a hugely divisive accessory, it was hardly surprising to find that it would soon be embraced by a wide variety of men.
Perhaps the most ironic thing about the modern fanny pack is that it's no longer worn on or near the fanny, or even around the waist, for that matter. Rather, it's slung over the shoulder; in fact, many brands are even trying to take away the "fanny" stigmatism by calling it a "sling" bag.
Now, there are actually some strong arguments why men should adopt the fanny pack: it's not a huge backpack that makes you look like a college student; it's large enough to hold the "WPK" (wallet, phone, keys) ; and it leaves both hands free, so you can carry a cup of coffee in one hand and your phone in the other.
And lest you think you are going to look like an ugly-American tourist with a farmer's tan and unfolded map while wearing one, take note that may designers besides Louis Vuitton have added the fanny pack to their accessories lines, including Gucci, Valentino and Ovadia & Sons.
And if you have your heart set on the Louis Vuitton x Supreme version, and you're not already on the wait list for it at one of the Louis Vuitton stores receiving it, that's too bad. You're just going to have to get into a bidding war on eBay.