ROBERT GELLER EXPLORES LOVE AND WAR FOR 10TH ANNIVERSARY COLLECTION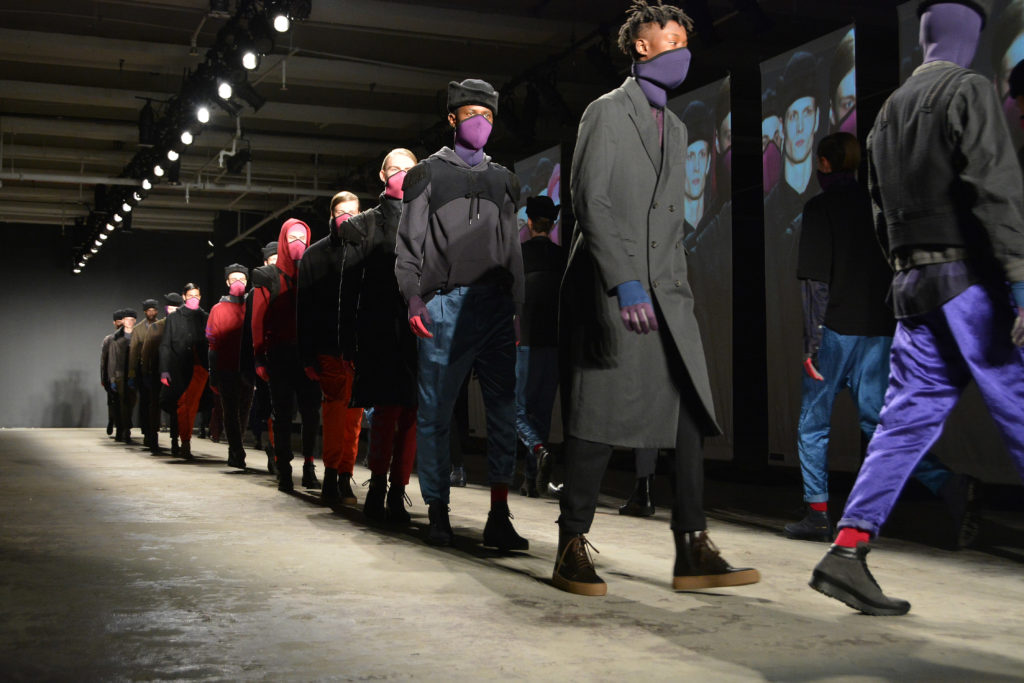 On Tuesday, German-born menswear designer Robert Geller's fourth show with the CFDA's NYFW: Men's at Skylight Clarkson. The fall/winter 2017 collection also marks the brands 10 year anniversary.
To commemorate the past seasons, 15 screens lined the runway, featuring some of the most emblematic looks of the past. As the show started, the models walking down the runway were projected onto the screens to give the viewer the impression of an army marching towards them, illustrating this season's theme of protest.
This season reflects the divisive spirit of love and war. The collection references militarization, protest and revolt, mirroring the current political frustration, yet trying to show a sense of optimism. Here, the protest manifests as peaceful resistance, opposition to violence, it's a militia, a civilian military, strengthened by the unity of the people and their protection of values.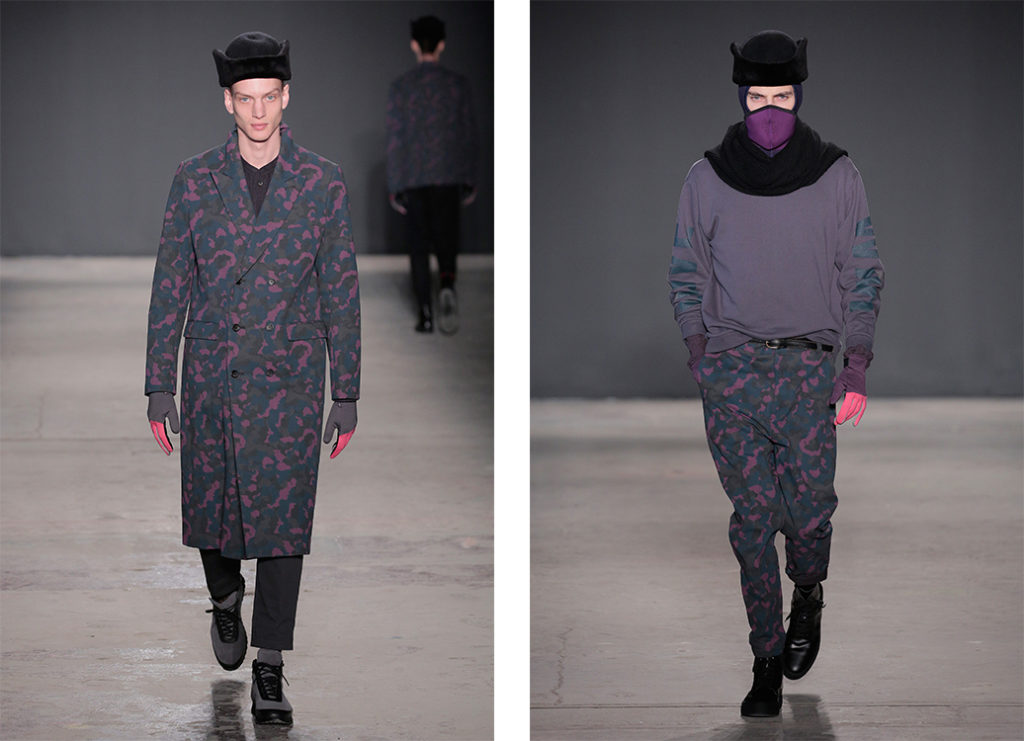 Military references are seen in Napoleonic-inspired epaulettes, sharp tailoring in vests and coats, that feature brushed wools and render the typical Robert Geller worn in, aged, romantic look. They are often complemented with historic military embroideries. A garment dyed deep red nylon bomber jacket has a shrunken look and is fastened together via a hook-and-eye metal ornament that also appears on the more tailored jackets. Camo bouclé cashmere sweaters and pants are paired together and hint at a certain preparedness to march in cold weather, ultra-protective outerwear is layered with hot pink and yellow neoprene face masks, scuba hoods and gloves.
This season's collaboration with Common Project features a "combat-sneaker" that comes in black, brown, and burgundy as well as a trekking shoe in charcoal and navy.
"10 years. One quarter of my life. My life's biggest work and it seems to have flown by. New inspirations, new challenges, new goals and new achievements," said Geller. "It has been a journey and worth every step. I am incredibly lucky to create for a living. To turn ideas into something that has a life. Something that accompanies my fellow humans for many years of their lives. Their first loves, their last loves. Their successes and their tragedies. Clothes that feel like home. I just feel lucky and grateful. I always wanted to create clothes that mean something. That can connect with people and mean something to them. Give them confidence. Feel comfort. Make a positive impact on their lives. What could be greater than that?"