SPONSORED PROFILE: CRWTH – HARD TO PRONOUNCE BUT EASY TO WEAR

CRWTH, pronounced krüth, is a brand whose name is not easy to wrap the tongue around, but owner Peter Aresty, liked the fact that CRWTH contained no traditional vowels and rhymed with truth. When asked why he chose it as a brand moniker, he responds without hesitation, "Because the word encompasses many of the qualities that we are striving for in the brand: it is different, it questions the status quo, and it makes you look twice."
And if the name is what gets you through the door, it's the clothes that make you stay. The brand, which launched in 2019, straddles the contemporary/designer worlds, being priced in the former, but designed and produced in the latter. The collection ethos is based on vintage motorcycle culture, one of Aresty's passions, particularly the rebellious spirit of the lifestyle. Then each seasonal collection explores a time, place, or event that also exemplifies the defiant essence of the culture.
Fall 2022's (pictured above) theme is the California Gold Rush. Aresty explains that "during this period of rebellious history, people risked life and limb on their perilous quest for gold. They lived off the land and in saloons; they forged onward, even with limited success; they wore a lot of denim; and along the way, they created the state of California."
This translates into a collection of rugged shirt jackets in flannel and corduroy and over a dozen exclusive micro-prints featuring engines, pistons, geo-axes, and a dynamite print for seasonal direction. Knitwear highlights include a vintage motorcycle intarsia and a graphic new version of their signature Billy the Kid cardigan.
CRWTH collections always include hand-cut and dyed leather jackets, but one thing you won't find is the classic black leather motorcycle-style jacket. Instead, CRWTH prefers to do them with unexpected twists, like last season's Ironhorse Fringe Biker in delicious chocolate brown suede with fringe on the arms and back. And the four-pocket Munro jacket, a unique take on a trucker jacket, not to be found anywhere or everywhere else, And it is exactly this creative spin that makes CRWTH a truly unique stand-out brand in a crowded market.
Currently, CRWTH is available at better contemporary independents throughout the country. They will be showing at the Chicago Collective in Booth #9100, from February 6th to the 8th, and at PROJECT Las Vegas in Booth #81718, from February 14th to the 16th. To schedule an appointment or for more information, you can contact Douglas Michael at dmichael@crwth.com.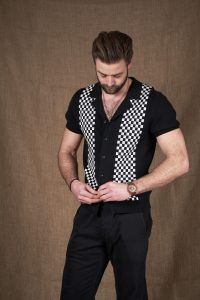 CRWTH Spring 2022