PRESENTING MR'S TAILORED CLOTHING WEEK: MENSWEAR'S BRIGHT SPOT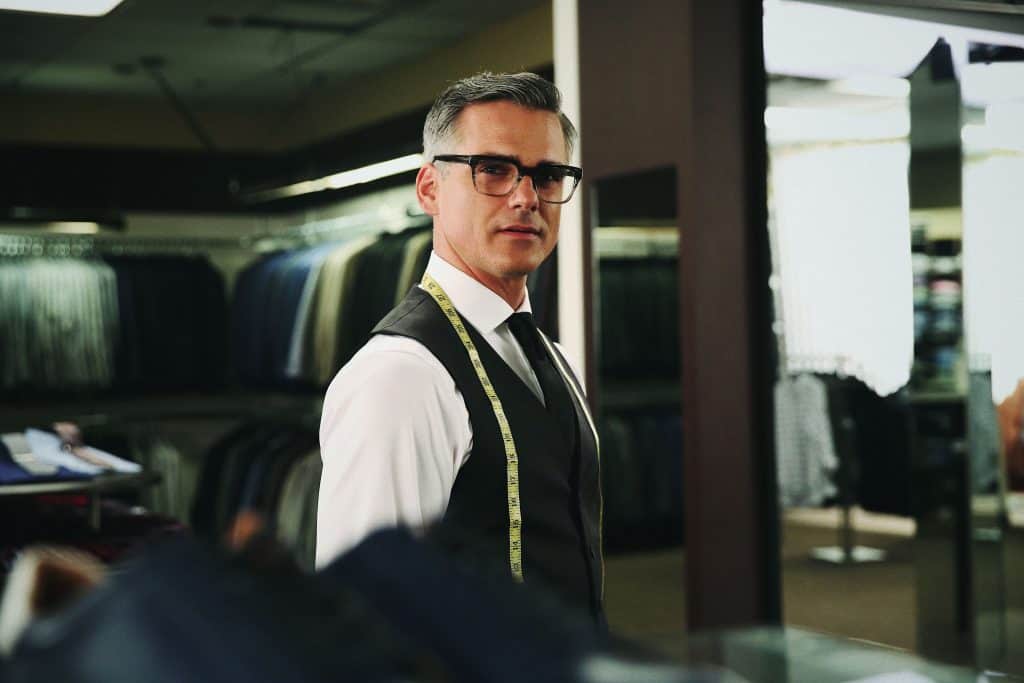 Despite rumors to the contrary, tailored clothing business at retail is surprisingly healthy. According to retail analyst Danny Paul, early fall selling at independent specialty stores was up in September in three out of four tailored categories. MTM was strongest, with increases averaging almost 30 percent. Suits were ahead by almost 8 percent and sportscoats were up 0.8 percent after a very strong August. Only the dress trouser category failed to meet last year's figures, overshadowed by casual pants, especially five-pocket models.
So while corporate dress codes remain casual, more and more guys—especially young guys—are dressing up and/or incorporating sportscoats into their casual wardrobes (perhaps inspired by Instagram posts which seem more influential than men's fashion magazines were back in the day).
Here, we speak with a few smart clothing merchants about the state of business and how they plan to move forward. Areas of opportunity for most include made-to-measure, special occasion, tech fabrics, emerging brands and sportcoats (which younger consumers often prefer to pair with denim). Their challenges include online, outlet and flash sale competition, vendors selling direct, and fall '18 price increases based on the rising cost of wool.
"Business in all of our stores has been surprisingly strong starting off the fall season," notes Ken Giddon, co-owner of Rothmans in New York City. "Our guy seems to want to take his sportcoat and denim game up a notch. We ran a denim promotion with 60 different styles in the NYC store and we hit record numbers. Suits are up a bit but are really driven by weddings and special events. We've already gone back to the market looking for additional sportcoat inventory in both traditional and contemporary looks."
According to Giddon, whose tailored clothing mix ranges from Betenly and Blujacket at $595 to David Donahue at $895 to Corneliani and Canali at $2,000, slim is still in. "Guys are finally recognizing that the big-shouldered suits in their closets are depreciating assets," he observes. "We're working with Career Gear to give customers a price break on new clothing when they donate their gently worn suits to those in need."
Giddon believes that retailers competing with their own vendors is the major issue these days. To address this, he's dropped a few well-known brands and has brought in new ones to fill the void, including Without Prejudice, a collection out of England doing well in his stores. That said, he believes the balance of power is shifting. "All of our suppliers want to be omnichannel," he maintains. "But most are starting to realize that the wholesale channel is an important one for them, so in a sense, conventional retailers have gained leverage. Vendors will need to make it worth my while to partner with them. In this business of constant reinvention, it's the business model itself that's getting reinvented."
According to Dan Farrington, GMM of the Mitchells Family of Stores, one of the most admired luxury independents in the world, overall business has been flat over the past two months. (The newly renovated Marios stores in Seattle, however, have had a positive year and current trends are promising.) But fall business is starting to move forward. "The last several weeks have been stronger across all stores, driven by our big luxury brands," he notes. "Seasonal suits have been better than planned and sportcoats from our top tier have started to take off.  But what's really driving business is key items: a 10-pocket travel blazer, a knitted jacket, a novel fabric blend, etc. Performance fabrics continue to proliferate throughout most of tailored. I see it becoming 70 percent or more of the business within a couple more seasons."
A seasoned and thoughtful merchant, Farrington offers some good suggestions for changes to improve tailored clothing sales.
**Normalize delivery cycles to be more in tune with the true seasons. "It's all gotten to be too early and then there's pressure to start markdowns just as the consumer is ready to buy. Here in New England, it's been in the 80's in October and we've barely started to sell our heavier clothing. Some of our competition will start marking down fall in just a few weeks."
**Suppliers should project key items and offer in-stock programs or some ability to re-order. "Vendors should offer a quick turnaround to re-order best sellers in-season. Retailers are (or should be) running lean so there should be an opportunity to chase hot fashion items when they happen."
**Retailers should develop a larger percentage of their business in core items, build MTM, and buy less seasonal product in most cases. "With a seasonal mentality, too much gets marked down. Our biggest items that drive real sales tend to be items that transcend seasons or are classic and can remain in the core mix. You can't drive big sales without depth and you need a longer selling window to support that depth or else face markdowns."
**Market MTM as an option that can be easy, quick, and relatively affordable. "Our industry on both sides (wholesale and retail) has been slow to bring modern technology to all areas. MTM should be a more modern process from start to finish. It should be easier and faster than ever."
According to Farrington, other than an economic recession, competing with suppliers is the biggest challenge today's retailers face. "To some degree, it's okay: a better brand presence helps all. But clearly, many are going too far with their own stores and sites. Like department stores in bad locations, too many company-owned mono-brand stores are piling up goods and diminishing brand image. Some of our partners have conceded that business is tough and have scaled back. We've chosen not to compete with suppliers in some markets when the brand is less significant for us. We'd all love to have more exclusive, higher-margin suppliers, but customers drive the demand for brands, so brands will remain a high percentage of the mix."
Perhaps no retailer represents the typical male customer like Men's Wearhouse, with 719 stores across the U.S. (as well as 128 Moores Clothing for Men stores in Canada), and with millennials comprising 28 percent of its customer base. "Our tailored business is healthy, with a tremendous opportunity in made-to-measure," says Scott Norris, brand president of The Men's Wearhouse and Moores Clothing for Men. "Today's customer wants both fit and customization and we offer this at two levels: a canvas-make garment crafted in Massachusetts with Italian piece goods ($895 retail, under the Joseph Abboud label) and a more affordable model made off-shore geared to a younger customer ($395 retail, under the JOE label)."
Adds Norris: "Many of our customers start with the $400 MTM suit and then, being pleased with the in-store experience, graduate to our luxury model that offers tremendous value."
According to Norris, the average off-the-rack suit at Men's Wearhouse goes out the door at $300, but the price is only part of the equation. "Fit is the driving factor today," says Norris. "We carry a lot of fitted suits (slim is just over 55 percent of our mix, ultra-slim brings it up even higher), but our real advantage is a tailor in every store and a wardrobe consultant who can dress the customer from head to toe. Guys can buy suit separates anywhere, but few places provide a great experience buying a perfect-fitting suit at our prices. Our goal is to get this message out: we believe our new creative is doing a good job of this. Our business has turned positive the past five to six weeks despite some very warm weather in September and October."
From a fashion perspective, Norris admits that the slim solid suit in blue, grey or black still dominates sales. "Blue is strong and getting stronger, black is still strong but less than it was, subtle plaids are selling, bolder plaids less so. And stripes are gaining momentum in our custom business. We keep waiting for the slim trend to slow down but if anything, it's getting stronger."
Although suits outsell sportscoats 3 to 1 at Men's Wearhouse, Norris sees opportunity in sportscoats. "We haven't done a good enough job of storytelling in-store," he confides. "We need more mannequins in full outfits, not just in the windows but on selling floors. Guys want to get in and out quickly: when you show the outfit fully rigged, they understand what it should look like."
Another change at TMW is a move toward technical fabrics. "Our customer is not indicating he wants an all-wool suit; a lot of what we sell has some stretch in it, including our exclusive Awearness by Kenneth Cole collection (Kenneth collaborates on the design, we manufacture it.) The Awear-tech fabric is 29 percent non-wool fibers (polyester and spandex) and it's selling extremely well because of the stretch. In fact, I've never seen selling so far to the left—sizes 35, 36, 38—so we know we're getting younger customers through the door."
And getting younger customers, after all, should be the ultimate goal for all clothing merchants these days as Baby Boomers need fewer and fewer suits.