WESTFIELD MALLS TO PRESENT "UP CLOSE: MICHELANGELO'S SISTINE CHAPEL" EXHIBIT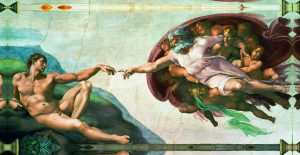 Mall owner Westfield Corporation has announced "Up Close: Michelangelo's Sistine Chapel," an exhibition featuring  34 near-life size reproductions of the iconic masters frescos that adorn the Sistine Chapel in Rome, which will run June 23-July 23 in The Oculus at Westfield World Trade Center.
That run will be followed by a six-week exhibition at Westfield Garden State Plaza in New Jersey, September 1-October 15, before touring Westfield malls in six subsequent cities:  Sacramento, Los Angeles, San Diego, Seattle, Chicago and Annapolis, MD.
This unusual, immersive exhibition allows visitors to experience Michelangelo's renowned ceiling frescoes from the Vatican's Sistine Chapel, reproduced in near original size in a format that allows viewers to get face to face with the artist's masterpieces.
"There are few works of art as beloved as Michelangelo's Sistine Chapel frescoes," said Scott Sanders, Westfield's Creative Head of Global Entertainment. "We are thrilled to showcase this beautiful exhibit in our centers across the country and give viewers the chance to experience this artwork in an up close and intimate way, Westfield is tremendously excited to bring this stunning display to the US and to give many people across the country a once in a lifetime chance to view these works for themselves."