A GREENER JEAN: THE DENIM MARKET EMBRACES SUSTAINABILITY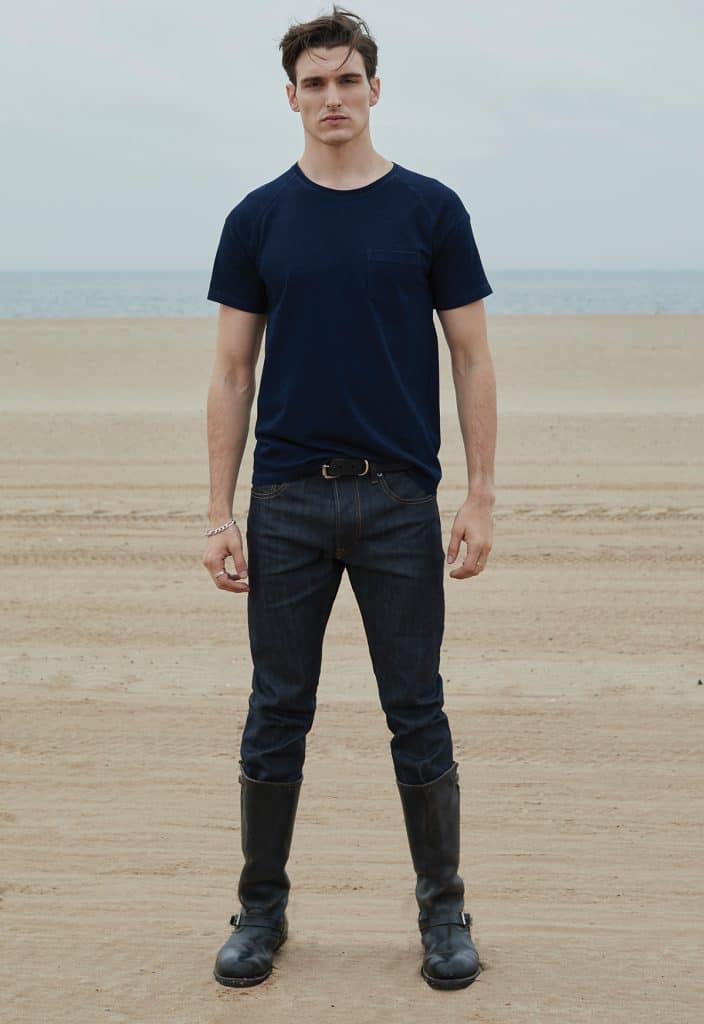 Perhaps there's no better proof that the denim sector has increasingly been adding a second color – "green" – to its massive and far-reaching sea of blue than the lookbook of Swonne, a brand-new contemporary men's denim-based fashion line that officially launched at New York Fashion Week: Men's last month. In the opening notes, founder and designer Katie Golinczak ticks the usual boxes and shares the general aesthetic of her newborn label, her inspiration for the first collection (Mods and Rockers) and discusses her choices of fabrics, colors, silhouettes and style names. It's pretty much an A-plus example of PR 101 that provides buyers and editors with all the information they usually would need to know.
But, since this is 2018, Golinczak's description does not end there. There is a final paragraph, titled "Ecology and Sustainability" in which she reveals that she sources her fabrics from the famous Japanese mill Kurabo, "the first company to make denim in Japan that is quantifiably committed to a sustainable denim production process."
These days, that is a major selling point, and Golinczak knows it. "I think sustainability is very important," she explained over the din of her launch party. "A lot of brands are doing it and we have to buy it and save the planet." This is precisely why her clothing will feature special hangtags produced in cooperation with Kurabo heralding the cleaner fabric production and why she'll be training sales staff on the matter and featuring it prominently on Swonne's website.
Denim creation has been blasted as environmentally destructive industry and it's easy to see why. Denim is made from cotton, an extremely thirsty crop that can consume up to 20,000 liters of water per kilogram according to the environmental watchdog organization WWF, and then it is traditionally dyed, treated and washed using thousands of more liters of water as well as chemicals. (And that is not even mentioning harmful old-fashioned finishing techniques that are rapidly falling out of favor such as sandblasting and stonewashing.)
But as advances are made seemingly daily and every link in the denim supply chain becomes more cognizant of the need to get aboard the sustainability and transparency train, this movement is transforming rapidly from a business trend to a must-do. As Andrew Olah, the founder of Kingpins Transformers, a biannual conference held in Europe and New York that focuses on the challenges and solutions facing the denim industry, recently noted: "Today, most brands aren't held accountable for their product components. But that's going to change. Companies that think transparency is just a buzzword with no bite are likely to be eaten alive when it does."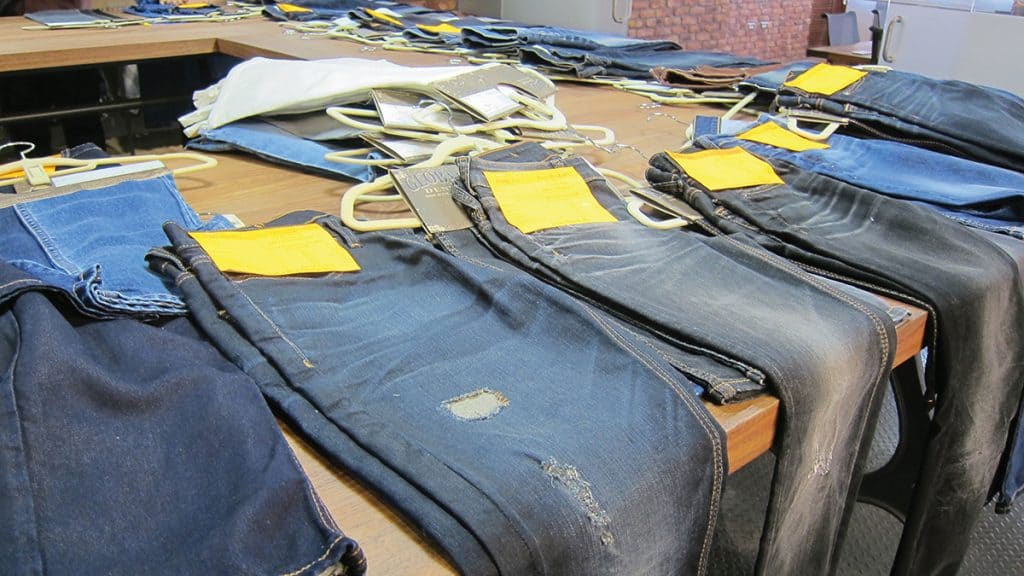 Still, both the denim mills themselves and the jeanswear brands they supply are boasting about the increase in significant sustainable steps. Water and chemical reduction, which are among the top concerns in the industry, have been addressed by a multitude of companies. For example, Swiss chemical company Archroma, which has launched its Denisol range of pre-reduced liquid indigo as well as Advanced Denim, a dyeing technology that saves up to 92 percent of water, 87 percent in cotton waste and 30 percent in energy.
Likewise, Global Denim, a denim manufacturer and supplier with its own state-of-the art facility (with an onsite water recycling facility) in Puebla, Mexico that produces fabric for such well-known clients as Levi's, Joe's Jeans and True Religion among others, recently launched Ecolojean, a dyeing process with zero water discharge, and Ecoloop, a new fabric group made from post-consumer waste and denim scraps.
"Both stand with the same price," notes Global Denim's creative director Annat Finkler, who also warns that so-called transparency must truly be transparent. "We don't increase pricing for sustainability as we believe it is something that has to be done for the world in order to save and preserve it, not something to use as a branding technique and take advantage of. It's very important to notice that many brands do, and it's the most modern marketing and advertising hook, so we must encourage people to search for the truth and keep their minds open to spot the real efforts."
Even mass-market companies such as Wrangler are getting in on the sustainability game in other ways. In addition to finishing more than 50 percent of its jeans in facilities that use recycled wastewater, the VF Corp–owned brand is working hand-in-hand with cotton farmers to make their soil more fertile and thus reduce the need for added water and chemicals.
"Wrangler's role has been to advocate for the use of three key practices: conservation tillage, cover crops and complex rotation," says Roian Atwood, the brand's director of sustainability. "We have partnered with five growers in five different states and, just earlier this month, we announced the release of 125 cotton growing software licenses that will help even more growers track, measure, and report out on their progress using these key land stewardship practices."
"It's also important to us that our consumers don't have to choose between having affordable, durable clothing and sustainability," he adds. "Oftentimes sustainability efforts actually save money, but when greener practices do negatively affect prices, we work concurrently to develop the partnerships or processes for sustainability and to make sure that they'll eventually be scalable to a level where consumers don't have to pay more."
Scott Morrison, founder and owner of the jeanswear brand 3×1, which wholesales and sells directly from its store in SoHo in Manhattan, has recently incorporated some greener fabrics from Lenzing in his mix. Still, he believes the denim sector still has a way to go in its quest for sustainability. "It's certainly happening on a global scale, and companies like Lenzing, Candiani, Tonello and Jeanologia are pioneering new products and systems to help our industry make up a lot of lost ground and time," he says. "That said, the size of the denim world's industrial complex is massive, and it's going to take some time to get things in order. It's important that brands, suppliers, and ultimately, consumers, embrace the future. There's no question we're all heading that direction. And that's a good thing."