BERLUTI UNVEILS FIRST CAMPAIGN UNDER KRIS VAN ASSCHE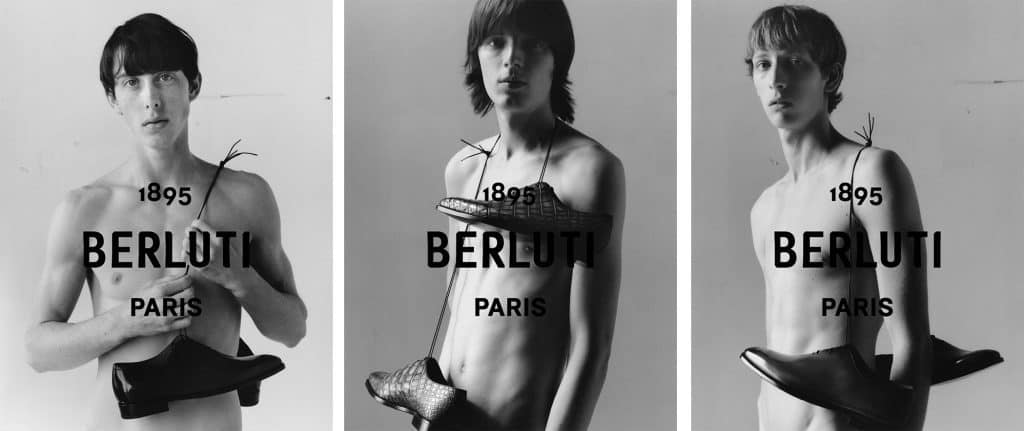 Berluti presents its first campaign under the artistic direction of Kris Van Assche. The images mark the designer's early imprint on the Parisian heritage brand.
Signifying a blank canvas for new beginnings, Kris Van Assche enlisted art directors M/M Paris to create a signature engrained in the most authentic core of Berluti: the embossment of an antique shoe tree unearthed from an archive 'Alessandro' shoe dating back to 1895, the year Alessandro Berluti established himself as shoemaker. Letters were designed to absorb the erosion of time of this most original signature into a new representation, stylizing the faded accents of the embossment into a clarified emblem for things to come.
The campaign, photographed by Jamie Hawksworth and styled by Mauricio Nardi, evokes a similar sense of transition in a conversation between past and future. Captured on contemporary faces, Kris Van Assche selected Berluti's classic patinated Venezia leather and alligator Alessandro oxford shoe to honor its formative codes while retaining the undressed reset of the Maison under his artistic direction, an energy under construction.
"For this first campaign, I wanted to create an image rooted in the maison's origins and emboss it with my vision," Kris Van Assche commented. "See you in January."
"This campaign was thought of and art directed by Kris, I relate to it because it speaks of who we are while holding a promise of more to come," said Antoine Arnault, CEO of Berluti.
Kris Van Assche joined Berluti as artistic director in April 2018. Raised in Belgium, he trained at the Royal Academy of Fine Arts in Antwerp and founded his eponymous brand, KRISVANASSCHE, in Paris in 2005. He served as artistic director of Dior Homme from 2007 to 2018.