BRAZILIAN SNEAKER BRAND CARIUMA LAUNCHES AT LOS ANGELES POP-UP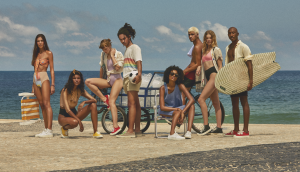 Brazilian-based unisex sneaker brand Cariuma is debuting its first collection of footwear at a special pop-up at famed Los Angeles mall The Grove through May 13. The company's sneakers, which range in price from $79 to 139, are also now available on its website: www.cariuma.com.
Designed to be comfortable, lightweight and easy to wear, the sneakers feature an exclusive insole among its many design features. In keeping with Rio de Jainero's "sem frescura" vibe, the sneakers also boast clean silhouettes and a wide variety of solid colors, including vibrant blues, reds, yellows and greens.
The brand is currently being marketed via a beautifully captured photo series showing model/actor Luka Sabbat on the streets of Rio during Carnaval. In this campaign, one sees Sabbat and his friends making their way from Carnival through Ipanema Beach Boardwalk, Sugar Loaf Mountain, Parque Lage and Selarón Stairs.