DALLAS SPRING 2024 MENSWEAR: SENSATIONAL!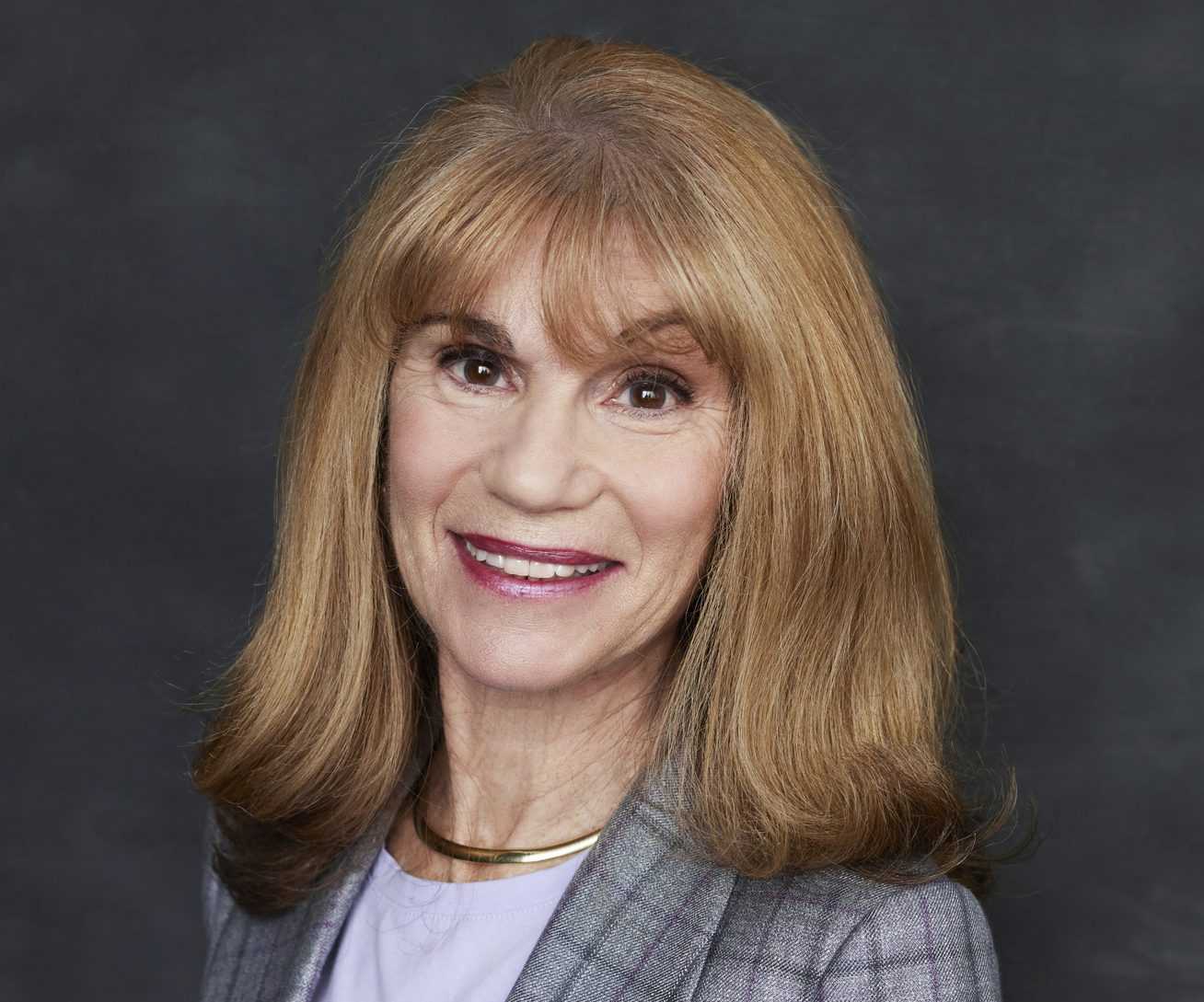 The Dallas Men's Show that ran at the Dallas Market Center from July 29-31 did not disappoint! So many great brands including a fabulous showing from the Italian Trade Agency and enough newness in models and fabrics to inspire wardrobe updates. Here, just 10 of our many favorite collections.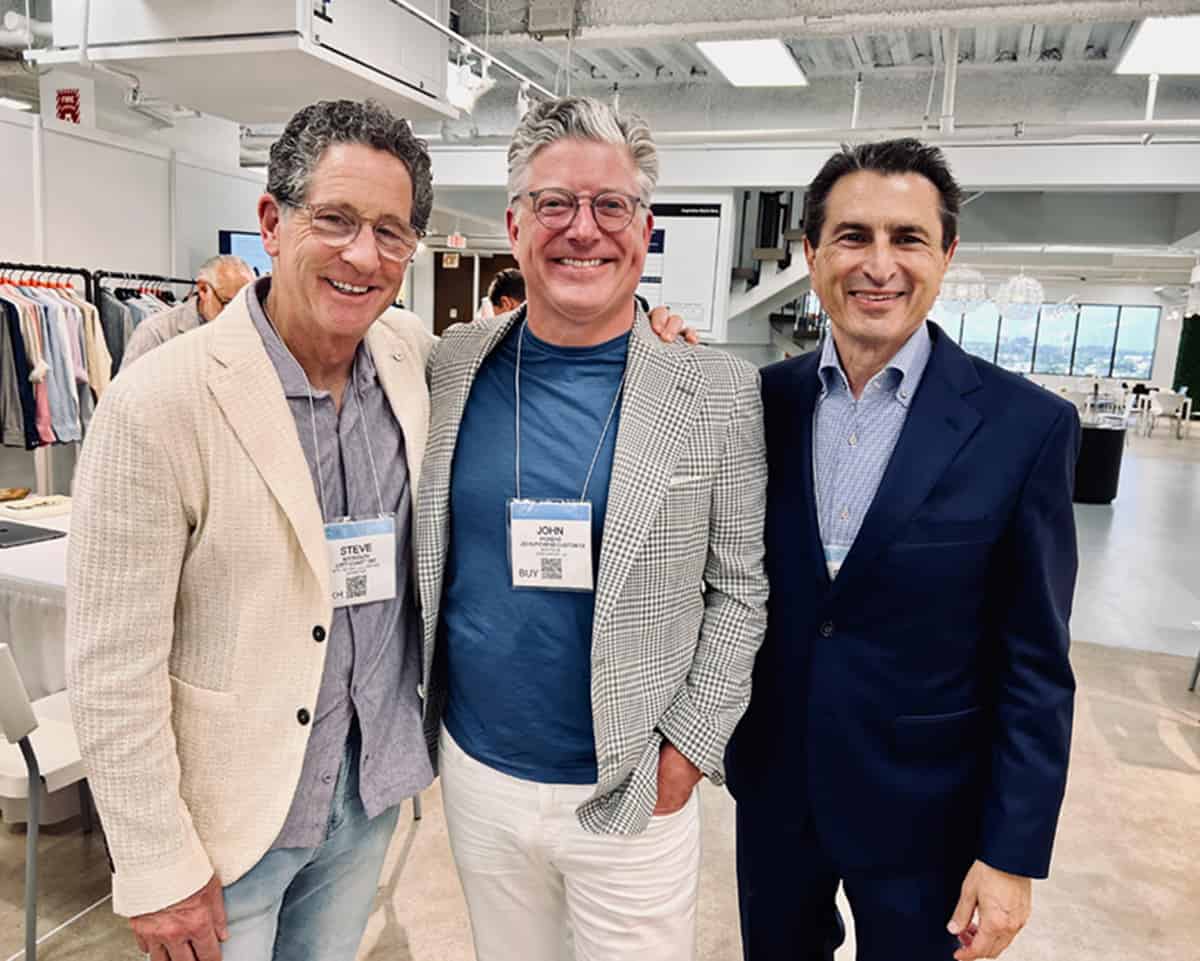 Spiro was on hand to present the latest Byron collection and explain the brand assets: modern styling (narrower sleeve and bottom, shorter coat length) in half canvas construction with great margin for retailers ($285 cost for $798 suggested retail). Also size runs from 36 short to 56 long. And full-canvas construction in 12 swatches, $505 wholesale for $1698 suggested retail. A huge in-stock program in sport coats with no minimums. No wonder the brand is growing in so many prestigious luxury stores!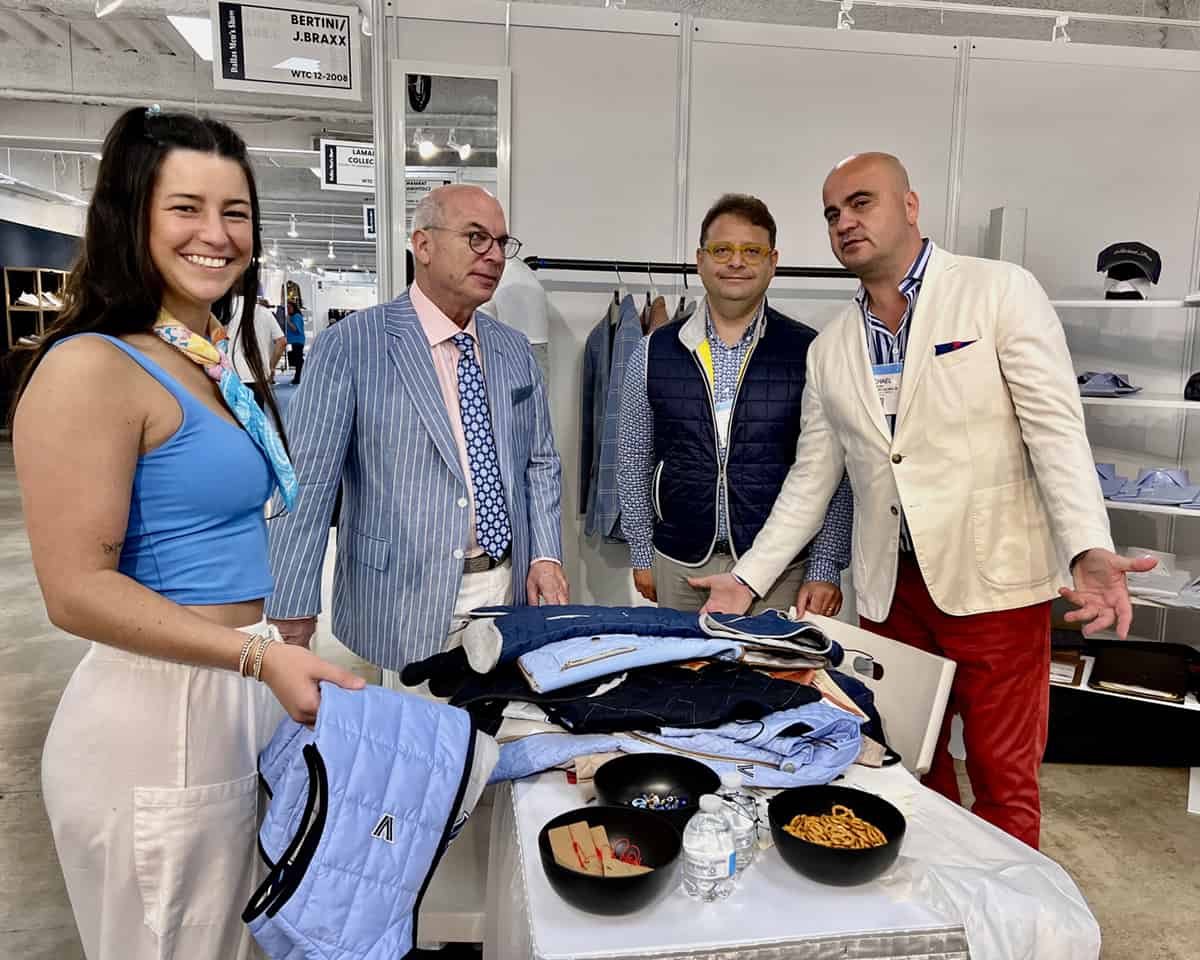 Michael Duru is enjoying his venture from retail to wholesale with Michael Duru Global Services. He showed some terrific items, made in Turkey, including quilted vests (after spending two years perfecting the fit) at $85 wholesale and super-soft all-cotton shirts ($60-$70 wholesale, $145-$175 suggested retail) that can be private label. Five-week delivery, check them out!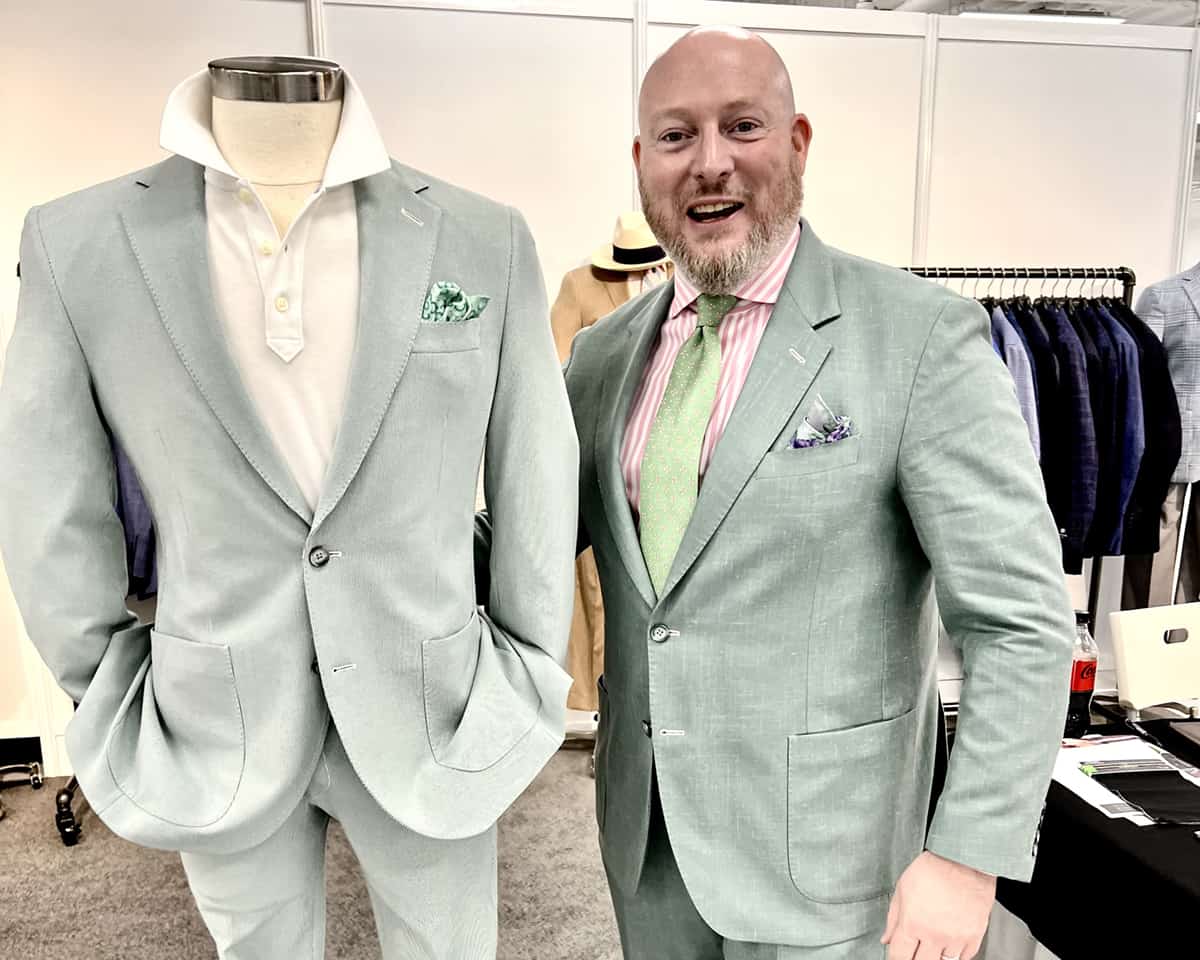 Tony Maddox at Coppley showed a beautiful clothing collection, the standard model now two-button side-vented. "It's a perfect balance between classic and exciting," he notes, adding that their new factory in Hamilton Canada is making made-to-measure (accu-measure) with 10-day delivery and full custom in 15-18, with no upcharges. Asked about the drapier silhouettes on European runways, he notes that he's still selling pleated trousers and that looser suit jackets will happen in time. The big change is that stores are buying better piece goods so Coppley is expanding better fabrics. Suggested retails are up a bit, averaging $1095 for a sportcoat, $1495 for a suit.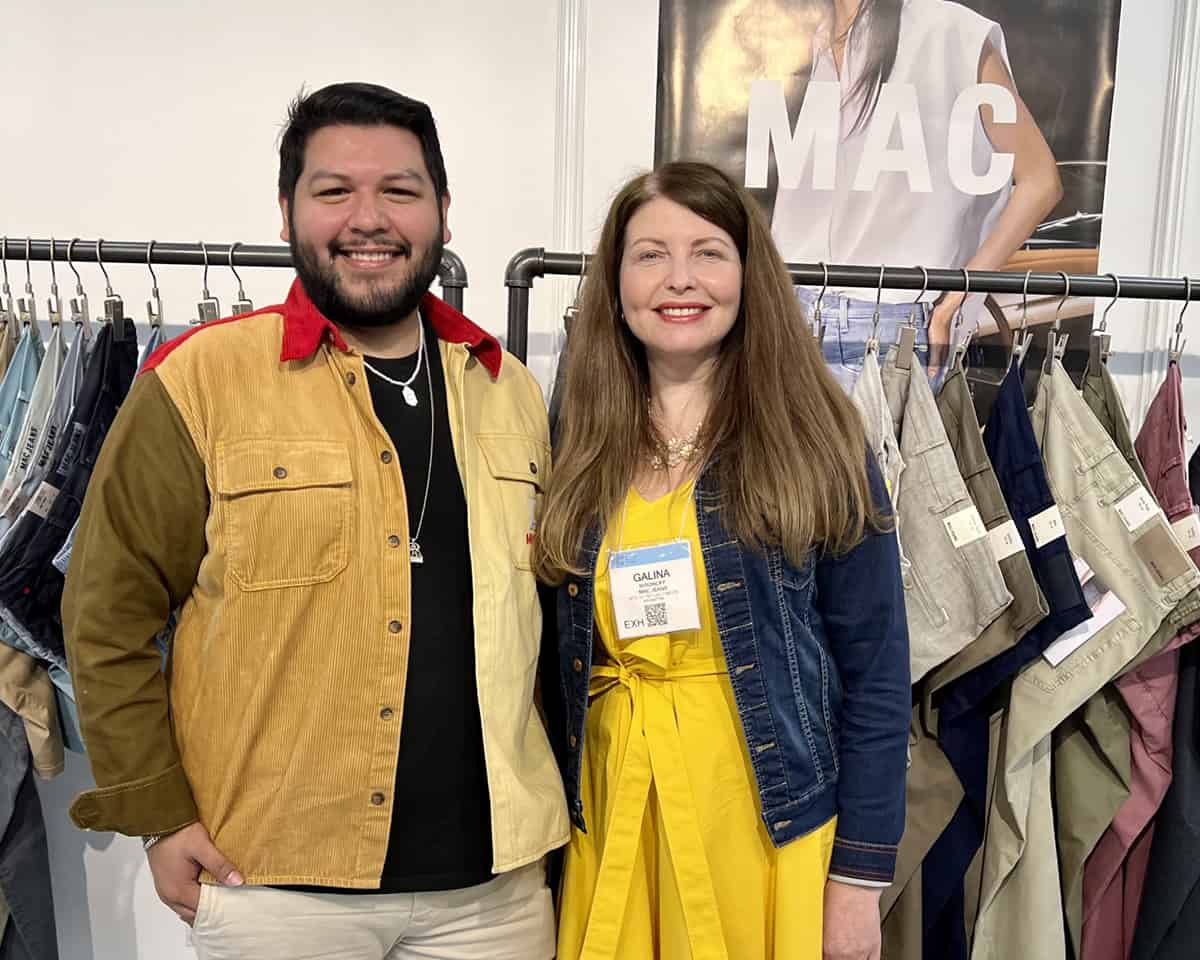 I loved shopping the MAC collection with Galina: so many new innovative fabrics! These include hemp denim, nettle denim and coconut denim: all lightweight (7- and 8-ounce) and sustainable. Also noteworthy: a new emphasis on shorts, a huge emphasis on lighter colors, and virtually everything available in-stock.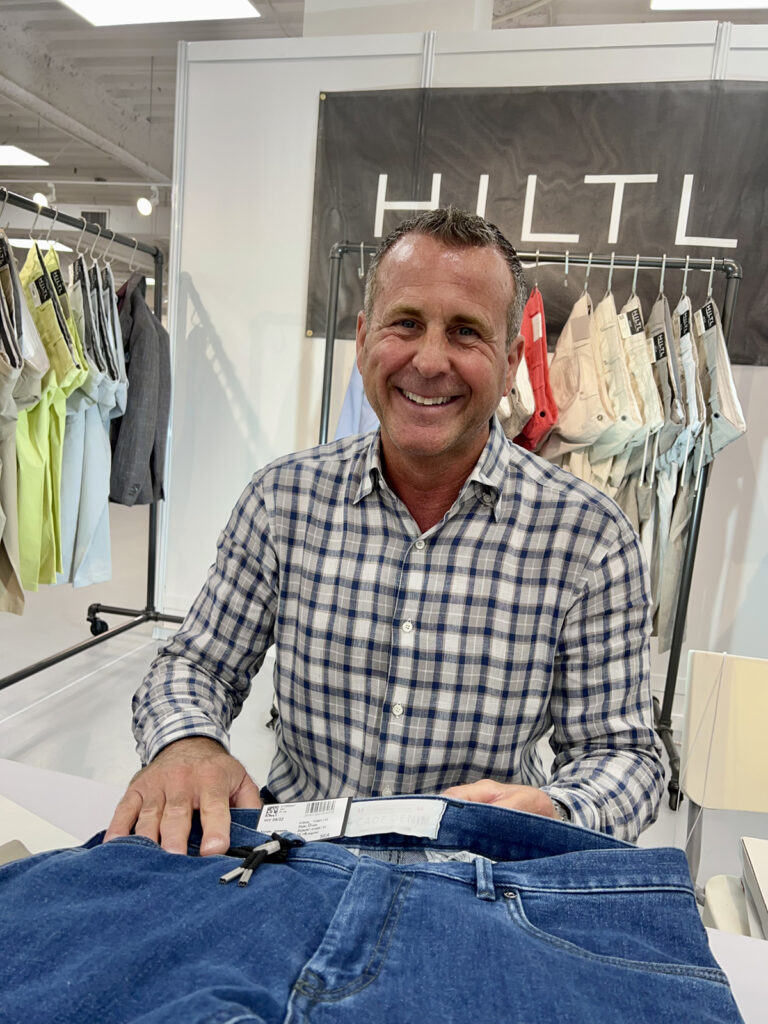 At Hiltl, Paul Poole praised many recent changes: the expanded in-stock program, three-day shipping out of Europe, focus on sustainable fabrics and an American fit. A cotton chino pant at 160 grams has booked well, as has a lightweight Supima. Some new models feature a little tucked pleat, very different from yesteryear's deep pleated styles but just enough to look modern. Suggested retails from $195-$375.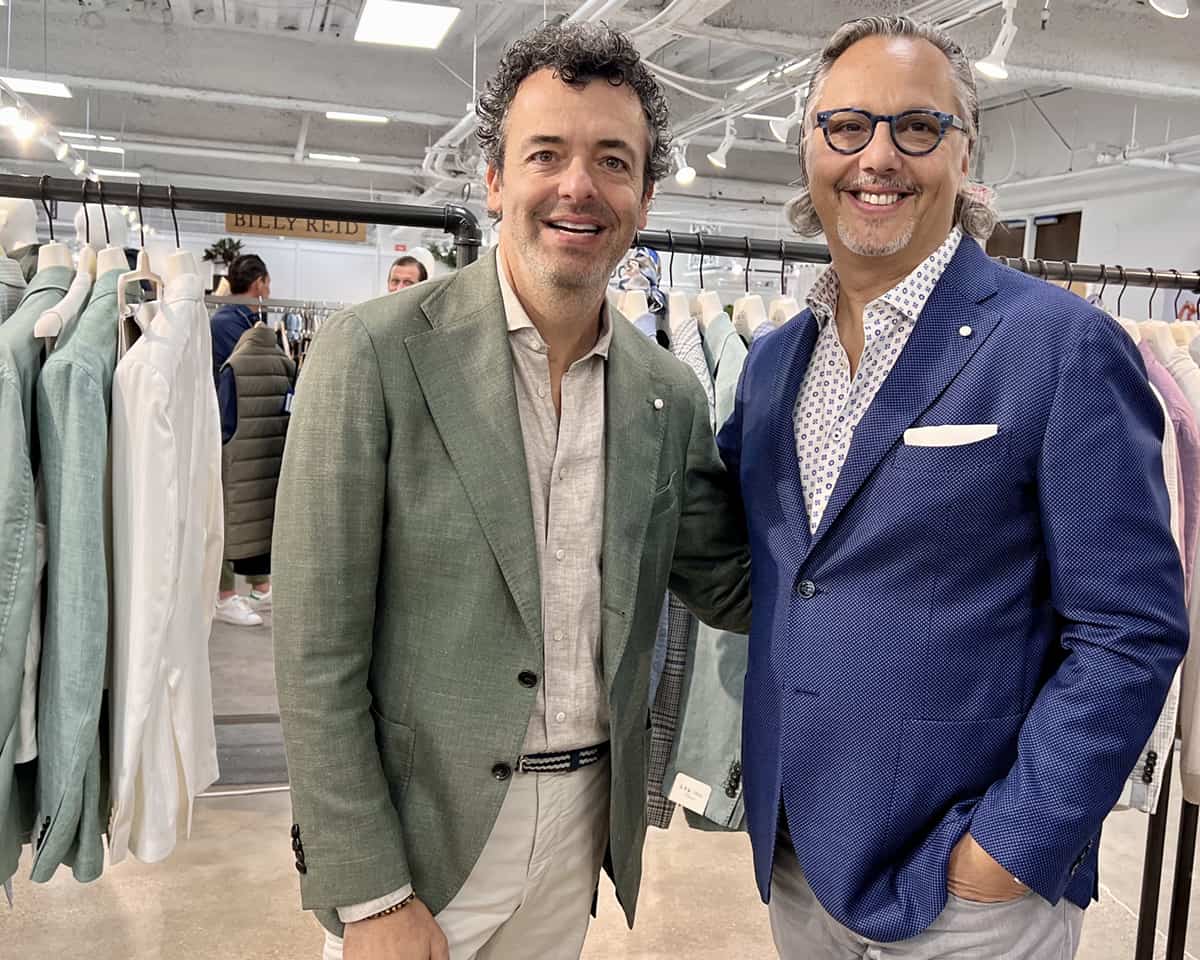 Marc Spero (left) and Larry Lentini at L.B.M. 1911 believe in a slim modern fit. "It will take a while to re-set the consumer mindset to fuller fits," maintains Marc, who nonetheless is offering a single-pleat model with a short dart rather than a deep pleat. "We have it, we're not pushing it, but we saw a lot of it at Pitti Uomo. However, we've changed the suit model a bit: from a drop 6 to a drop 7 for 90 percent of the collection."
Loved visiting with Hagen, who still sells no department stores and nothing online. "I grew up with independent specialty stores and that's the business I love," he explains. His softcoat collection, made just outside Naples, features luxury fabrics from stretch seersucker to performance linen to wool/silk/linen blends. Most wholesale at $225 for a $595 suggested retail. Also strong in the collection: beautiful linen shirts in long and short sleeves and some great cotton/cashmere quarter zips in soft shades of spring.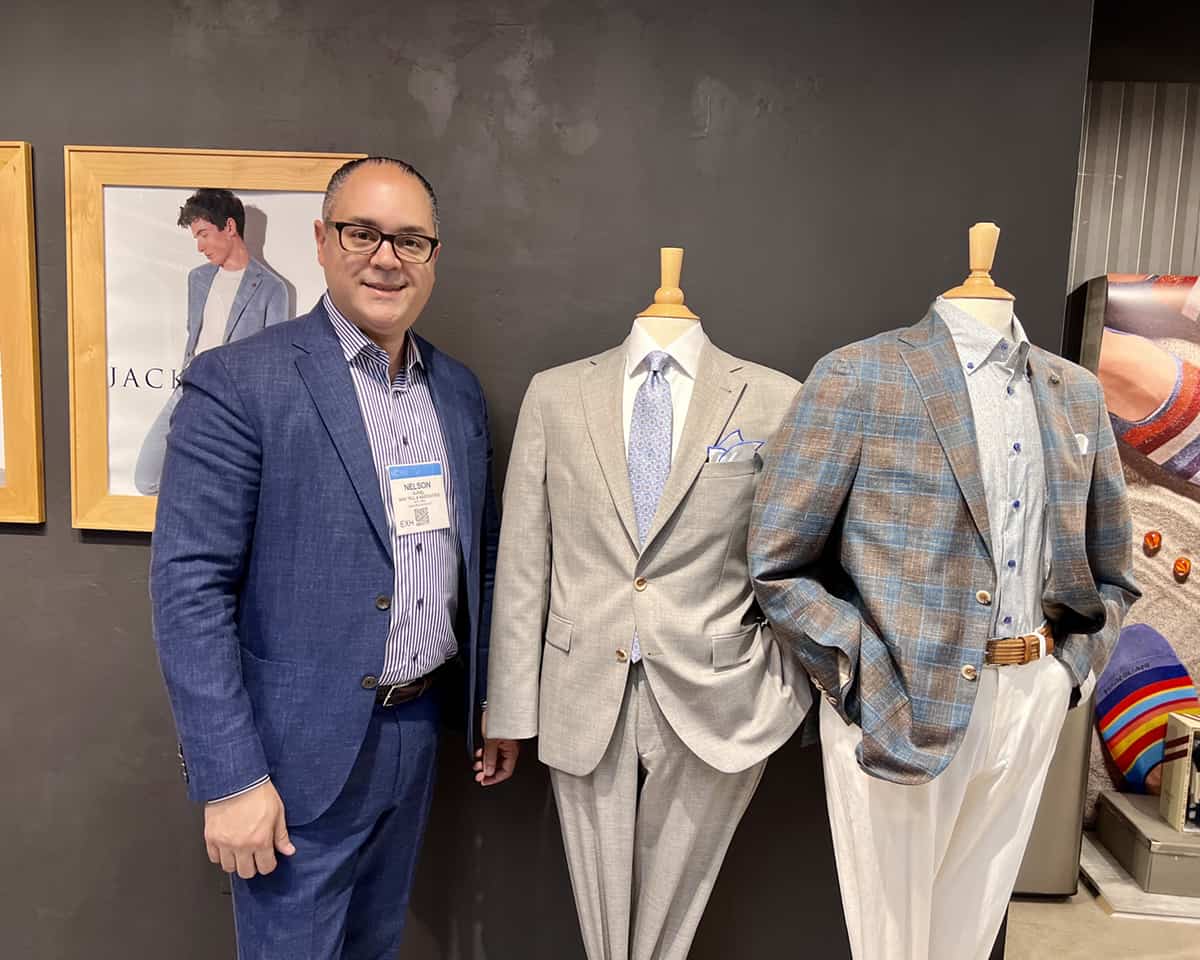 The Jack Victor collection looked terrific, especially the soft shoulder "comfort-wear" items. Nelson's prediction: DB's will be back in a big way for fall '24, as will pants with a 2-centimeter tuck rather than a full pleat. "Several stores that tested DBs sold them out," he noted. He also showed some great linen knits that, unlike wovens, refuse to wrinkle.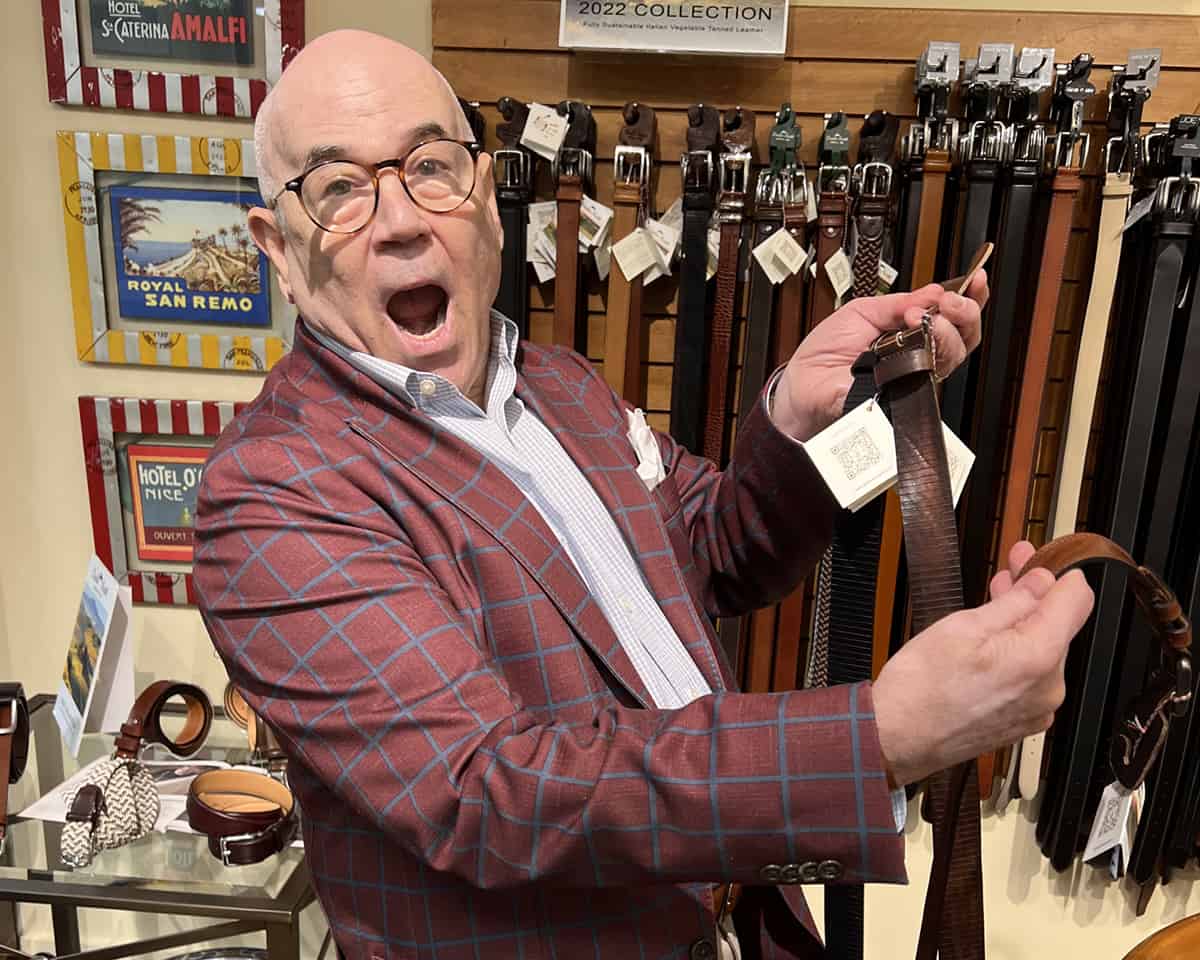 Harold Master was touting the "massive margins" on his Emilio Scotti belts, made in Italy. At wholesales from $38.50 to $42.50, these belts are retailing from $135 to $155. Not bad!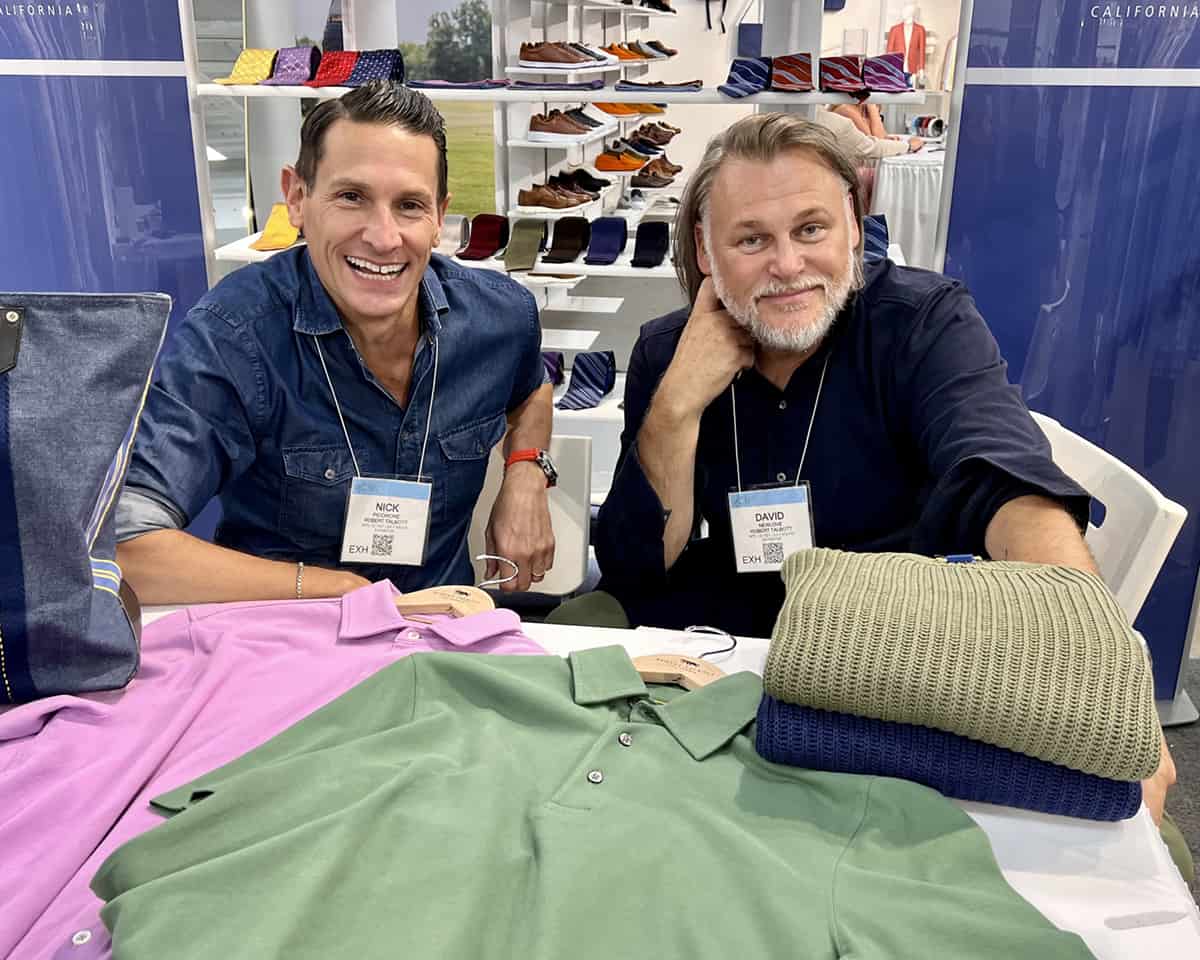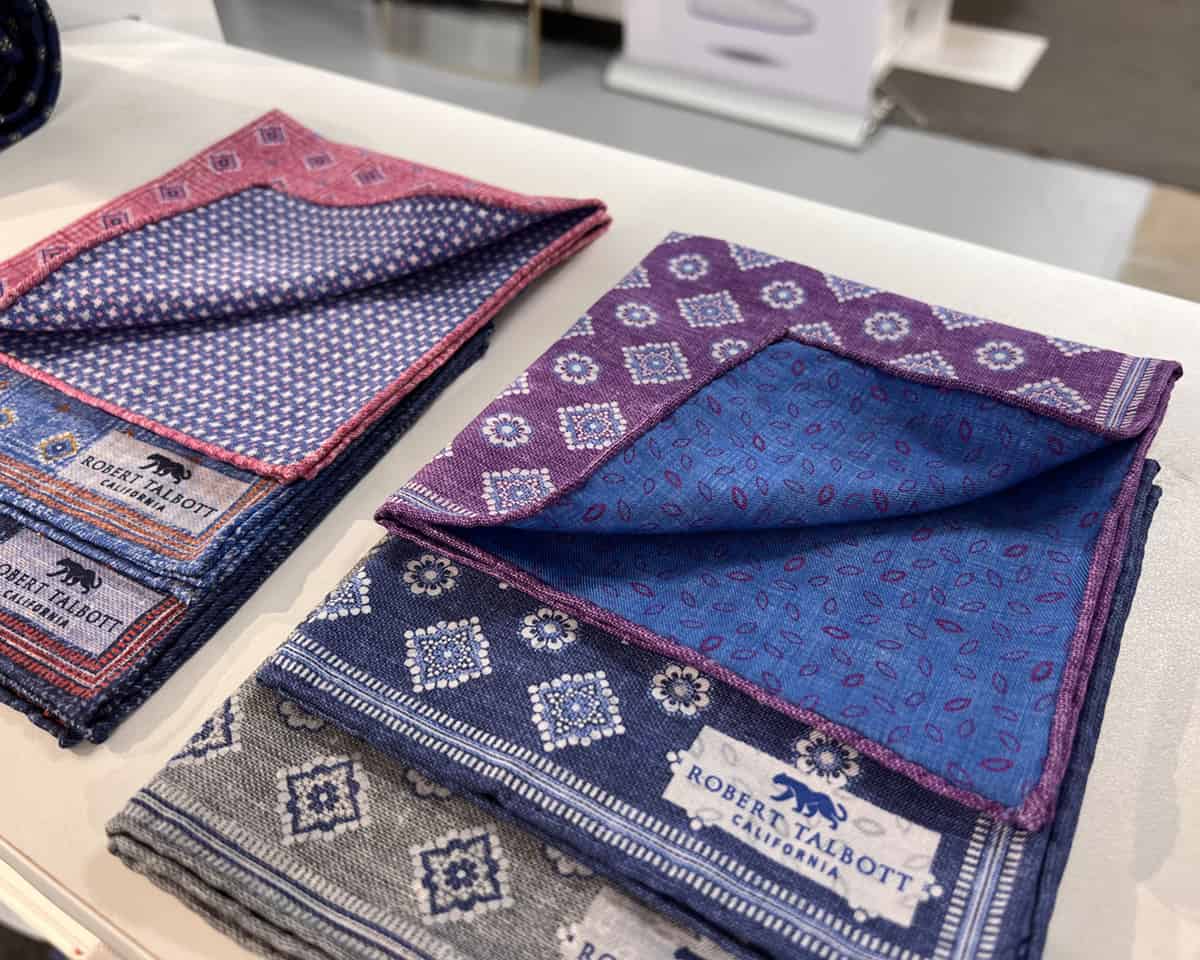 At Robert Talbott, I loved the one-piece collar cotton/linen shirts, the 100 percent cotton pique knits in great colors and some truly fabulous bags. But what really brought home the essence of the brand was the vintage-inspired neckwear and matte finish pocket squares, somehow printed with complementary patterns on each side of the fabric. There's even a seven-fold necktie; Mrs. Talbott is smiling from heaven!