JOHN VARVATOS TEAMS UP WITH NICK JONAS ON NEW COLLECTION, CAMPAIGN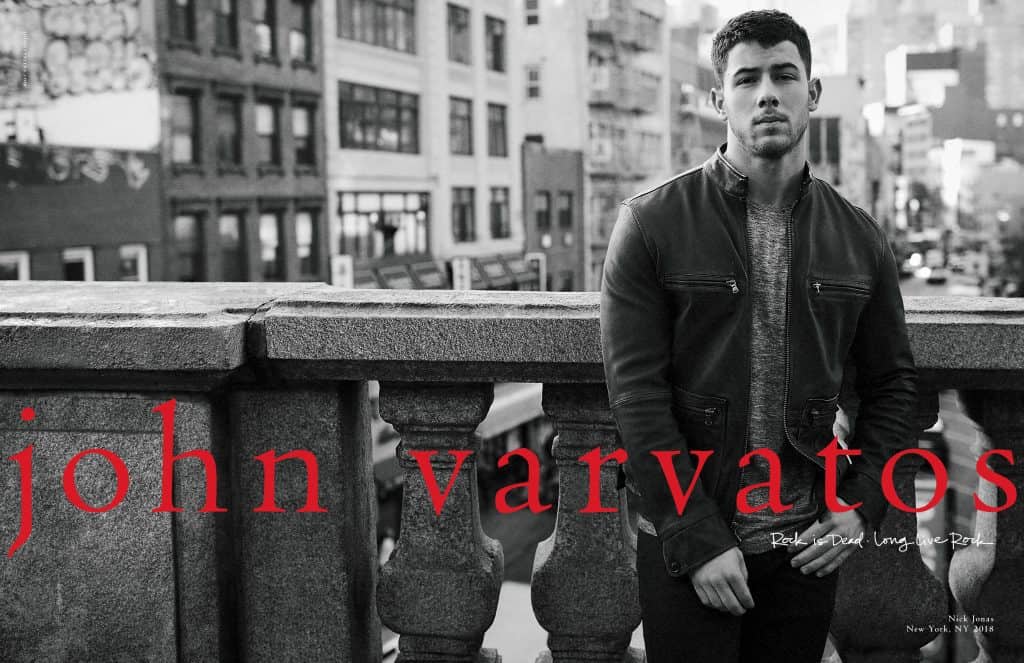 American fashion designer John Varvatos has announced a new partnership with musician Nick Jonas for the spring/summer 2018 season. As part of this collaboration, Varvatos and Jonas have designed a unique limited-edition capsule collection, in tandem with Jonas becoming the new face of the brand.
The capsule itself personifies the rock n' roll spirit inherent to the John Varvatos brand, infused with the energy and style of Jonas. From knitwear to leather jackets, each piece carries its own identity while fully comprehending the duality of the modern man's day-to-day. For the first time in the brand's history, it will feature a new joint label; JV x NJ.
At the heart of the collaboration is Detroit. Steeped in rich musical history and serving as the backdrop to John Varvatos' early life, the city has come to symbolize a hub of art and culture that resonates deeply with Nick Jonas as well.
"The process of working with Nick is amazing," said Varvatos. "He's a musician, he's an artist, he's an actor, he's intrigued by everything in the world and I had a real connection with that. It's inspiring to be around someone who is not only connected with the trade that they do, but also with what's happening in the environment around him, and how that connects to what we do with style. We're working together on a number of things, first he's going be the face of our campaign, and then we've collaborated on a series of items for the spring season, and we had a great time doing it together."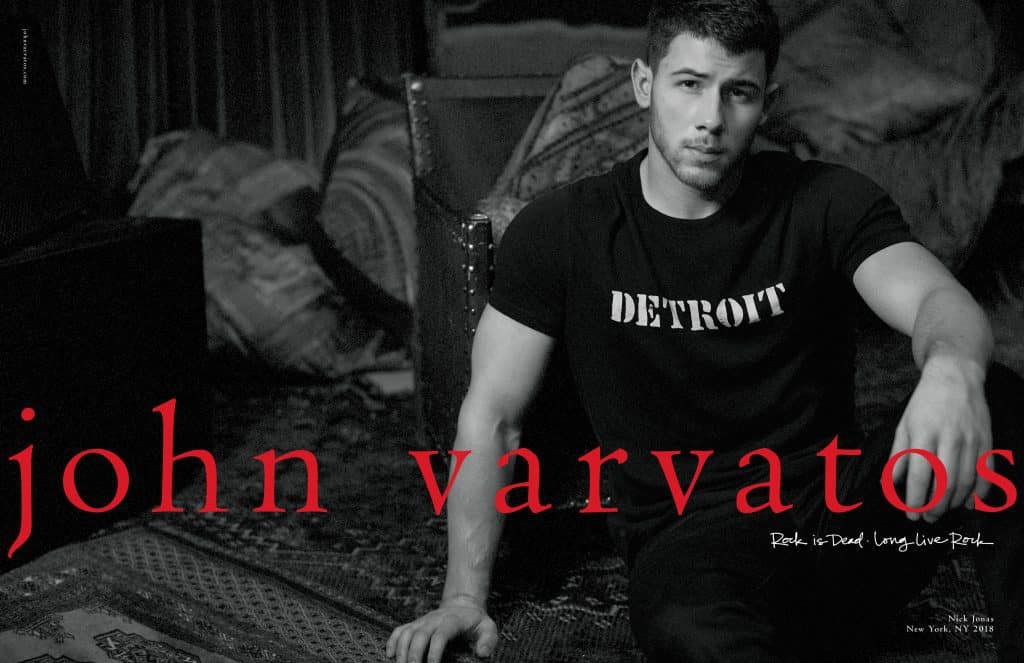 "We sat down at dinner and I knew right away this was going to be a great friend of mine, – I think it made sense to both of us," maintained Jonas. "The human connection was so real because the friendship evolved in such a natural way, the next step was trying to make something great together. Beyond just fashion and music and the tie in there, we're thinking big picture about how do we influence the world in some way."
"This collaboration is unique to us," added Varvatos. "We've never done another collaboration with any artist, any individual, on the product, the design, the aesthetic of the brand. I look forward to doing many more things with Nick in the future."
The campaign follows 25 seasons produced by Yard and photographed by Danny Clinch, all of which underscore the brand's affinity for creative vanguards and standout style-makers. Past collaborators include Machine Gun Kelly, Vintage Trouble, Hozier, Ziggy and Stephen Marley, Ringo Starr, KISS, Willie Nelson, Jimmy Page and Gary Clark Jr., Paul Weller and Miles Kane, Green Day, The Roots, Dave Matthews, ZZ Top, Franz Ferdinand, Perry Farrell, Cheap Trick, Alice Cooper, Velvet Revolver, Iggy Pop, Chris Cornell, Joe Perry, Ryan Adams and Slash.