Martin Greenfield: The Suit Doctor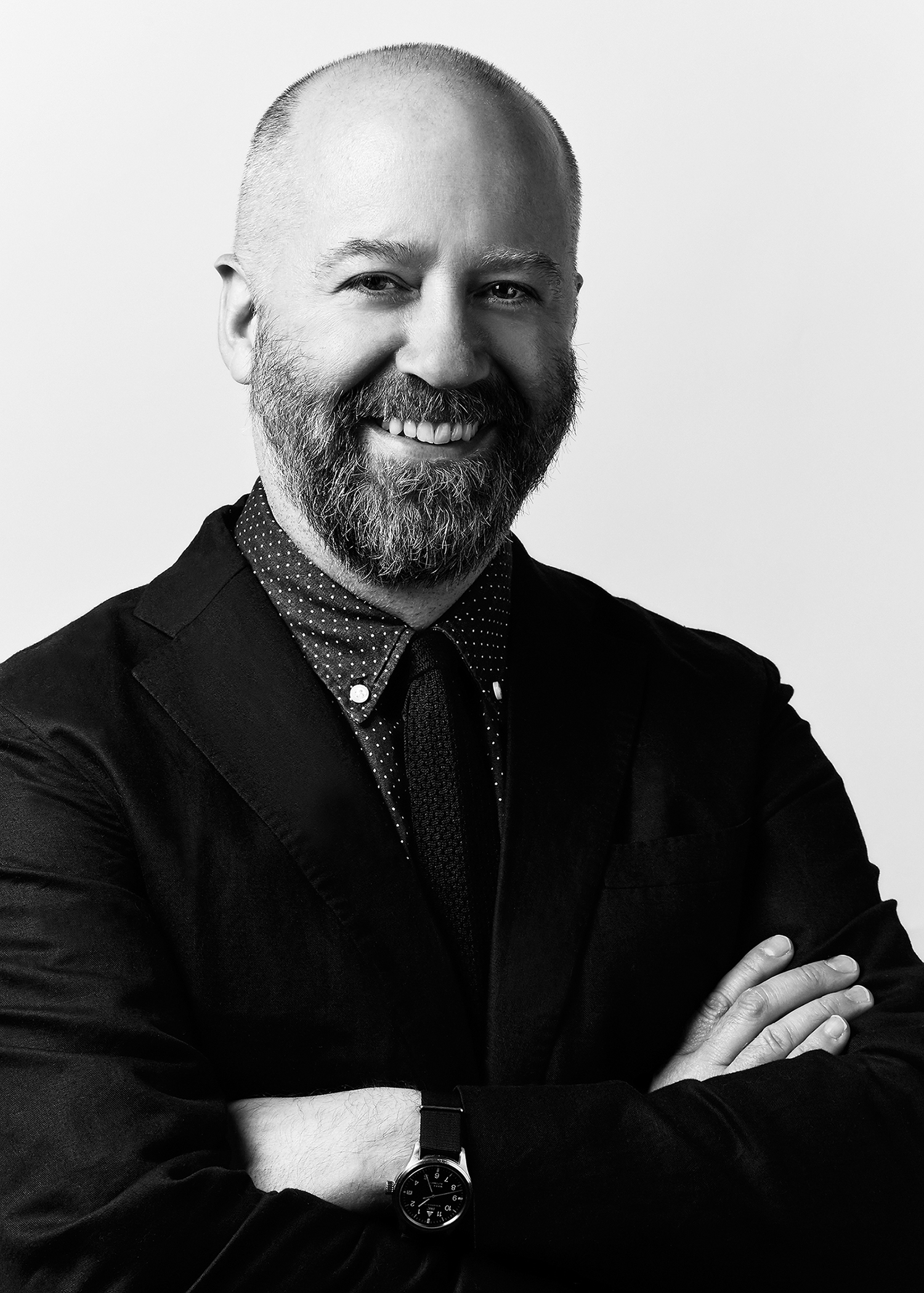 Uptown/Downtown Awards — Lifetime Achievement
Martin Greenfield came to America with nothing, started as a floor boy in a Brooklyn suit factory and worked his way up to be one of the most celebrated tailors in the world.
Martin Greenfield has always been able to spot his suits from a distance. "Years and years ago I was in Venice, Italy with my cousin. We were on a bridge and I said to him, that man over there far away, he wears my suit," Greenfield recalls. "And he says, 'I can't believe that.' I said, 'You want to make a little bet?'" They walked over to the man and talked to him, and Greenfield won the bet.
Greenfield loves to talk to everyone, whether they wear his suits or not. "He's the type of person who, if you had a seat next to him on an airplane, it would be empty most of the flight because he'd have to go and talk to as many people as he could," laughs his son Jay, who began working with him in 1979.
"He came here with nothing but the dirt under his fingernails and ended up with a Forrest Gump-like story: he met every Hollywood star, politician and world leader and considers them all his friends," says his younger son Tod, who joined the company 1985. "Not only did he survive the Holocaust, but our factory has survived as the last factory around here. It's because of him, not for any other reason."
Greenfield grew up in a small Carpathian Mountain town in what is now the Czech Republic. He was in his teens when the Nazis came. "I was sent to Budapest and I was there for three years before my father took me home one day. We had one night together, it was Passover. The second night the whole town was surrounded by the Germans and the Hungarians and they gave us one hour to pack before they took us away to the ghetto. From the ghetto we went to Auschwitz where we were separated and I guess no one survived but me," he recalls. "I didn't discuss my past for 40 years in this country, until we had a gathering in Washington. I thought that if I told my story, no one would believe it, so why talk about it?"
When the Americans liberated Buchenwald, the second camp Greenfield was sent to, he met General Eisenhower. Years later, he would make suits for President Eisenhower.
When Greenfield arrived in America after the War, he spoke many languages but not English. As he got his green card, an interpreter explained to him that he was on his way to becoming an American. "And I said to him, 'I am Czech and I am a Jew, so you got it wrong.' And he said, 'No, I got it right: this green card makes you like me.'" That was a revelation for Greenfield: coming from Europe where national and religious identities were a matter of life and death, to a country that would accept everyone as its own was remarkable to him. Greenfield took becoming an American very seriously. "By the time I was interviewed to become a citizen five years later I could have interviewed the interviewer! I knew more about America than he did!"
His first job in America was as a floor boy at the William P. Goldman & Bros. suit factory in Brooklyn, commonly known as "Three G's" for its GGG logo. He wanted to be a doctor (it was the career path his father had hoped he would take), but when he realized how many years it would take him to become a doctor going to night school, he was disappointed. "So my boss said to me he'd make me a suit doctor," Greenfield laughs. He rose quickly at GGG Clothes, from floor boy to assistant supervisor, then a quality man. Eventually he ran the whole factory. In 1977, he bought it.
"GGG was probably the biggest company in the world that made handmade clothing," Greenfield says proudly. "We had 565 tailors here when I came as a floor boy in 1947. Here was my university. I learned everything at GGG—not in the schools, not anyplace else—here, where I'm working now. My boss had a lot of respect for my work, and eventually I ran the whole company. I was the youngest man running GGG. Mr. Goldman wouldn't let me leave; I had many offers but I never left Mr. Goldman. He was my mentor, he was like my father. When I came here he was 70 years old and when he died he was almost 100."
Greenfield is working on a memoir with writer Wynton Hall, due out in November. "It's going to be a good one!" he says excitedly. "I wanted it to be mostly about what I accomplished in America. The past has to be there, but what I'm doing and how I got to do it is the most important thing."
Making the Clothing
"You must remember one thing," says Greenfield. "Today, anybody can make a suit—here, there, China—but very few people have the skills to do what we're doing. It's very hard to explain to people handmade clothing until I put the jacket on you and you feel the softness, you move in it."
He tells the story of an Israeli ambassador in his 60s who exclaimed after his first suit, "No one ever told me I looked good until I wore your suit!"
It's the handwork that makes the difference, Greenfield explains. The factory, which still occupies the original 36,000 sq. ft., four-story wood-beamed building GGG started in, employs about 120 people of 17 nationalities.
"When my father started here, there were over 3,000 factories like ours in New York City," says Tod. "We're the last union men's tailored clothing factory in NYC with over 100 employees—the last of 3,000."
At some point, that history became an asset. "I guess Scott [Sternberg] from Band of Outsiders was the first to come to us and say, 'Is it okay to put a hangtag on all my garments saying that they're hand tailored in a 100-year-old factory by Martin Greenfield in Brooklyn?'" recalls Jay. "And we said, sure, we're proud of what we do, of course you can put it out there."
Martin Greenfield Clothiers does a ready-to-wear line for Gilt Groupe (around $1,000 retail) and a custom business out of the factory (an average suit sells for between $1,800 and $1,900). They make suits for designers like Band of Outsiders and Rag & Bone, and they do a custom business with Brooks Brothers and other retailers. And now there's Martin Greenfield Heritage, which sends reps to measure customers in their homes or offices.
Greenfield has made clothing for many Presidents, both at GGG Clothing and after he bought the factory and turned it into Martin Greenfield Clothiers. Clinton was the first President to invite him to the White House for a fitting. Presidents Ford, George W. Bush and Obama have all been fitted. Colin Powell, who didn't become a customer until later in life, has called him a mentor.
The legendary client list grew organically, through word of mouth. "We don't do any promotion," explains Tod. "My father early on had this idea about intrinsic value and he's drilled it into us forever. The money we get paid is to be used to make the clothing. There's really no other good reason for spending that money on anything else. Not on a showroom, not on advertising, not on sports cars…it goes to make the clothing and that gives the clothing intrinsic value. His belief was that eventually that value would show and people will realize that our clothing is a good value and they'll buy it. We've been operating under that idea as long as I've been working here. And now it's paying off; our story has been getting around."
Greenfield proudly lists the designers he's worked with: "I know all of them. I helped make all of Tommy Hilfiger's samples when he started. Calvin Klein is still my friend and I used make his personal suits. I was going to work with him but then he was almost broke so I had to go with Donna Karan. But he's still friends with me. Now there are new designers of course. Some make it, some don't, but I never turn anyone away. Some of them are successful, like Rag & Bone. But you know, after a while, they make cheaper stuff, just to make more money. I expect it all the time."
Tod Greenfield on his Father
"I'm very proud of him. What he's been through and what he's achieved is remarkable. There were a ridiculous amount of people who were cruel to him in his late childhood and many people who went through that just became embittered. But he sort of just cherished all other relationships as a result of this."
Jay Greenfield on his Father
"He's instilled in us that sense of family, because of his past. And that's probably driven me and my brother to seek a path in life where we want to be by his side and help him accomplish his goals here and be a part of it. It's a sense of great pride for us."
Greenfield at the Movies
Jay Greenfield is usually the one who measures actors for the costumes the factory makes for movies and television. "I'm up to 150 characters on Boardwalk Empire!" he chuckles. HBO's Prohibition-era drama starring Steve Buscemi is in its final season. "It's a good clothing season for us with Boardwalk Empire because they're wrapping up the story, going back in time and forward in time, so we're making three eras of clothing," adds Tod.
"The Great Gatsby was a lot of fun and it was a big challenge," says Jay. "When I heard we were going to be working on it I said, great, 1920s, we know how to do that. Instead, the discussion with the costume designer Catherine Martin was, 'Well, we want the details of the 1920s, but we want a modern silhouette and fit to go along with it.' In the scheme of seeing the movie with the music and everything else—it was a mixture of old and new—it made sense afterwards."
Upcoming projects include Black Mass, a movie about crime boss Whitey Bulger that takes place between the '70s and the '90s, and The Knick, a Cinemax series about New York's Knickerbocker Hospital circa 1900.