MERCHANT'S MERCHANT AWARD: JAMES STARKE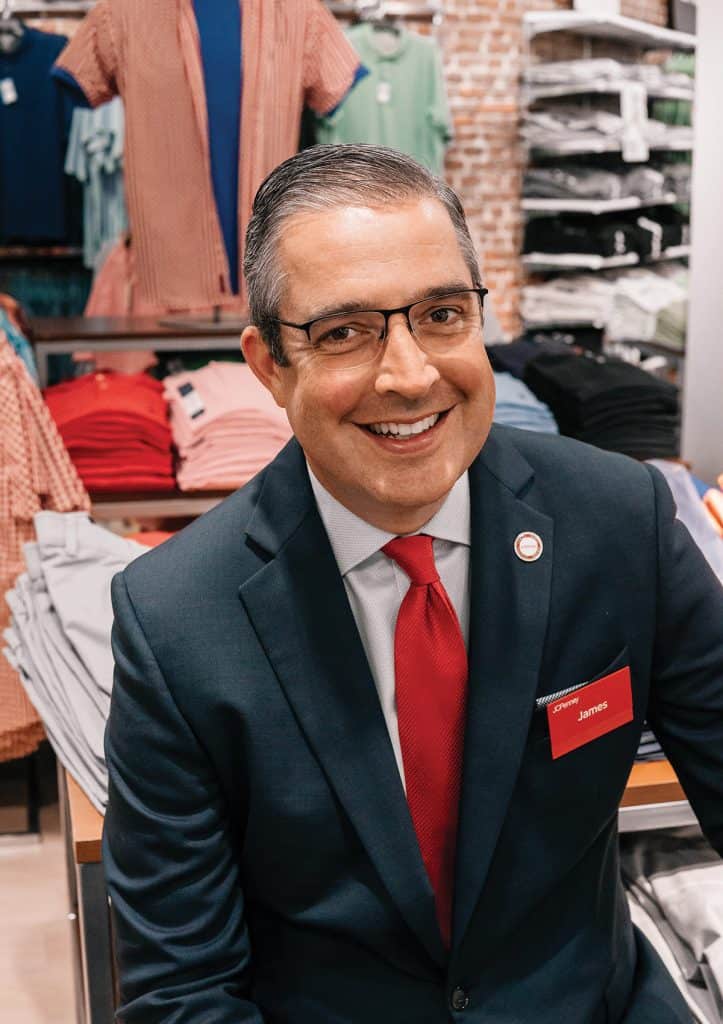 As a young teenager, James Starke had lined up a most enviable summer job: working with his friends at a theme park in Houston. His father, however, had another idea: he knew the manager of a grocery store who offered James $2.80 an hour to sack groceries. After working at this grocery store through high school and college, James was asked by his dad (a chemical engineer who worked on environmental issues for Shell Oil) what he learned from this six-year experience.
"I was trying to come up with these lofty lessons," recalls James, "something about gaining a strong work ethic or appreciating the value of a dollar. 'No James,' my father corrected me. 'The lesson learned is that you don't want a career in retailing.' I lost my dad about six months after this conversation and I often think about him and hope he's looking down, proud of what I've accomplished."
Applying for his first post-college job at Foley's department store in Houston, James shared with the GMM some of his grocery store experiences including how he got rid of off-price goods that the buyer had loaded up on. "The GMM looked at me and a light went off: he realized I understood the business and immediately offered me the job."
Starke joined JCPenney in 2005 and has, according to associates, truly earned his executive stature as VP/GMM of men's, kid's and home. Says Jeff Useforge, DMM of all men's except dress-up who's worked with James every step of the way for the past eight years, "We're very fortunate to have James as our leader to calm the waters and keep us focused during these recent years of intense change. He not only sets the vision and strategy, but he's terrific at removing roadblocks so his team can drive business and be creative. He's always there to inspire and support us."
Marissa Carpenter, senior buyer for young men's who's also worked with James for eight years, agrees. "James is always wanting to hear what's working; he knows the young customer changes every day so he makes sure to stay on top of it. He also knows how to take a complex situation and break it down into simple, actionable components. He's incredibly nimble, constantly learning and always implementing new ideas."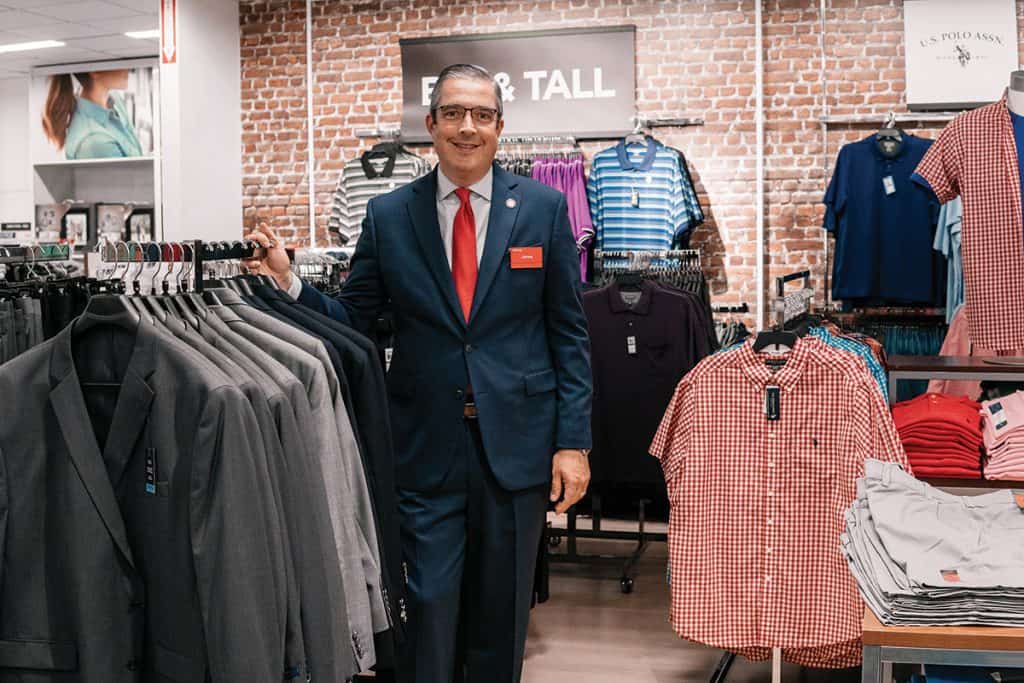 For his part, Starke (who's worked for five CEO's in 12 years) could not be more proud of his menswear team. "It's amazing what this team has accomplished in these precarious times," he confides. "I can't say enough about them, their level of consistency and the growth they've been able to achieve in a challenging environment. Of all the different facets of my job, the most rewarding is working with and motivating my team, helping them figure out how to drive our various businesses and course-correct when necessary. I realized a long time ago that job satisfaction is all about the people you work with. During the Ron Johnson era, the distraction created a bond among colleagues that could almost be compared to a combat experience. Although I've never been in combat, we had this esprit de coeur among team members. We were brothers; we would virtually die for each other. My job was to keep up morale."
Alluding to a corporate mission to return to growth in apparel, Starke says he's optimistic that his team will meet this goal in men's. Sharing results from a recent in-house men's research initiative (done by JCPenney's customer strategy/consumer insights team), he notes, "Our research indicates we need a stop clock with our male customers: we have no more than 20 minutes to get them through the process of finding what they want, assessing what we have to offer, trying it on, making a decision and then making a purchase. If we can't do it within that timeframe, the sale is lost. We also learned that our customers care more about value than price paid. We're seeing them trade up for performance and comfort features so we've upgraded assortments to higher AUR goods, with no slowdown in sell-throughs. Our customers are responding to technical features, comfort, anything that makes their lives easier."
This research also verified the theory that men are doing more shopping for themselves. "So, we made several changes to our floors to cater specifically to men. For example, we've consolidated all our Big & Tall sizes into one-stop shops in all doors as of last September. We now carry everything B&T from underwear to suits in a single shop, with Shaq as our new brand ambassador (his namesake collection will launch in September). We've also created a dominant pants destination so customers looking for choices in pants can more easily view the entire mix and select what they want.
"I hate to play favorites but in addition to B&T (because I'm a customer and have always had trouble finding clothes and shoes that fit) I'm partial to tailored clothing and furnishings, categories I used to buy. So, these departments tend to get a bit more love from me. We launched our Michael Strahan collection in the fall of 2015 with just five categories and generated $7 million in sales that first year. We've added ten additional categories since then and I've never seen anything with the rapid acceleration of this brand, which expanded into activewear for spring '16 with the same success as the initial launch.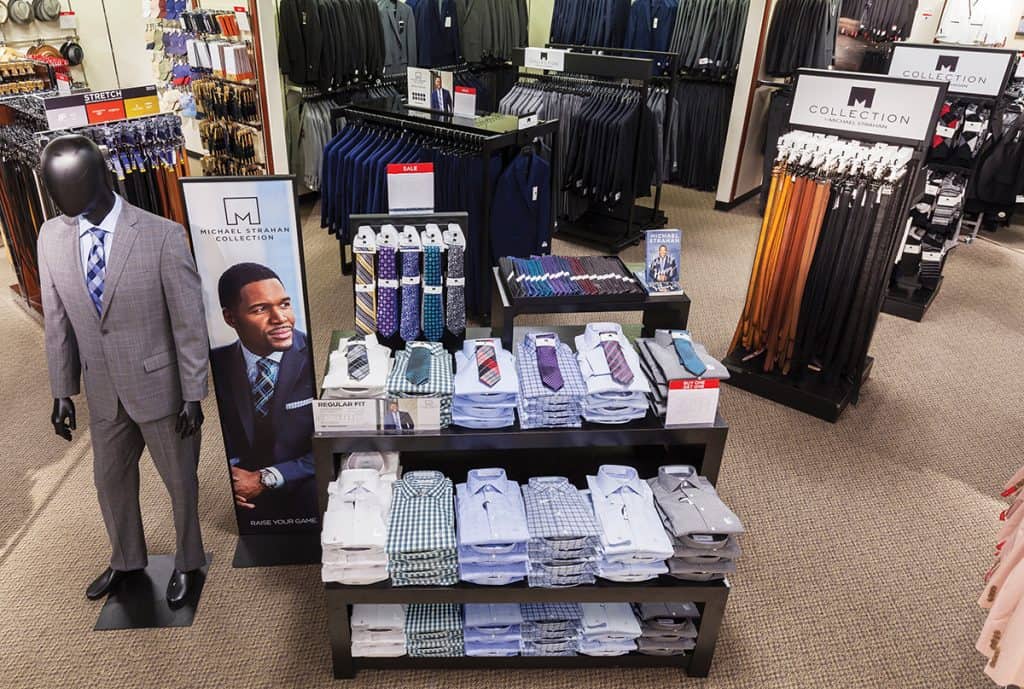 "Other components of our clothing assortment include J Ferrar — our younger, slim-fit, value-priced ($150 out the door; $300 ticket) tailored brand that I consider our loyalty play. This customer is coming to us for a suit to wear for a high-risk occasion: perhaps a job interview or the funeral of a loved one. If we can fulfill his needs at a high level of unforgettable service, odds are he'll return to us for other needs.
"Since I was the dress shirt buyer at JCPenney in 2008, it recently occurred to me that our furnishings floors looked exactly the same as they did ten years ago! So, we totally transformed our presentations so that the floor is now open-sell. We updated and upgraded and made it much easier for men to find their styles and sizes."
Starke can't overstate the value of his relationships with JCPenney's national brands. "The consistent results we've had in menswear would not have been possible without our national brand partners. I remember the day in 2013 when Ron left, we were flooded with calls from our national brand suppliers saying how much they were behind us. That support has been unwavering in my tenure at JCPenney."
Asked if he plans to add more upscale national brands to the mix, Starke is thoughtful. 'I think we're always looking for great brands and we're constantly evaluating what's available to us. We're open to assessing any potential brand but I can't say today that we have specific plans to trade up."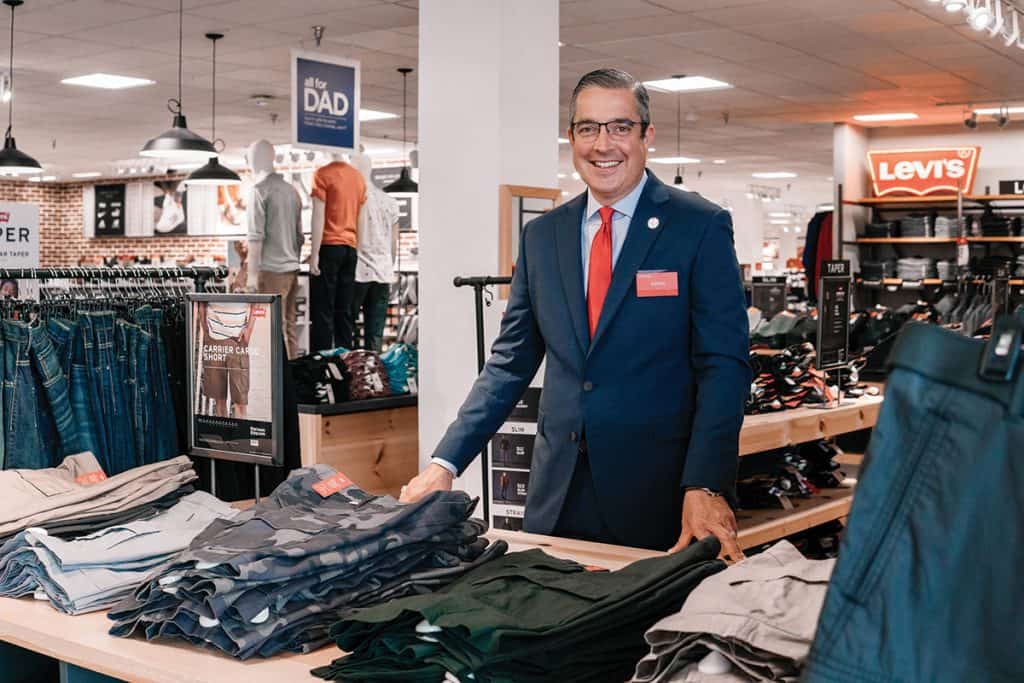 In addition to JCPenney's powerful national brands, Starke is truly excited about the newly launched Fanatics shops that are giving a specialty store feel to selling floors in 325 stores for Father's Day and 650 for Back-To-School. "Fanatics operates the e-commerce platforms for hundreds of collegiate and professional sports leagues (NBA.com, NFL.com, etc) and they're taking over this business by storm. So, we're thrilled to be getting in on the ground floor as their exclusive brick-and-mortar partner. We'll have two tiers of shops, including flagships with TVs and iPads for a fully immersive fan experience. This will help us create a more hyper-localized experience which is key since we already manage 3,500 store/team combinations. (Starke jokes: Please be careful how you use that figure or our team apparel buyer will realize how important he is to our success and we'll have to pay him a whole lot more than we do now…) There's a tremendous amount of complexity in this business."
With so much innovation in his menswear categories and May '18 business strong, Starke should be happy. Still, we ask what keeps him up at night (in addition to his four kids, ages 10, 9, 7 and 3)? "I worry about the rapid pace of change in the retail landscape," he confides. "It keeps me up at night but also gets me up in the morning and keeps me invigorated throughout the day. You hear so much these days about creating a friction-less environment between in-store and online and how everyone's chasing that. You hear about the growing population of millennials: how they're more affluent but less loyal shoppers. And we're all trying to understand new retail formats like subscription services. So, for me, trying to get out in front of the changing retail landscape while managing the traditional parts of our business is by far our biggest challenge. Fortunately, I've got the perfect team to make it happen."