MICHAEL BASTIAN ON THE CHANGING RETAIL LANDSCAPE AND HIS HOPES FOR GRAY LABEL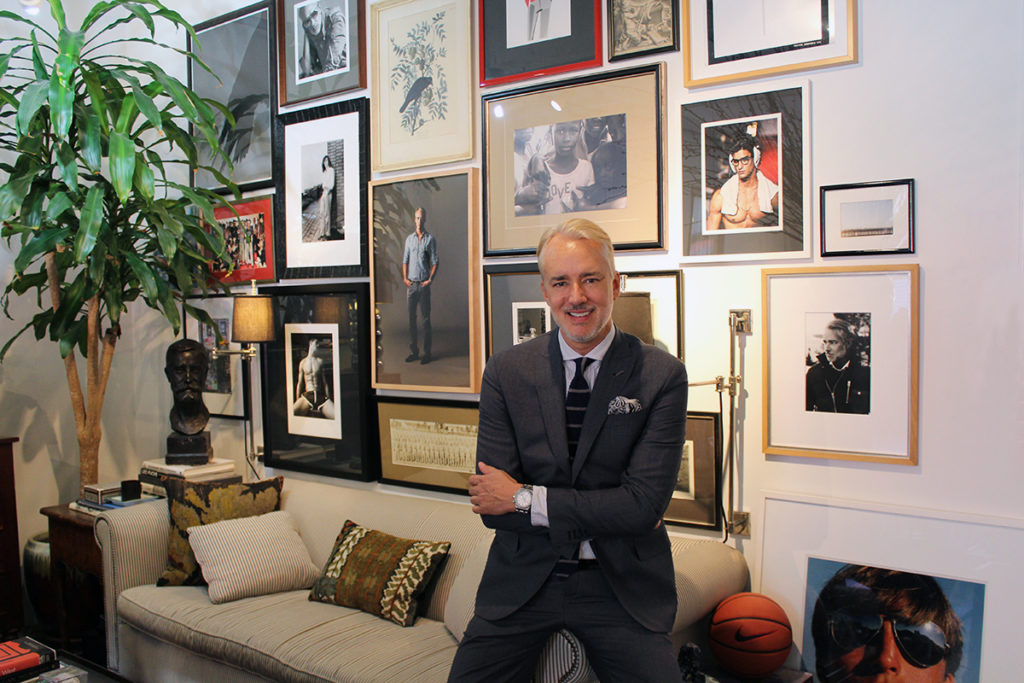 Menswear designer Michael Bastian has had a fantastic year. With 10 years under his belt running his eponymous luxury line, Bastian is entering a new phase in his career by launching his first mid-tier line: Michael Bastian Gray Label. This new lifestyle collection, made possible by a recent investment by brand management company Bluestar Alliance, sees the addition of well-made menswear at an attainable pricepoint – something Bastian is really excited about introducing to the world.
With one selling season almost behind him, we thought it would be a great time to catch up with Bastian on how Gray Label was received at the trade shows and what his hopes are for the brand going forward.
Q: How would you describe your personal style?
A: It's easy to say preppy, but I don't necessarily feel it's that preppy. I just thinks it's based on those American classics – like tailored clothing, jeans, chinos, button-downs – and then mixing them up in a really personal way.
Q: How does your style influence what you do for your designer collection and for Gray Label?
A: It really is the basis for both of the lines. We always start from the American classics and modernize them, whether it's through fit or fabric, or with interesting details. But really starting from those building blocks from that classic American men's wardrobe is what influences the collections.
Advertisement
Q: What did retailers react to the most at the trade shows?
A: I think it's very easy for people to get very excited about sportswear since everyone wears it all the time. I think with any new menswear line, the momentum is usually with the sportswear and then the other classifications develop around that. I'm very proud of the dress shirts, tailored clothing and ties and as equally proud as the sportswear. I think the shoes are incredible as well.
The retailers usually zoom in on their specialty. Each store has its own niche. For example, Zappos is mostly concerned about shoes, but is also developing a ready-to-wear component. The same could be said about Amazon. Other stores are buying based on how much open selling space they have on their floors. I feel that every season this collection will evolve into something more relevant to the market.
Q: What were some of your takeaways from your initial showings to retailers?
A: I think there has been a lot of pent-up interest for something with my name on it at a more accessible price point. My designer line has always been positioned at a luxury level. Having done collaborations with Gant, Gap x GQ and Uniqlo at much more affordable pricepoints, I think there was this demand to see what we could do with our own name that wasn't a co-branded label. The reaction exceeded our expectations right out of the gate.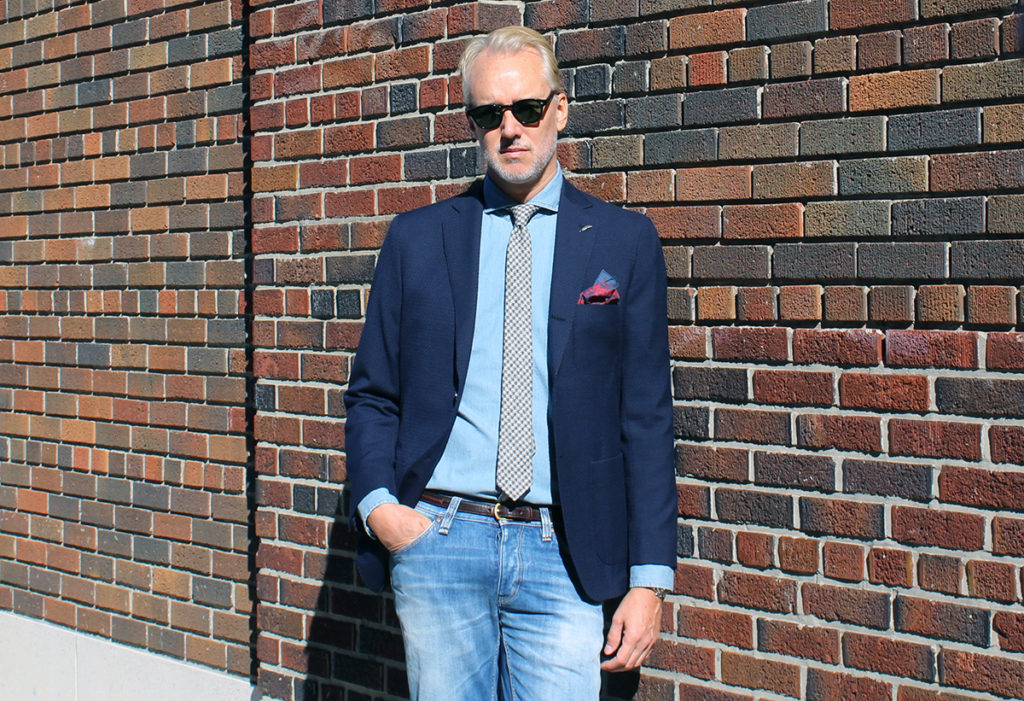 Q: Who are some of the retailers that will be carrying Gray Label?
A: We are still, believe it or not, taking orders and here we are in the middle of October. But some of the retailers that have gotten behind the line are Bloomingdale's, Nordstrom, Hudson's Bay, Amazon and a bunch of specialty stores. There are even more stores taking another look at our pre-fall collection in a few weeks.
Q: What are some of the core elements of your tailored clothing selection for Gray Label?
A: What still feels relevant for me right now is our three-button or two-button jackets with a peak lapel and flatfront pants. The fit that we are still pushing is a slim, tailored look. Next season we are getting more into dinner jackets and formalwear, which I'm really excited about.
Advertisement
Q: We're seeing a loosening up of fits on the runway. Is this something your customer is looking for?
A: I always say that the menswear wheel turns very slowly. The least advanced customer overlaps with the most advanced customer. This idea of looser fits is really percolating up from sportswear first. Eventually I think it will translate into tailored clothing. But for our guy, he may be interested in playing around with a looser pleated pant or a looser sweater, but at the moment I think he likes his tailored clothing crisp and fitted with a soft shoulder.
Q: What are some of the changes in the menswear industry since you've started?
A: I would say retail has changed the most. It has become really hard, especially at the luxury level, to compete with these huge groups that have the ability to fund shop-in-shops and have freestanding stores. There are fewer and fewer retailers that are able to carry a luxury product at a certain price and have a significant business. But at the mid-level, where Gray Label is positioned, things are a little different. I think that the mid-level has mostly been affected by online sales. There was always this idea that men would be reluctant to buy tailored clothing online because they want to see how things fit. But what I've seen from personal experience, guys are not afraid to shop online anymore. If they love and know a brand they will buy online.
Fashion moves very quickly now with social media pushing everything. At the designer end there is this "buy now, wear now" notion. Everyone wants to know when the right time to show a collection is. There are a ton of questions that I don't feel have been 100 percent answered yet about our changing retail landscape. Maybe next year we will have a better idea of where retail is going, but right now I think we just need to keep focusing on putting out great product that guys want at a price that matches the product's value.
On another note: Guys are really responding to stretch. And for the 10 years I've been in business, the first eight years I would never consider using stretch fabrics in my line. It just didn't feel masculine enough. But the fabric mills have gotten very good at putting in the bare minimum of stretch that you don't see it, but you do feel it. I would say most of our dress shirts and sportswear have a little bit of stretch in them, even some tailored has a little stretch. In a weird way that's a pretty big jump for guys. All it takes is to put on a pair of jeans or a dress shirt with that perfect amount of stretch to be hooked on it.
Advertisement
Q: What is the best piece of advice you've ever received?
A: John Bartlett once told me something really amazing. He said, "You're going to be surprised when you get in this business and you have a collection, you show it to the world, and sometimes they're going to go crazy over it and sometimes they're not. But when they don't go crazy over it, you have to keep moving." And that really stuck with me, because as a designer you live in your own bubble for six months designing a collection. And when you release it to the world you never know how they're going to react. But you really can't control what the outside world thinks of your collections. You've got to wake up the next day and keep going. It sounds very fundamental but it's actually very important to survive in this business. Keep pushing to do your best and refine your point of view, and be a better vendor to your retailers and your customers.
Q: What would you like Gray Label to develop into?
A:  Personally, I'd love to develop our online presence. I'd also love to add denim, fragrance and even activewear in the immediate future. In the long term, maybe adding women's or kids. But I'm a menswear guy first.