READING THE TEA LEAVES – BLOOMINGDALES' DAN LEPPO TALKS BUSINESS
Over a bacon and pepper quiche at Le Train Bleu, we caught up with the always optimistic menswear VP of Bloomingdale's to talk business.
Q: What's working in men's at the moment, and what's not?
A: Anyone who tells you business is good is a little off. Fortunately, ours has gotten better with each quarter this year, but it's not yet where it needs to be. Clearly, core product isn't what's ringing the register. In tailored clothing, for example, which is still a sizable business for us, there's been a migration away from suits toward soft tailored pieces. Also, better business is performing well (both Canali @$1,895 and Armani are doing relatively well), as is Suitsupply (a sharper priced concession business from which we're learning a lot about breaking traditional clothing rules). But, unforunately, our mid pricepoints ($900-$1,200 retails) are getting squeezed.
Q: So how do you fix this?
A: We now think about clothing as both an evolving fashion item and an investment purchase. If guys are going to spend money for a suit these days, the look is somewhat dandified. Even our sportcoat business, which is mostly soft shoulder/deconstructed, is largely patterned to wear dress-up or dress-down with beautiful Italian dress pants or else with jeans. But while patterns are key and slimmer fits are now mainstream, suit models remain relatively conservative: we do very little business in DBs or vested styles.
Q: How's business in dress furnishings?
A: It's been a little tough; dress shirts are doing better than ties. There's a secular trend towards business casual in the workplace that the menswear industry can fight only so hard. Still, better furnishings brands (Turnbull & Asser, Eton, Hilditch & Key) are raising the bar. That said, we're now playing in some lower price zones as well: there's a fast fashion effect on retail that we have to acknowledge. Not all guys are willing to invest in clothes.
Q: In men's fashion overall, what are you most excited about?
A: We're excited about bringing in new brand experiences like Combatant Gentleman and Knot Standard. We look forward to re-building our Hugo Boss business with Tony Luccia back on board. We're enjoying a continued growth in pants business: guys are buying up pants that fit, which they haven't had for a while. Black Friday business was very strong in denim, young men's, outerwear and sweaters and we project further growth in these categories, as well as in sneakers and dress shoes. Young men's now incorporates everything from cool t-shirts to athleisure to '90s retro athletic wear. Of course, it's hard for an upscale store to compete on Nike, Adidas and Under Armour, so ours needs to be a fashion edit.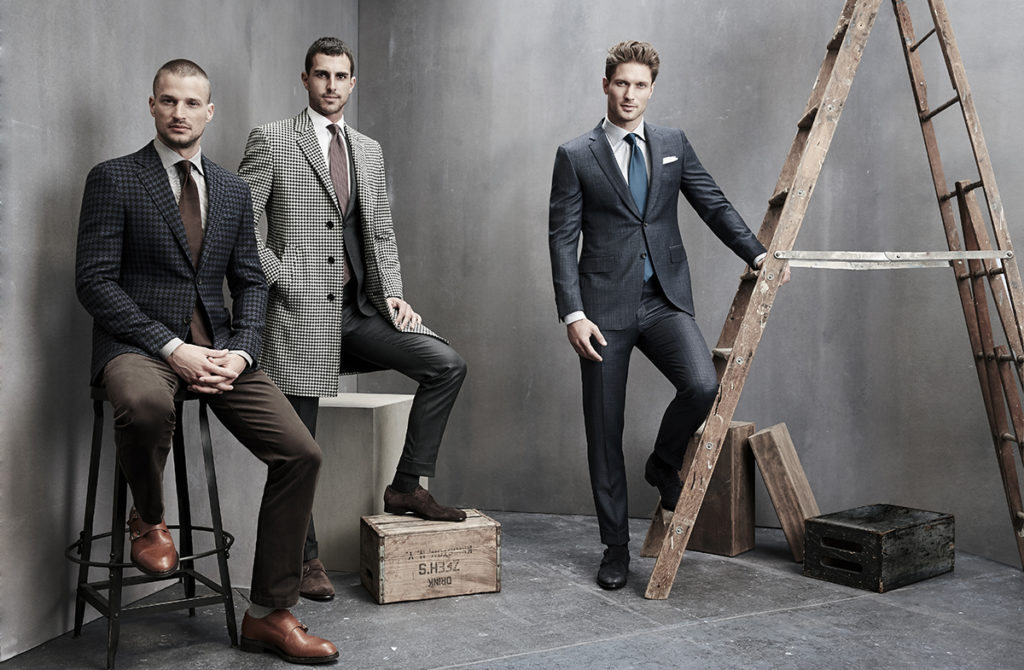 Q: How much does your mix replicate Macy's?
A: Very little overall. We are a contemporary store with a sophisticated point of view. Our tailored clothing, for example, opens at $600 and our #1 resource is Canali. Of course, we carry some of the same big brands but it's a different edit. Consider even a core sportswear brand like Polo: Macy's has a huge business in pique knits and other great key items, whereas we sell more outerwear, sweaters and high-ticket fashion pieces.
Q: Can you share a bit about your online business?
A: It's continuing to grow to where online volume now surpasses that of our 59th St store. We can't tell customers how to shop: we can only offer a compelling mix and deliver it on their terms. If we don't put customers first in our decision-making, we won't be here: someone will build a better mousetrap. But it's important to note that wherever we have a store, our online business gets better. And that's our future: we're fortunate in that our brand is bigger than our store count (41 doors). We don't have a single store in any market that couldn't be an A door.
Q: What else are you doing to put customers first?
A: We're investing in a world of technology. Things like on-call fitting rooms, already in pilot in Short Hills, allow customers to press a button for a sales associate. (Of course we'll perfect it before we roll it out: the worst thing would be to press the button and no one comes.) Another example is women's shoes: associates use mobile phones and runners so they never have to leave the customer. We're on the cusp of amazing changes using technology: having the right product in stock, getting it there faster, ease of return, same day delivery, buy online/pick-up in store, websites customized for the individual consumer. I've given up long ago trying to tell customers what's important to them: today more than ever, the customer calls the shots. We still have to read the tea leaves but we can't dictate. We know that either we build loyalty or it's a race to the bottom, which is not a good formula for Bloomingdale's. Our strategy is different than many of our competitors in that we're not racing to open outlet stores.
Q: Most department stores are complaining about declining in-store traffic: how are you building it?
A: You need influencers to drive events. Odell Beckham's clothing line brought in more than 400 people at a September midweek event at our NY store, sponsored by GQ. We haven't been a big trunk show store in years. Our event strategy is to surprise, delight and bring a smile; to make people look and hopefully buy while they're having fun. I wouldn't say trunk shows are intrinsically fun. Other ways we're looking to build traffic involve a commitment to exclusive product, special collaborations, and unique in-store shops like the Dry Bar Salon in our SoHo store.
Q: Can you tells us a bit about Dan Leppo, the person not the merchant?
A: It's hard to separate the two since I grew up with a dad who was in retailing. (Editor's note: this is an understatement: Dan's father Harold Leppo was one of the most highly respected retail execs ever.) I live in the city with my wife and our daughter. My wife likes to say she has two kids: a 10 year old and a 45 year old. My mentors have been my late dad and Bloomingdale's execs Tony Spring, Mike Gould and David Fisher. They were all extraordinarily patient with me, especially since I could be a pretty cocky kid when I started out. They gave me perspective and helped me understand the nuances of leadership. Bottom line, I've been at Bloomingdale's for 22 years, about half my life. I care passionately about the next 22 years and view it as a privilege— and an obligation—to get talented young people excited about joining this culture. This is more important than ever since there are many more options for them.
Q: How worried are you about Nordstrom coming to Manhattan?
A: Of course we're worried but we can either fret about it or up our game and you better believe we're upping our game, making our store more compelling than ever. After all, we're the home store: this is our town! I truly respect Nordstrom as a competitor but there's no way we're going to let them win in our backyard. We've been in this city since 1872 and we will defend it to the end.