RETAILERS ARE LOOKING FOR NEW AVENUES OF GROWTH IN HOSIERY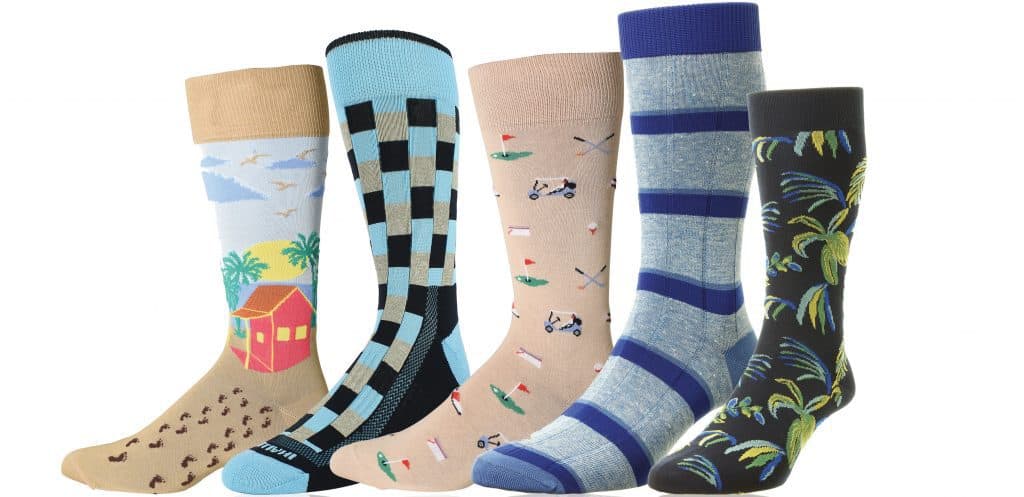 After many years of excitement in men's hosiery (as socks have replaced ties as a means of self-expression), the pendulum is swinging away from racks full of wild and crazy novelties towards a variety of options.
"We're seeing a return to a more sophisticated look," says designer Vivek Nagrani (whose socks now range from $40-$75 MSRP.) "The real luxury consumer is definitely seeking something more exclusive, which includes fabrics like cashmere and luxury blends. In fact, since we've changed direction to this more sophisticated look, all of our sales and re-orders are up, including 27 percent at Harry Rosen."
Adds Gary Flynn, president of Charleston-based M. Dumas & Sons. "We've been in a trend cycle where our customers were after louder and bolder patterns. However, socks are getting more sophisticated again. Still, that doesn't mean they are boring!"
Indeed, boring does not make cash registers ring. "On the weave-side, we're seeing success with socks with cool 3-D effects, like those from Ace & Everett," says Sam Glaser, vice president and buyer of Las Vegas-based retailer Stitched.
Adds Louis DiGiacomo, chief men's merchant at Saks Fifth Avenue: "We are seeing our customers buying stripes in brighter colors as well as novelty prints on basic colors."
Durand Guion, men's fashion director at Macy's, stresses the need for a mix of styles. "The male consumer is moving into more dress-inspired socks, which means he's still looking for novelty socks in new prints, patterns, and colors in order to create a canvas for self-expression."
Guion also advocates adding no-show socks to the mix. In fact, industry estimates now have no-shows at around 10 percent of the mix at department and mid-tier stores. "As more men gain confidence about exposing a bit of ankle, along with the trend to shorter inseams or rolling up pant bottoms, the need for no-shows has increased," he says.
This increase in "ankle swag," as Sharon Hausner, a buyer at The Doneger Group calls it, has also led men to "athletic fusion" socks, which combine novelty patterns and bold designs with a cushioned foot and other performance features, including moisture-wicking (One brand that does this particularly well is Pair of Thieves, which retails in the $10-$12 range).
Smart retailers who wish to have a leg up in the sock game are adding more variety, thus growing sales and profits.