THE NEW CONTEMPORARIES: RETAILERS TALK WHAT'S WORKING AND WHAT'S NEEDED TO DRIVE BUSINESS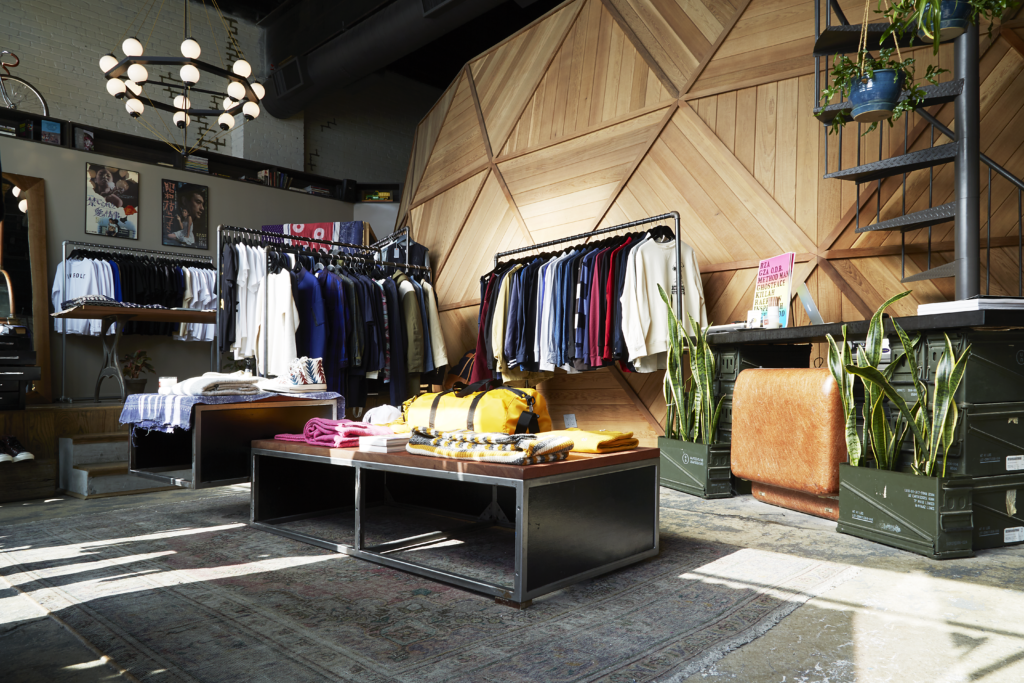 Forget all that you know about what makes a contemporary men's store. It's no longer about modern or advanced sportswear collections. Today's "contemporary" retailers are all about creating a unique experience for their specific customers, often building an entire culture around these stores. (And please don't call them "contemporary" – fewer merchants like this designation; fewer even know what it means.)
One could say this has much to do with today's volatile retail marketplace. With major online players like Amazon chipping away at market share, and most designers and brands moving to increase their direct-to-consumer sales, traditional brick-and-mortar retailers are taking a hit.
Take this holiday season for example. Statistics released from the National Retail Federation saw a huge growth in mobile and online sales during Black Friday weekend, with many analysts predicting that Cyber Monday will soon be the biggest shopping day in the country in the coming years.
Consumers spent $3.45 billion online on Cyber Monday, according to Adobe Digital Insights, easily blowing past initial estimates and continuing a strong Thanksgiving-Black Friday weekend. Adobe has also determined that mobile shopping (both phone and tablet) was responsible for $1.2 billion in U.S. online sales on Black Friday – the first time it has ever crossed the $1 billion mark, representing a huge 33 percent spike over the shopping frenzy from last year.
With the gradual move to more business being done online and on mobile devices, we spoke to some of today's most respected retailers catering to young people who have found success through creating a lifestyle culture beyond apparel.
What's Working?
While most independents we spoke to share some common ground, others are finding success in some surprising categories.
"Most of our brands are performing relatively well for us," says Erick DeLeon, store manager and buyer for MartinPatrick3 in Minneapolis, Minnesota. "But our tailoring continues to grow, due largely to our addition of an in-store tailor who can turn around a garment relatively quickly. This is great for us, especially since tailoring as a whole in America isn't performing at the level it once did."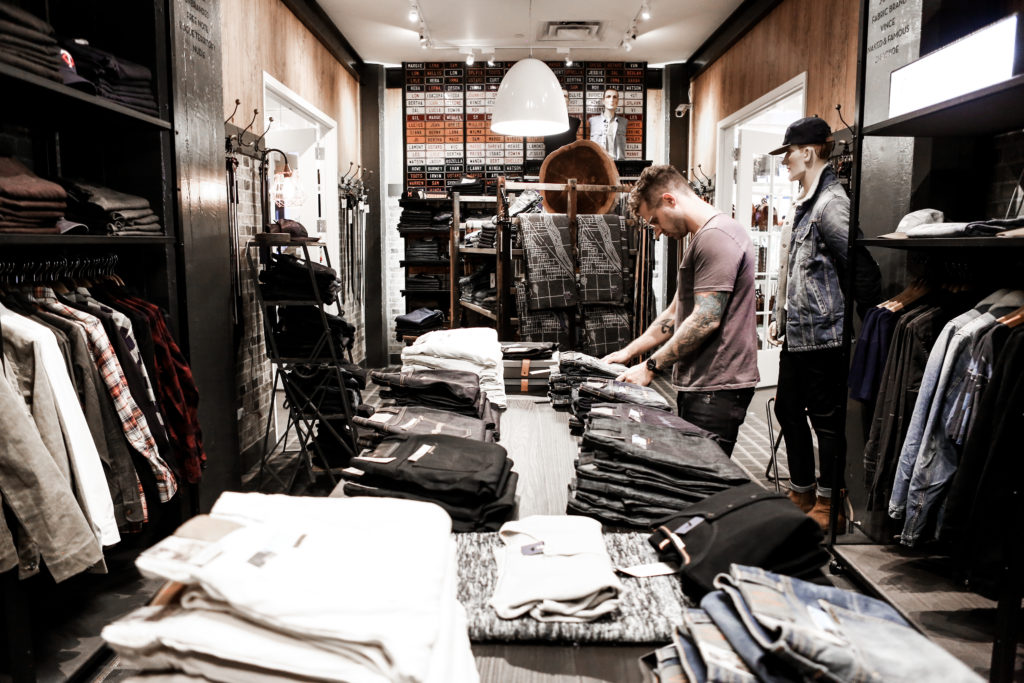 For Austin, Texas-based retailer Stag, which has additional locations in Dallas, Houston, and Venice Beach, CA, indigo is still driving a lot of its sales. "Indigo pieces in both knits and wovens have been performing really well for us year-round," says co-owner Steve Shuck. "But interestingly, these last eight months, there has been a big shift from raw denim styles to a more washed look. Our strongest brands across categories have been Faherty (with which the retailer has recently collaborated on a four-piece outerwear collection), RRL, Save Khaki, Saturdays, and cult-favorite Rogue Territory."
Laura Vinroot Poole, owner of Charlotte, North Carolina retailer Tabor, shares some similar successes in her mix. "Right now, our customers are loving Saturdays, RRL, Engineered Garments, and Thom Browne. They each speak to the sensibility of American design but from very different points of view. We find that collections that relate to or reference classic American sportswear do really well in our store."
"It's all about traditional streetwear for us, I mean, as traditional as streetwear can be," adds Keith Abrams, owner of Brooklyn, New York retailer Kinfolk. "When we first opened, fabulous knitwear and interesting textiles did really well. But now, our customers have transitioned into demanding streetwear staples like graphic tees and denim. Our Japanese brands like Wacko Maria, Bedwin & The Heartbreakers, and Bleu de Paname (all of which retail around $250 for wovens and $600 for outerwear), always do really well even though the pricepoint and sizing is always a little tricky. But ultimately, our number one seller is our private label: 40 percent of our business is our own."
The Experience
So how do these retailers get customers to come into their stores and spend money?
It could be as simple as providing a level of service unmatched in their communities. "We want all of our customers to feel welcomed and comfortable," maintains DeLeon. "We offer free cider and cookies, which is especially welcome here in the colder months in Minneapolis, and we take the time to explore the store with the customer so they can find something that meets their needs."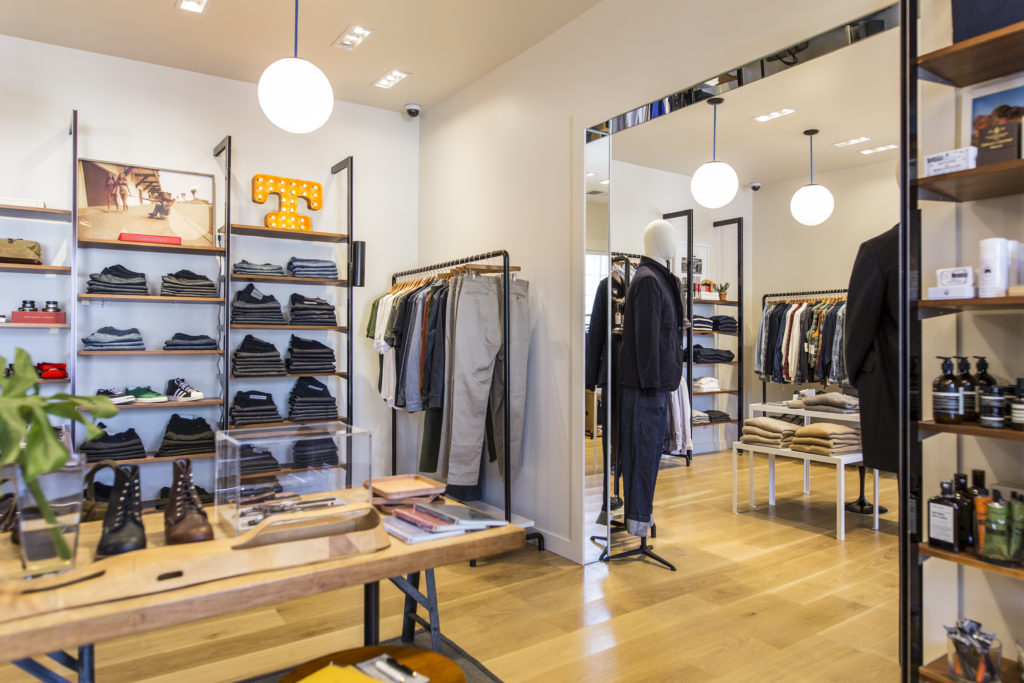 Tabor's Poole shares this sentiment. "We offer a service that goes above and beyond traditional customer service where we entrench ourselves in our clients' closets," she says. "We can organize their wardrobes for each season and figure out what pieces will elevate their style in a comfortable way. That's something that some of our guys really appreciate. But we also focus on importing art and culture to the South through the individuals and ideas we bring into our space through events – whether that be musician Justin Townes Earle playing on our front porch or adventurer and environmentalist David de Rothschild leading a discussion on the way nature influences design."
Events are an easy way for retailers to drive traffic into their stores. "We do a lot of events throughout all of our locations," adds Shuck. "We have monthly events at all of our locations that include appearances that range from designers to authors and artists. These have helped connect our stores to their respective communities more than we've expected."
Kinfolk, which has established its own cult following through the multi-use space it occupies in the popular Williamsburg neighborhood of Brooklyn, has taken events to a new level. "Right here on Wythe Avenue we have sandwiched our store between a café and a night club, both of which we own," says Abrams. "Selling drinks on Friday and Saturday nights allows us more freedom to not just carry the same brands that you see at similar stores. The success of our nightclub allows us to take risks in our store that a normal boutique our size would not be able to take. I'm a big believer in multi-use. It's not that we invented this concept, but as retail leases are getting more and more expensive, it's hard to just be one thing. Bringing in different concepts brings in different people, which ultimately helps our bottom line."
What's Needed?
While there is no clear answer on how to address the current issues of the retail industry, there are some things to consider while taking the steps to improving future business.
"We need new and exciting product," declares Shuck. "What has been happening for the last few years is that the new seasonal collections from a lot of brands are fairly basic. While most are filled with legitimate, often beautiful pieces, it's not something that surprises us, or the customer. We've also noticed that it has been a challenge to find authentic-looking washed denim that feels like it was naturally broken in. That's something that we'd love to see."
For Poole, the challenge has been her e-commerce strategy and how companies could make it easier for smaller business to succeed while utilizing new tools. "E-commerce doesn't make me feel warm or excited or loved or taken care of," she says. "Five years ago we built an e-commerce site for my women's shop, but I killed it after a week.  Even with bigger boutiques, it's very hard to drive traffic to the site unless you're a department store. We have this handsome store designed by my husband, with a unique selection, but how do you get new clients to discover your store? So I decided to build an app called House Account with a friend of mine who runs a tech company to grow our customer base outside of Charlotte.  Our clients can shop Tabor's storefront online here or on their mobile. More apps like this could really help the smaller guys out there."
For others, it's bigger picture ideas that will win the day. "When we started working in the 1990s, there was a real connection between the culture and the product," adds Jey Perie, Kinfolk's creative director. "I think now we are in a shopping culture, where the culture is the product, which is something that we are, as a company, having a hard time dealing with and relating to. We feel a bit isolated, especially since we are a destination store. But my take on the industry now is that it's only talking to itself. It isn't looking outside of the 'norm' for how to fix the issues that retail is currently facing. With new technologies, different needs and wants from various generations, and increasing online competition, the only solution on how to save this whole thing is to look outside of the industry for what's next. Now's the time to be creative."
"From my point of view, I always encourage the team to push themselves and really dig deep into our numbers," maintains DeLeon. "We have to see what's selling, how the weather affected our sales, and what our store needs in order to make it better season after season. A year and a half ago we started incorporating mid-season deliveries, which are great for keeping the store fresh. We can't just rely on the traditional fall/winter and spring/summer season's anymore. The world is changing and we can't be left behind."