VINEYARD VINES CONTINUES PARTNERSHIP WITH BRIGHT PINK FOR BREAST CANCER AWARENESS MONTH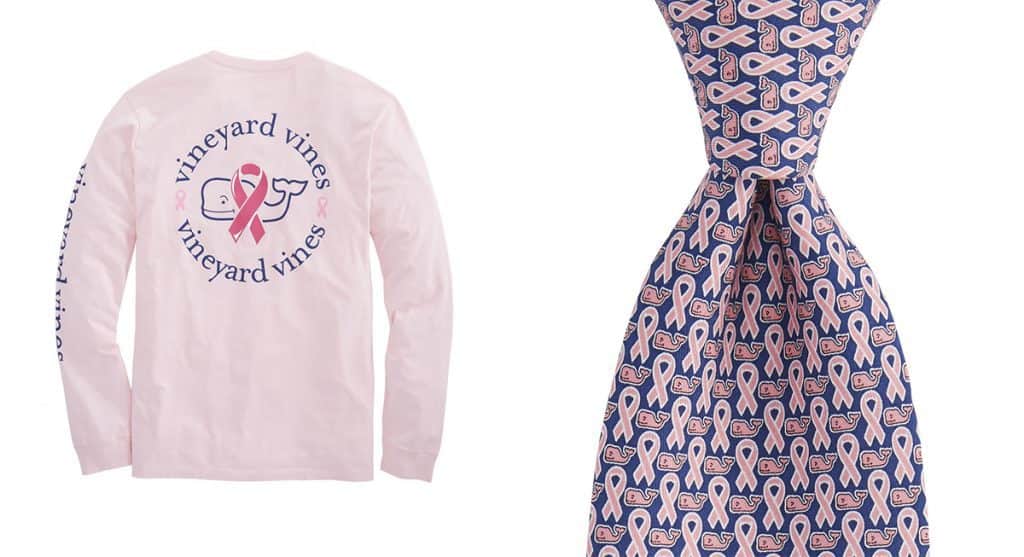 Prep lifestyle apparel brand Vineyard Vines is continuing its partnership with Bright Pink, a non-profit organization dedicated to the prevention and early detection of breast and ovarian cancer. The exclusive collection includes long-sleeve tees and a silk tie bearing the brand's whale logo paired with the breast cancer awareness Pink Ribbon. In honor of loved ones who have been lost or presently fighting, the brand will donate 30 percent of all sales from the product collection to Bright Pink. The assortment is available for purchase at vineyardvines.com and select Vineyard Vines stores.
"We are proud to team up with Bright Pink for the second year," said Shep Murray, Vineyard Vines CEO and co-founder. "Ian and I have seen the effects of this horrible disease and the toll it takes on families. It's a continued priority for us to educate and raise awareness."
"Bright Pink's dedication to the education and empowerment of women to live proactively is truly inspiring," added Ian Murray, Vineyard Vines CEO and co-founder. "A few years ago we lost our mom to cancer and we are proud to help an organization that focuses on women taking action against the disease."
"We're incredibly grateful to have a partner like Vineyard Vines that shares our vision of empowering millions of women to live their best lives and be their own best health advocates," said Bright Pink CEO Katie Thiede. "We're also incredibly inspired by Shep and Ian who have shared their personal connection to the cause, and in doing so are helping to inspire other men and women to recognize the importance of being proactive with their health and encourage their loved ones to do the same. Through this campaign, Vineyard Vines will raise critical funds to fuel Bright Pink's life-saving mission and amplify our programs that put awareness in action. We're thrilled to continue working with Vineyard Vines."
In addition to the special collection, Bright Pink's mission and their online detection tools will be promoted by Vineyard Vines through their social channels, digital ads and in-store events. Vineyard vines will host a storewide event on October 13th from 4-7PM where additional proceeds of all products sold during that time will go back to Bright Pink.