A LOOK AT JCPENNEY'S MENSWEAR INITIATIVES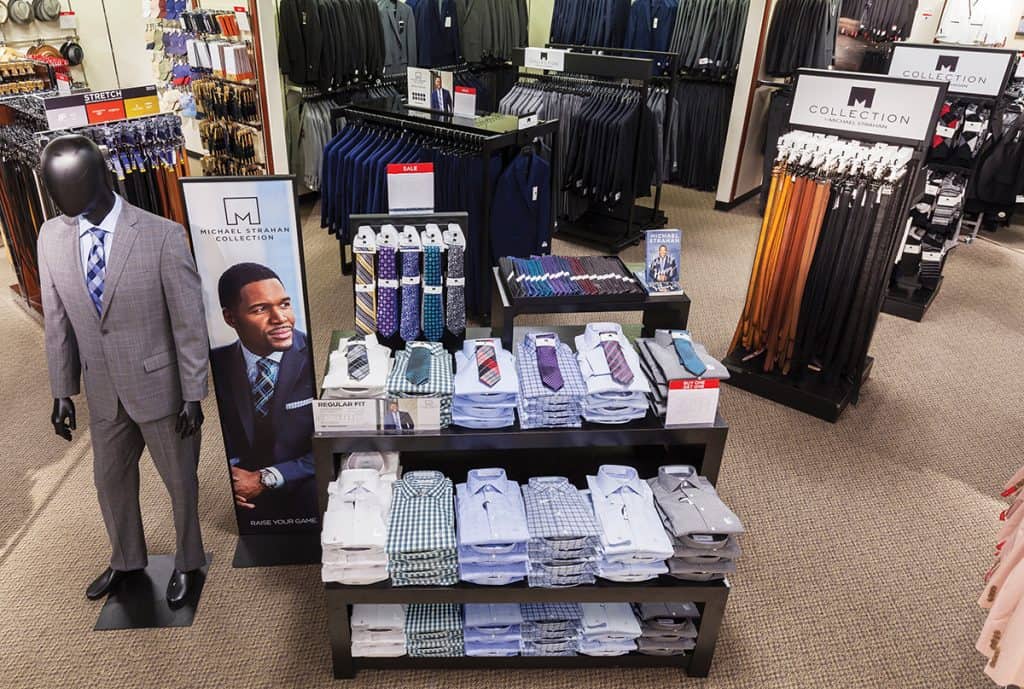 Among the many steps JCPenney has recently taken to build menswear business:
• Repositioned and added excitement to golf shops.
• Intensified their relationship with Michael Strahan. "Michael is totally hands-on and fully engaged so it's a pleasure to work with him," says Joseph Thomas in corporate communications. "We've greatly expanded our product offerings. MSX is our new athleisure category that features tees, polos, chinos, etc., many in performance fabrics with quick dry, stretch and cooling properties. We're also growing Michael Strahan Collection (tailored clothing and furnishings), shoes, luggage and underwear, all of which is already proving quite successful."
• Targeted men's tailored clothing by demographic: J. Ferrar for millennials, Collection (by Michael Strahan) for guys in their 30s and 40s, and Stafford for guys in their 40s and 50s.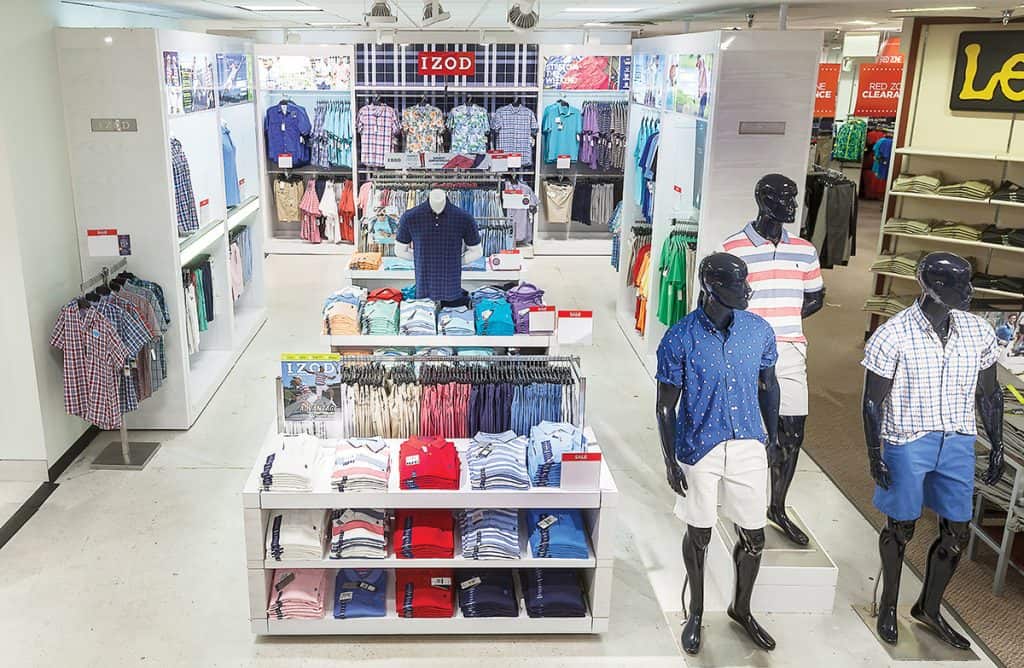 • Created an even stronger focus on Levi's, a true destination brand. Says Thomas, "We have one of the most impactful Levi's presentations in the country with shout-outs on 501s, 515s, NeverWash and many of the new fits. (Of course, we also do strong presentations for Dockers.)"
• Added a more contemporary look to Arizona, a value-priced store brand (more often perceived as a national brand) launched 30 years ago and now purchased by one in three JCPenney shoppers, generating more than $1 billion in sales. "We're remixing it," says Thomas, "and getting great results. Our teen focus groups indicated that our young customers want more fashion. So, we're giving them more fashion, new presentations and more exciting marketing, while maintaining the quality and value pricing that Arizona has always embodied."
• Revamped shops for Big & Tall, another major JCPenney focus for an under-served market. "JCPenney is the leading department store in this category, according to NPD research," notes Thomas. DMM Jeff Useforge adds that first quarter B&T performance is well above plan, boosted by strong marketing efforts including TV commercials on TNT and Father's Day print ads. In fact, 20 percent of JCPenney's B&T business is done online, in sizes from 2XL to 6XL and up to a 60-inch waist.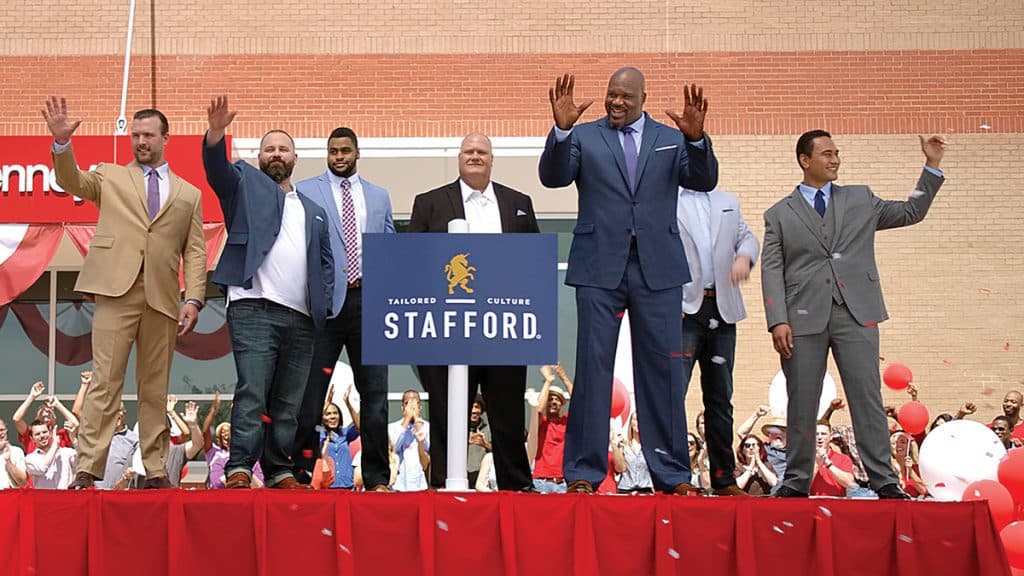 • Enlisted Shaquille O'Neal as JCPenney's new style ambassador for B&T. Says Useforge, "Shaq is a tremendous asset, promoting the brand through lots of social media and television." Adds Thomas, "Shaq has a unique personality, a strong affinity for the middle class, and he sells in his own way. As a consumer, he's always had trouble finding value-priced fashion-right clothes in his size, so he truly appreciates what we're offering. We just kicked off our new marketing campaign on TNT with a terrific commercial! Our Shaq brand (XLG apparel and furnishings) launches in select stores and online this fall and we're really excited about it!"
• Created newly impactful activewear areas, including Fanatics shops for licensed team products in 325 doors (will be in 650 by back-to-school); there are actually 300,000 licensed team products available online. Says Useforge: "Fanatics is an incredibly good partner, driving our online channel. The before and after on selling floors is dramatic and customers are responding to the disruption. We're making them think differently about how they shop."
Thomas notes that activewear is positioned in high traffic destinations with major presentations from Nike and Adidas; Puma and Champion were launched in February and have gotten off to great starts. "We have Nike shops in 600 locations focusing on all sports: basketball, training, running, with an emphasis on performance fabrics. We'll have an enhanced environment for Adidas for back-to-school and our own Xertion label is also growing."

• Differentiated traditional sportswear businesses with enhanced visual presentations, e.g. they elevated St. John's Bay (a JCPenney mainstay for decades) with new designs (a tropical theme for Father's Day) and bright white fixturing while Izod now features more impactful presentations to enhance its bold colorful fashion.
• Formed a partnership with Star Wars and Marvel on novelty shops in 700 stores, featuring t-shirts, hoodies, gifts, etc.
• Expanded fashion offerings in young men's store brands City Streets and Decree. "City Streets is a value brand offering style at a price ($10 shorts, $5 tees) whereas our Decree label is more eclectic and trendy," explains Thomas. Adds young men's senior buyer Marissa Carpenter, "We are a mall-based retailer and fortunately, teenagers still hang out in malls. Our challenge is how to engage them: we're doing it with trendier fashion, more social media, and marketing specifically geared to teens." National brands in young men's include Vans, Ecco and Zoo York.