FROM OUR JULY ISSUE: H. CRAIG DELONGY, JOHN CRAIG CLOTHIER, 2023 MERCHANT OF THE YEAR: SPECIALTY STORE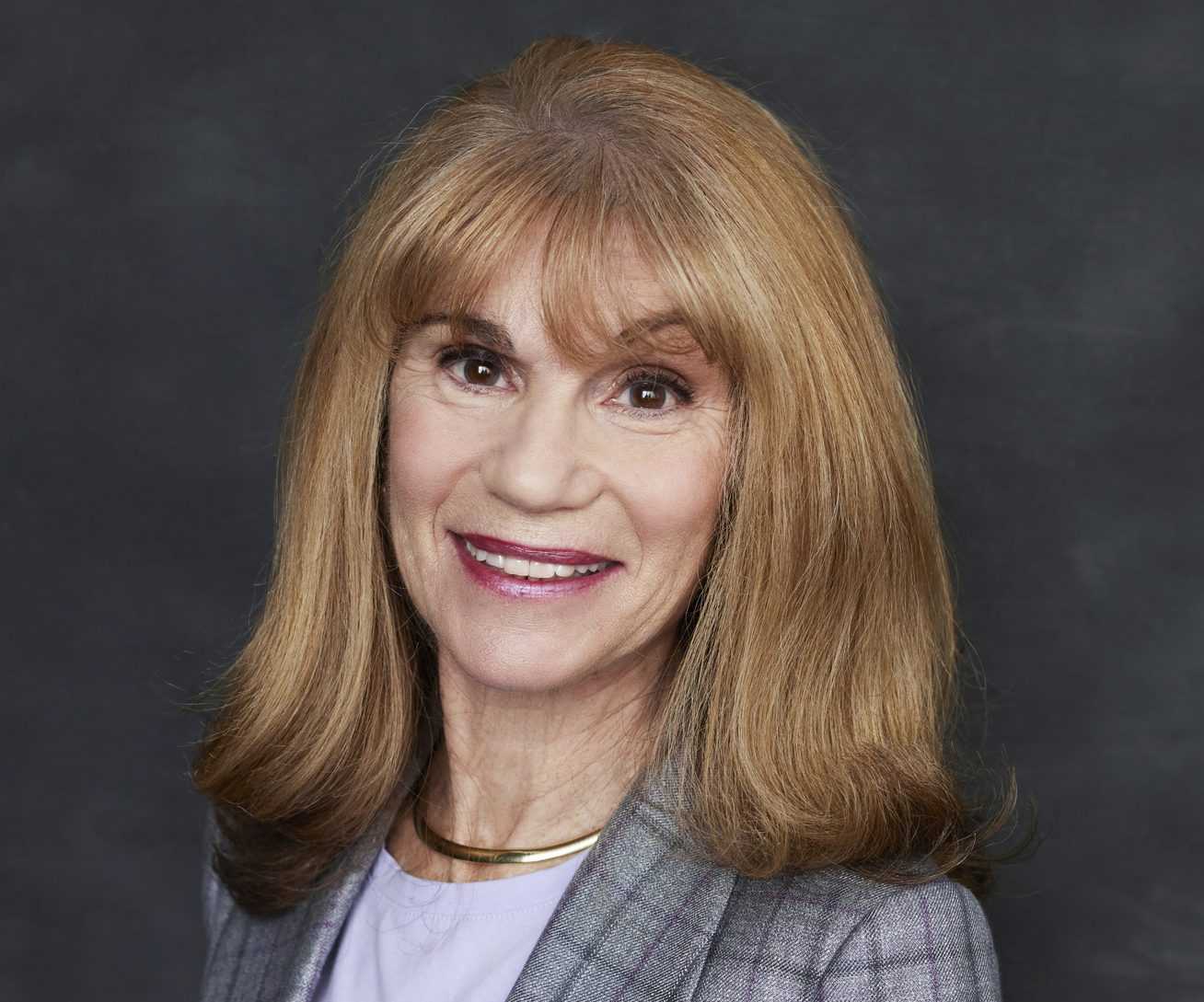 The entire MR team is proud to present our July 2023 MR Awards edition. Haven't gotten your copy, yet? Feel free to page through a digital copy at Issuu, and we'll continue to post individual stories on MR-mag.com. If you haven't been getting MR in print, be sure that you are on our mailing list for future issues by completing this form.



Entrepreneur & Team Builder
Craig Delongy never intended to be a retailer: as a young man, he was obsessed with golf and wanted only to become a professional golfer. After serving as a golf pro at a country club in Missouri, he moved to Florida in 1974, where he became one of the original owners of Champs Sports. "At one point, I was partial owner of 11 stores, one in Wichita, Kansas, which is where I'm from. But we sold out in 1985 and I opened Craig's Sports. I always had a good eye for merchandising and understood the importance of focusing on the details."
After playing golf at Pinehurst one day, Craig wandered into a terrific men's store called Gentleman's Corner, where he met and then shared a beer with Chris Knott. "I told Chris that several of the big sporting goods chains were moving into town, and I decided to close the sporting goods store and open John Craig. I learned so much from Chris about the men's retail business. As I did from Fred Derring when I joined DLS. I'd never been to New York City, and Fred drew me a map that showed the exact location of all my appointments, 30 minutes apart. I opened John Craig in March 1996 and business was good. But it wasn't until 1998, when Martin Bradshaw sold me Canali, that things really took off. Then in 2005, we were listed on Esquire's Top 100 list, and everyone wanted to sell to us!"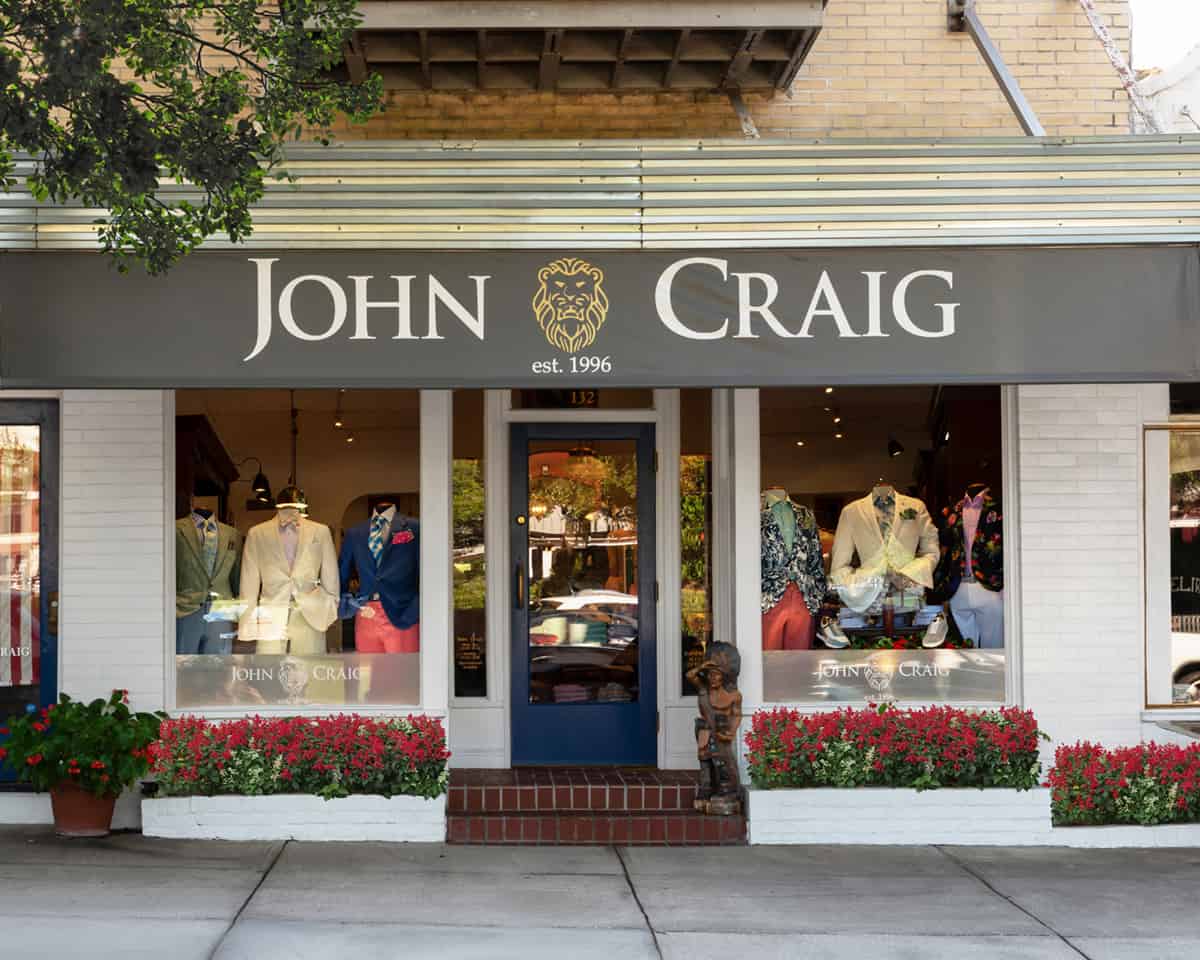 His total store count is now seven, soon to be eight; five are John Craig stores, each with a slightly different focus depending on location and customer base. His vendor list reads like a who's who of top collections: Kiton, Samuelsohn, Jack Victor, Munro, Canali, DiBianco, Eton, Emanuel Berg, Brax, Waterville, Peter Millar, Greyson, Martin Dingman, and many others. The newest issue of his gorgeous John Craig magazine lists more than 70 impressive brands.
Craig talks excitedly about his most recent venture: a John Craig store at the World Equestrian Center in Ocala, a Disney World for horse lovers. "It's 11,000 acres and has the largest square footage of air-conditioned stables in the world. The five-star Equestrian Hotel, where our store will be housed, boasts 294 rooms. A second hotel will have 396 rooms. Larry and Mary Roberts did all this in two years. I've never seen anything like it! If I do half as well there as people say I will, I'll be delighted. In addition to the horses, there's the Golden Ocala Country Club, with 1,000 members and no menswear competition in sight. We open on September 1."
Having experienced some ups and downs with store locations over the years, Craig has learned to go with the flow, taking calculated risks to ensure consistent growth but not mourning any losses. Not even a million-dollar loss in sales when Hurricane Ian hit his John Craig and Carter & Finley stores in downtown Naples dampened his enthusiasm: Craig started booking builders the very next day, seeing it as an opportunity to make upgrades.

Among his retail success secrets, Craig has tremendous respect for his employees and pays them accordingly. "Our business is successful thanks to our staff. This is their career, and we want them to stay for a long time, so we pay them what they're worth based on their experience and performance. Everyone who works for us is family."
Other tricks of the trade: sales contests, awards, and bonuses. "We have monthly selling contests, and vendors are happy to participate. We have annual awards with financial prizes: Employee of the Year, Manager of the Year, Store of the Year. At our annual Christmas dinner, each employee gets recognized individually. All our sellers are on some type of commission, plus we have one or two assistants in every store whose job is supporting the sellers rather than selling. If one of our sellers has a $10,000 sale, I don't want him/her worrying about re-folding shirts. Although even our lead sellers are responsible for ensuring our stores always look top-notch."
When asked what he's most proud of, Craig's immediate response is "my family." This means Suzanne, his wife and business partner for 46 years; his daughter and John Craig VP, Blair; and his son, Brant, who operates his brokerage business out of Craig's office and shares a love of golf with his dad. Although not involved in the day-to-day operations of the stores, Brant serves as part of Craig's counsel. "He has great taste and is wise in business matters. I truly value his input and wisdom."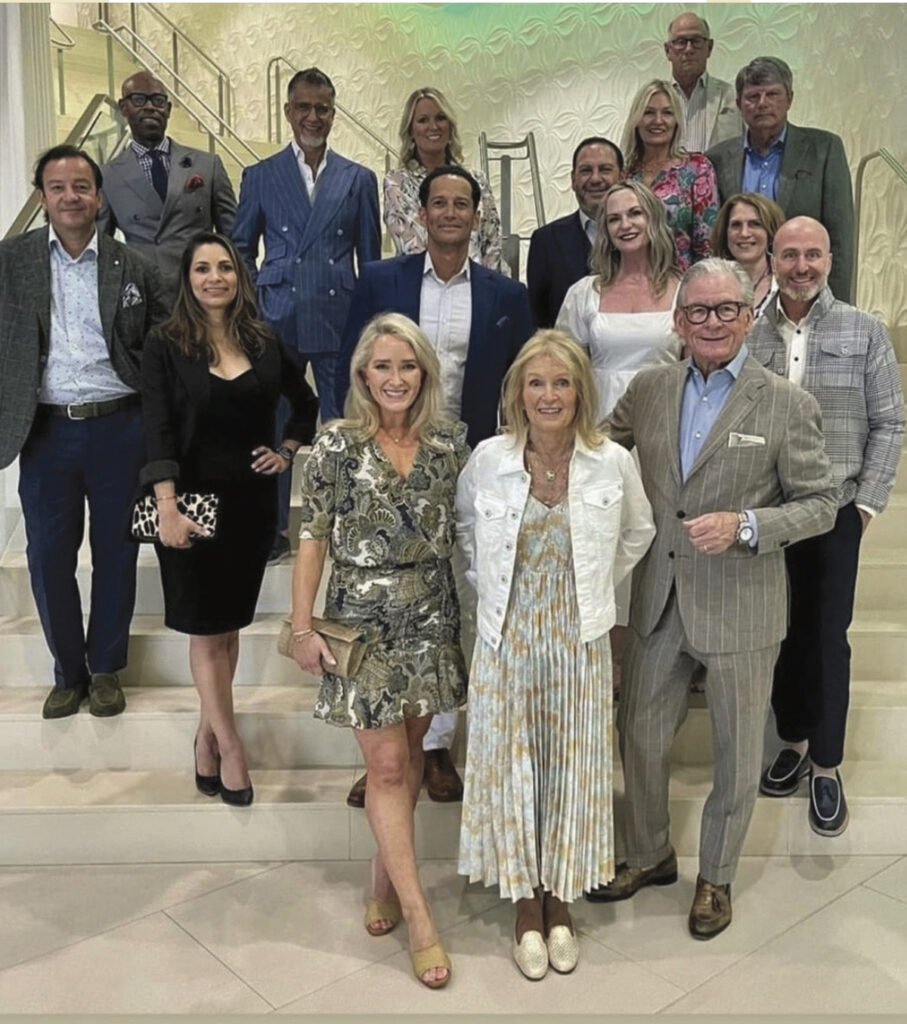 Blair is a vital part of John Craig and its future. Says Craig, "I've watched her over the years, and I can't help but admire how she handles herself and how well-respected she's become. Just the other day, she was working a line she liked, and the salesman told her he needed the order immediately. She responded, 'My dad would be very upset with me if I placed the order at the appointment.' But more than what she's learned from me, Blair has tremendous talent on her own. MR magazine asked her to be on their Advisory Board. In all these years, they've never asked me!
"Success is all about partnerships. I'm partnered with Ed Scott and Jim Wilson at Retail One, a management company offering financial and consulting expertise, and Steve and Matt Pruitt at Blacks Retail, a leader in retail forecasting and projections. Between these advisers, our team, and our vendors, we're exceeding my dreams and expectations."
Those who know Craig well share some insights. Says Steve Pruitt from Blacks Retail, "I've known Craig for years, and he knows what he likes. He has a real passion for the business and an enthusiasm for success. He truly understands his customers and knows how to motivate his sales team to reach their full potential. These traits are what make him a great merchant."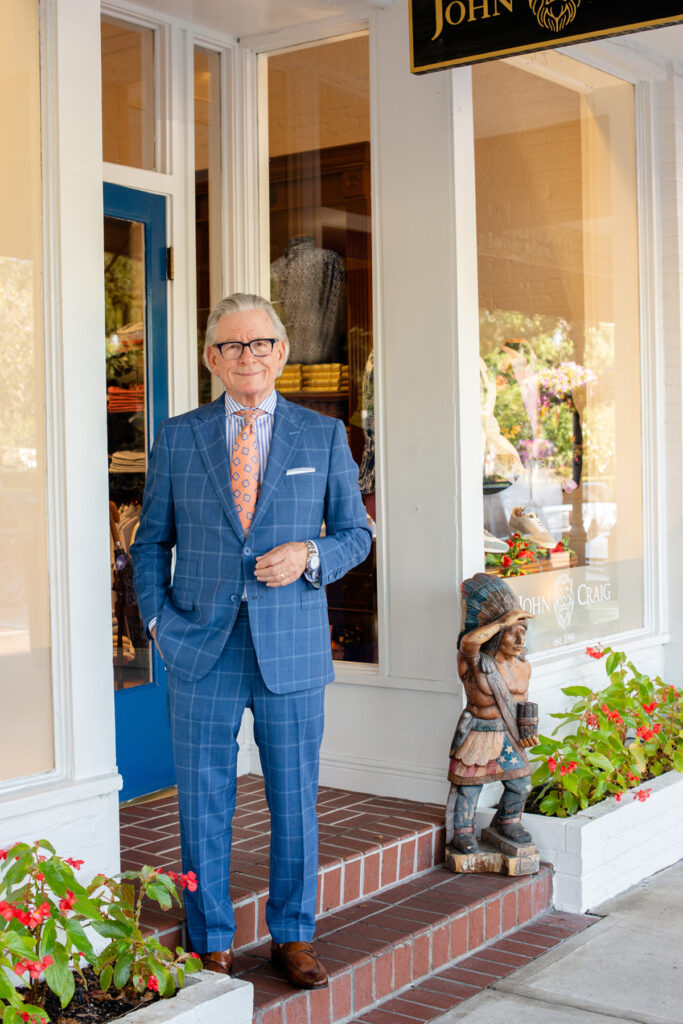 Fred Derring and Virginia Sandquist from DLS agree. "Craig and Blair are among the few retailers to establish younger formats so customers can grow into John Craig from the Current and Carter & Finley stores. Their devotion to fashion combined with the highest level of service is exceptional. Plus, Craig is always willing to share his knowledge with the group."
Says Martin Bradshaw at Ravazzolo, "Craig's strength is his ability to create and execute a strong merchandising strategy. He inspires his customers via compelling product assortments, powerful visual displays, and motivated leadership teams. John Craig is a great example of a family-run business elevating multiple markets by building a dynamic store brand and creating a true shopping experience."
Chris Knott from Johnnie-O has been a friend for years. "Craig DeLongy elevated Florida specialty retail as the larger regional store chains started closing. Blair joining Craig in the business was a "win-win" for John Craig, and for the industry: the two of them figured out the marketplace quickly. They've hired professional people to run the stores, and everyone seems to love working with the family. Johnnie-O is thrilled to be a part of this success story."

And from Ed Scott at Retail One Group: "My first visit to see a John Craig store was more than 20 years ago. I knew right away that this was one of the best-looking stores I'd ever visited. Craig's taste level is exceptional. He believed in color way before it became popular. I really got to know Craig when he joined Retail One Group. At first, we were skeptical to let him join, mainly because we thought he was unlikely to listen to anything we might suggest. But he proved me wrong. Although he can come across as arrogant, he backs it up with results. He has a genuine love for this business that's unmatched by anyone I know. I also find Craig to be a very caring person. His love for his family and his employees is a good part of why he's successful."
What keeps Craig up at night? "I don't worry about much these days, except my wife's health," he confides. "Suzanne has been living with Parkinson's for 28 years. She's doing well right now. Her medication is working, and her doctors are pleased with her recent progress. She's the strongest person I know, but of course I worry."
Yes, he does. One can see it in his eyes as he talks about Suzanne with tremendous love. Still, Craig's reputation for being social, with a unique ability to engage anyone and everyone in conversation, is still intact. "My kids make fun of the fact that wherever I go, I have conversations with strangers. But isn't that what retailers do, engage people? We have to, in order to build relationships, which is what it's all about. In 27 years, we've shared a lot of life events with our customers: attending their weddings, celebrating the birth of their children, going to the graduations, outfitting those kids for their weddings, and then watching as they became parents themselves. It's a special connection."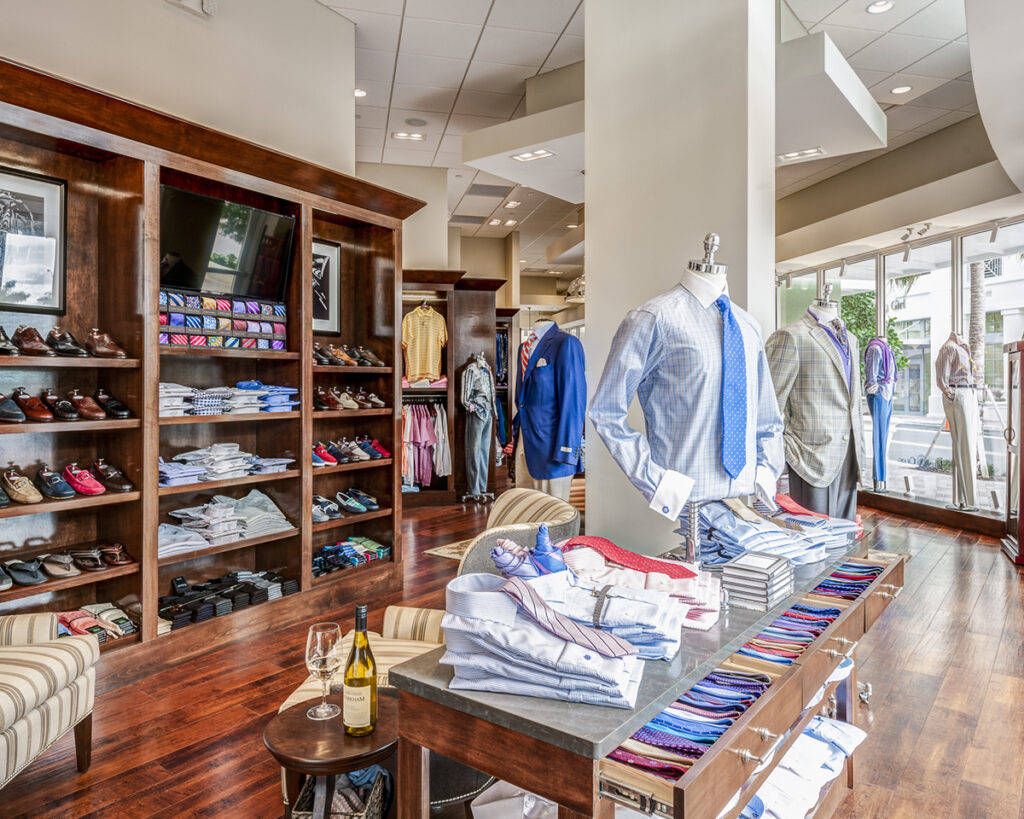 Editor's note: At the East 53rd Street bistro where we did this interview, Craig is discussing the price of martinis with the bartender. He shares that the last time he visited NYC, the martini at Nello was $30; this one is only $18, a fair price in his opinion.
Engaging to the max: that's the intrinsic talent of this very special merchant.