FROM OUR JULY ISSUE: ROBERT STOCK, MR 2023 HALL OF FAME HONOREE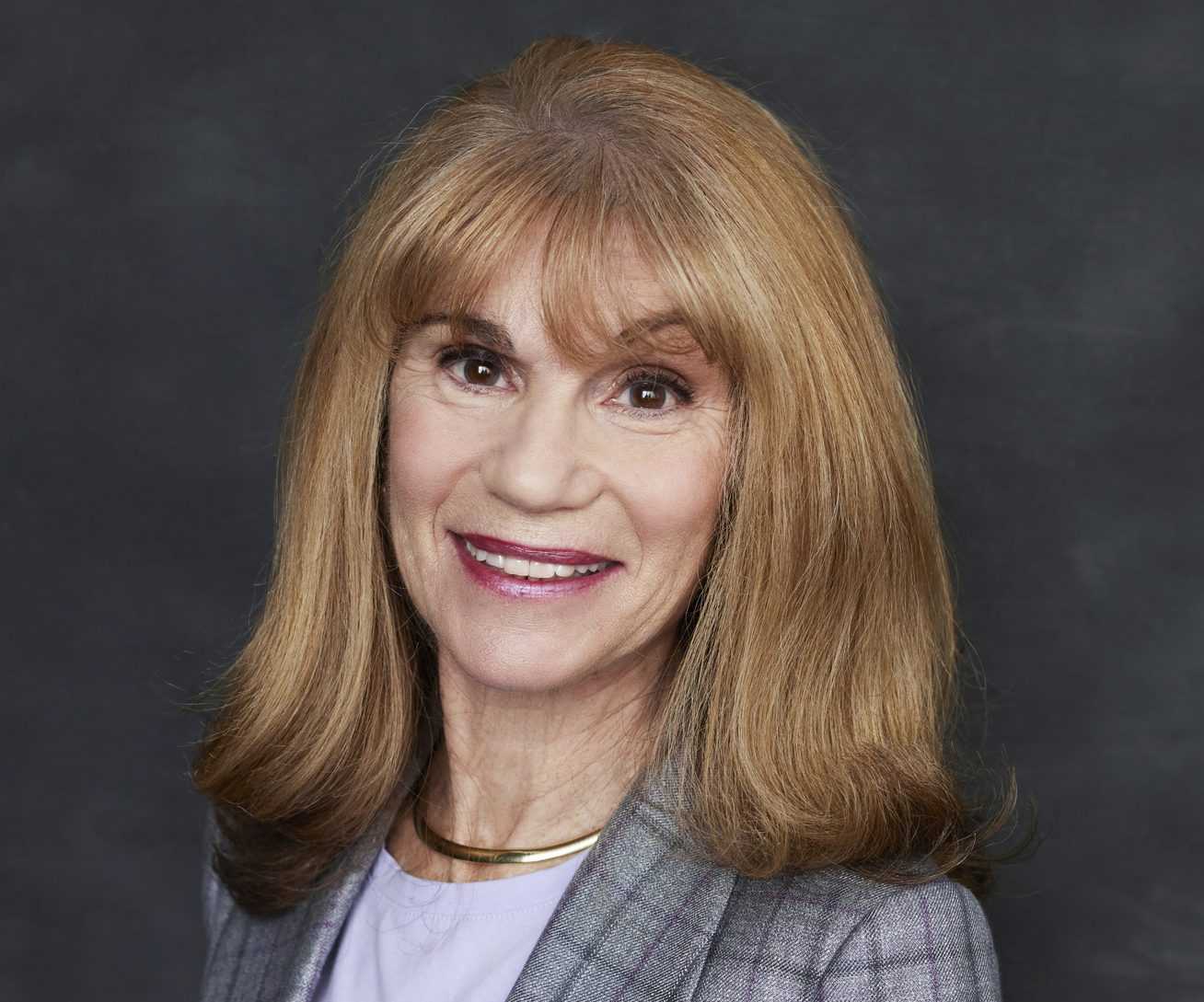 The entire MR team is proud to present our July 2023 MR Awards edition. Haven't gotten your copy, yet? Feel free to page through a digital copy at Issuu, and we'll continue to post individual stories on MR-mag.com. If you haven't been getting MR in print, be sure that you are on our mailing list for future issues by completing this form.


Creativity Redefined
"It's always about the team," declares designer and entrepreneur Robert Stock. "Nobody gets to the top without people helping them. A great quarterback without a great offensive line cannot be successful."
Stock cites a long list of people who've contributed to his successful career over the past half century, including Ralph Lauren, Paul Ressler, Steve Sheiner, Steve Tanger, Chuck Hellman, Neal Fox, Sean Hieter, Russ Patrick, Graham Fowler, Tom Main, Bill Sweedler, Andrew Rosen, Bob Gary, Henry Grethel, Alan Sirkin, Steven Wax, George Wechsler, Franklin Simon, Marvin Traub, Miller Harris, Michael Sandler, Hicks Lanier… and so many more.
But let's start with the reasons Stock got into fashion in the first place: 1) he wasn't a good student, and 2) his father (who owned a gas station in the Bronx) truly enjoyed and appreciated men's fashion. "He'd come home from work each night, take a hot shower, and show up for dinner wearing a beautiful shirt, custom-made for him at a men's tailor shop on the Grand Concourse. I'd go through his closet and study the designs."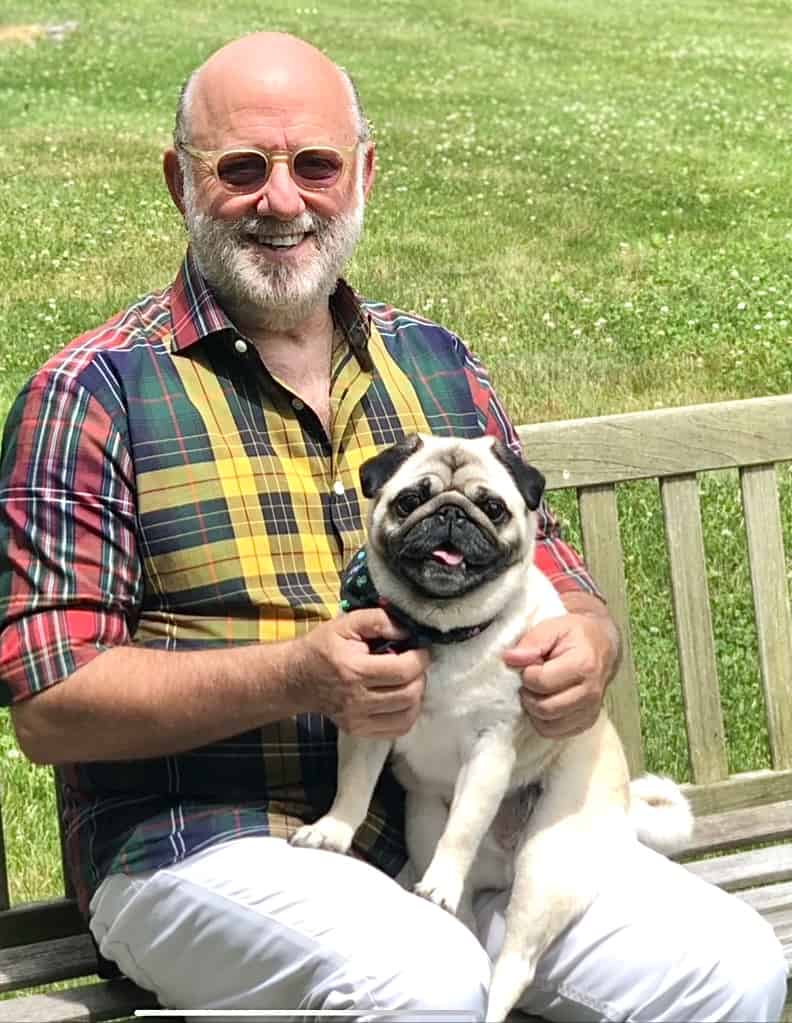 This fascination led Stock, at age 19, to take a job in a local men's store, where he first met Ralph Lauren, who had come into the store to hawk his ties. "We kind of connected, so when he opened his first office (a tiny, shared space in the Empire State Building), he invited me to check it out. I showed up and told him it looked great but where was I going to sit? 'Not yet, but soon,' Ralph promised. Shortly after, I started working for him. The fact that he believed in me gave me confidence, and I learned a lot from him: perseverance, hard work, to stick to your vision, and to always be yourself. To strive for perfection, never settling or getting discouraged no matter what obstacles you face. At some point, Ralph asked if I wanted to start a moderately priced pants line with him. Since so many companies were knocking him off, he decided to do it himself. And that was the beginning of Chaps."
Stock ultimately left Lauren to see what he could do on his own. "As much as I learned from him, I couldn't really do what I wanted. I'd pick a tweed that I loved, and Ralph wanted it for Polo. I didn't have the freedom I needed at the time."

So he went to work at a pants company that produced patterned bell bottoms. He launched Country Britches. He licensed his tailored clothing to Lanier, but he also found a licensee in Japan, where he had a great run. In retrospect, however, Stock admits he probably should have stayed with Ralph. "When things started going south—at one point, neither Chaps nor Polo nor tailored clothing was making money—Ralph needed to cut overhead and offered me a nice settlement to leave. To get that kind of money as a 22-year-old kid was tough to turn down. Although a 5 percent share in Polo would have been a better deal—who could have imagined that Polo would become a $5 billion business?"
Stock's creative journey continued through the decades and well into the 21st century. (The outrageous stories of his travels as a young man to Italy, Japan, and India could fill a book.) His greatest successes included a line of silk shirts that became a $100 million business in the 1990s. His pride and joy, however, was Robert Graham, a shirt-turned-lifestyle collection and true game changer for the menswear industry. Within this brand (launched in 2001 with Graham Fowler), Stock also established Robert's Club, a collector's division of limited edition colorful, intricately decorated men's shirts that garnered a large and loyal following. "I'm grateful to all the buyers who believed in this unconventional brand early on and the amazing mills in India, the land of embroidery, madras, fine fancy fabrics, color, texture, and haute decoration. When I first traveled there, they were weaving the fabrics on peddle machines because regular blackouts demanded a production backup. I'd go to these small villages and sleep on a cot in a hut, waiting for the fabrics. At first, retailers were unsure about shirts with contrast trim and fancy buttons. But then the buyers at Fred Segal bought virtually every style, and then Neiman's, Nordstrom, and Bloomingdale's jumped on board as did so many great specialty stores. It just kept growing. But after 10, 12, 14 years, even the most loyal buyers would come into the showroom kind of skeptical. How long could this run continue? One must know when to change and when to move on."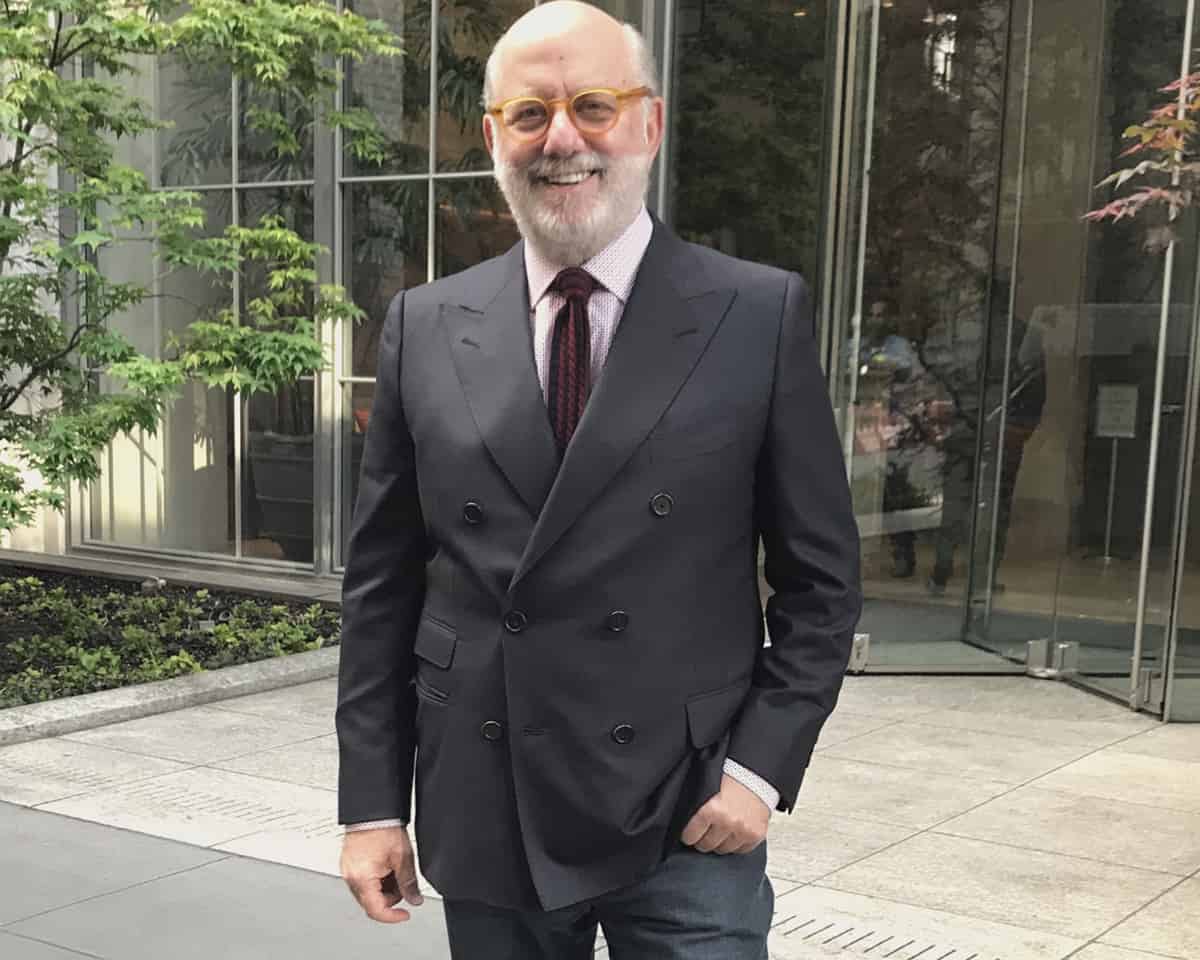 In addition to being a five-time fashion award winner (including Coty, Cutty Sark, and American Image awards), how does one describe Robert Stock?
Says Donnie Wechsler of Mine Apparel, "I first met Robert when my dad, a fabric exec, brought me to one of Ralph's fashion shows. I'll never forget it. Robert was wearing a tux with tuxedo-inspired Bermuda shorts. That's actually the only thing I remember from that event! Later, I worked with Robert at Country Britches. He was the first to create seasonal color palettes, adding new accent colors for each monthly delivery. In this way, the new shades blended with the previous colors for a cohesive presentation that looked fresh every month. Robert has always been a leader, not following trends but creating them. His most famous venture was Robert Graham, where his genius for using mixed media still plays a role, even after 20+ years."
Says retailer Pat Mon Pere from Patrick James, "I first met Robert at the Robert Graham booth during a show in Las Vegas. We did—and continue to do—a lot of business with Robert Graham. Robert was obviously the creative genius and soul of the brand. He has a wealth of knowledge and has had so many interesting stops in his career, I could listen to his stories all night long."
Russ Patrick, SVP/GMM at Neiman Marcus adds, "Our long-term partnership with Robert Stock spans more than two decades. We cherish our visits to the Robert Graham showroom, discovering the countless hidden details designed into his unique products. Our clients love to collect his limited-edition shirts, many of which were sold by Robert himself, during his popular personal appearances."
Asked to describe himself, Stock notes that he's a big sports fan and loves listening to music, reading, and doing research on various topics. He also maintains that as much as he loves to have fun, he's actually pretty mellow these days. And, in his humble opinion, "like a fine wine, growing better with age." If he could change one thing about himself, he'd choose to be more patient and less judgmental, understanding that no one is perfect and that it's better to accept people for both their strengths and their weaknesses.

About our industry's future, Stock is optimistic. "Everyone's experimenting with new approaches, from sustainability, TikTok, and A.I. to the explosion of online influence in sales and marketing. There's now a place in our menswear world for multiple concepts: tailored clothing, joggers, elevated streetwear, perhaps a new American jean revolution. But what the industry is most clearly offering these days is youth. There are lots of small companies out there, wholesale and retail, that are really pretty cool. Whether they make it or not is another thing, but it's much easier to start a company today than it was 20 years ago. You can put a line together, make samples, and thanks to the internet, you're in business. Despite challenges, it's an exciting time for our industry to rebuild and reposition itself."
Asked to describe a perfect day, Stock responds in two words: "waking up." He thinks for a moment longer and then adds: "Perfect to me is spending time with the people who matter most: my wife, Nancy; my daughter, Rebecca; my son, Benjamin; my sister and brother-in-law; and my wonderful long-time friends. Without their love and devoted support through both good and tough times, I'd never have become the person I am today."