THE MODERN MAN'S WARDROBE: SPRING 2022 EDITION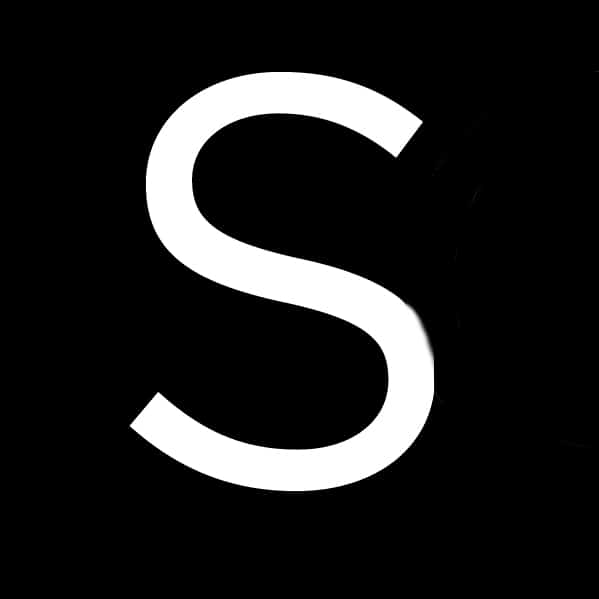 Partner Content by SOCIETY for International Menswear
Living in a post-pandemic, hybrid-work world is complicated, and dressing for one is even more so.
Below we will review some of the guidelines for men to keep in mind when updating their wardrobes. To illustrate these ideas we've featured some of the brands from the upcoming launch of the SOCIETY for International Menswear show.
Make your clothes multi-task, you have to know how to do more than one thing so should your clothes. Dress Shoes do not have to be worn with a suit, shoes are one of the wardrobe staples where you should spend as much as you can, if taken care of properly you can own good shoes for decades, that's why you want to invest wisely in blue-chip shoe brands like  Edward Green as seen above.
A good rule of thumb when buying denim is if you can't wear them with a sports coat or casual jacket to work (we're looking at you ripped knees) they're not going to work for you. Get a nice bright, crisp pair as seen here, also don't forget the good old chino, in today's hybrid work environment it's the great pant to have for days you are in the office, it looks great here paired with a suede blazer and crisp white shirt, both are from 34 Heritage.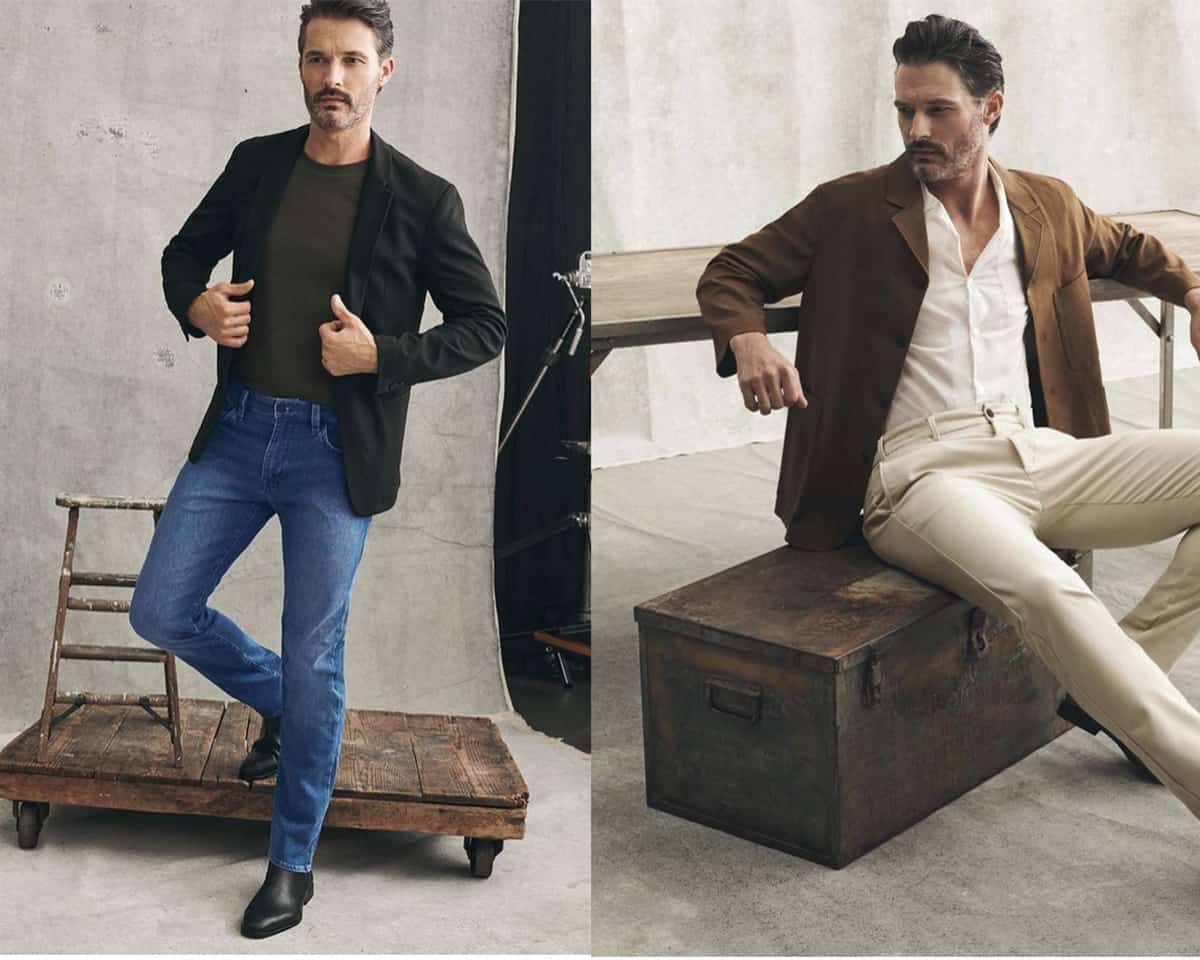 Both: 34 Heritage
Outerwear is another category where you have to make sure your choice can take you where you need to go when trying a jacket on asking yourself. Some hard questions "Can I wear this to a lunch with a client?" Can I wear this over a suit coat? "Do I want to be wearing this when I meet my future partner?" We see a perfect example here from Schneiders Salzburg.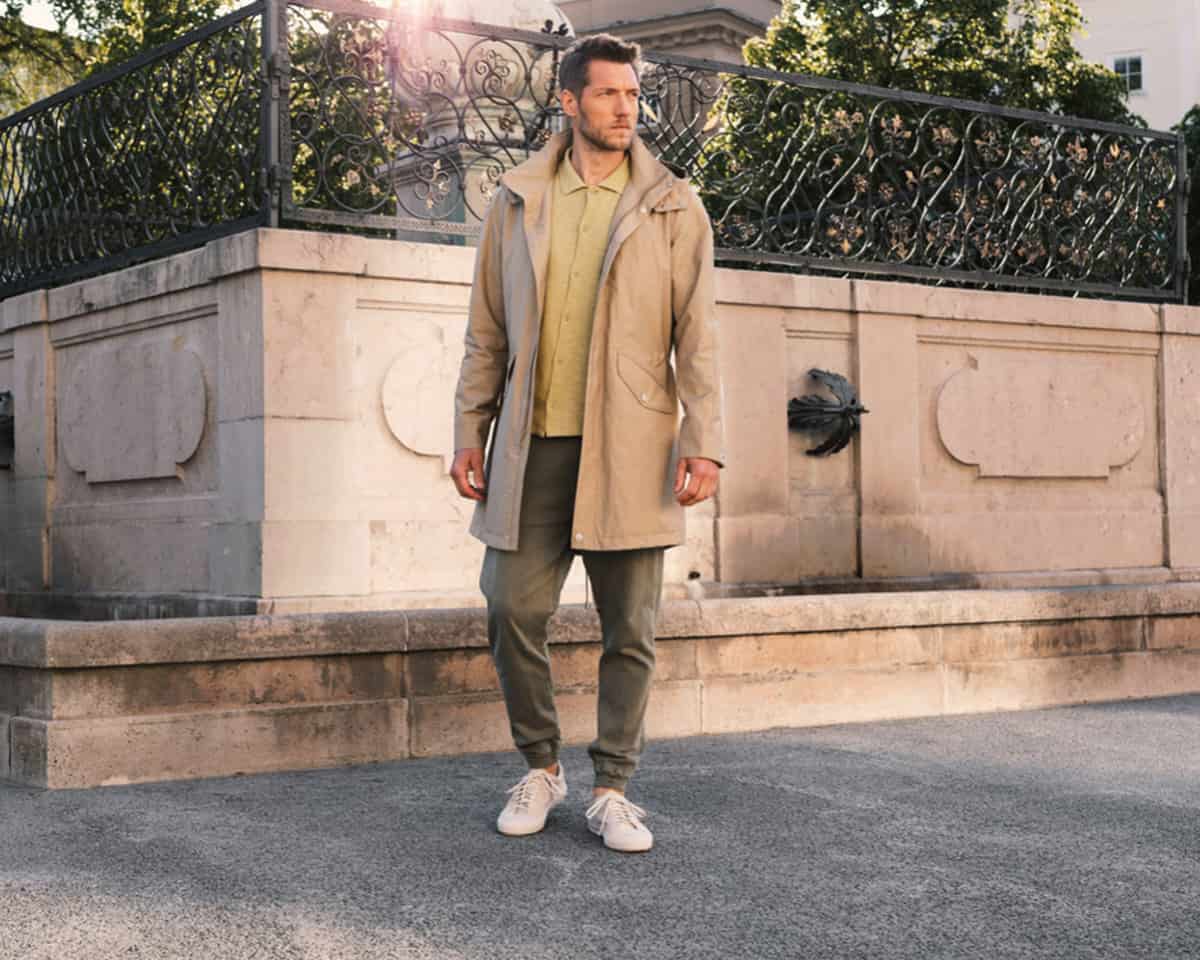 Schneiders Salzburg
Shirts can be tricky, what I can tell you though is no man looks bad in a crisp white shirt, ever. A popover like this one from thesalting in beautiful imported linen does double duty over your bathing suit as a cover-up to keep you from burning. The new shirt that every man needs to add to his wardrobe is the shirt jacket or "shacket" if you prefer. This is a shirt/jacket hybrid that is heavier than a dress shirt and meant to be worn over a t-shirt or other light layer. A sophisticated version like this one in cashmere terrycloth from brand favorite NAADAM could even be worn over a button-down with a knit tie to the office.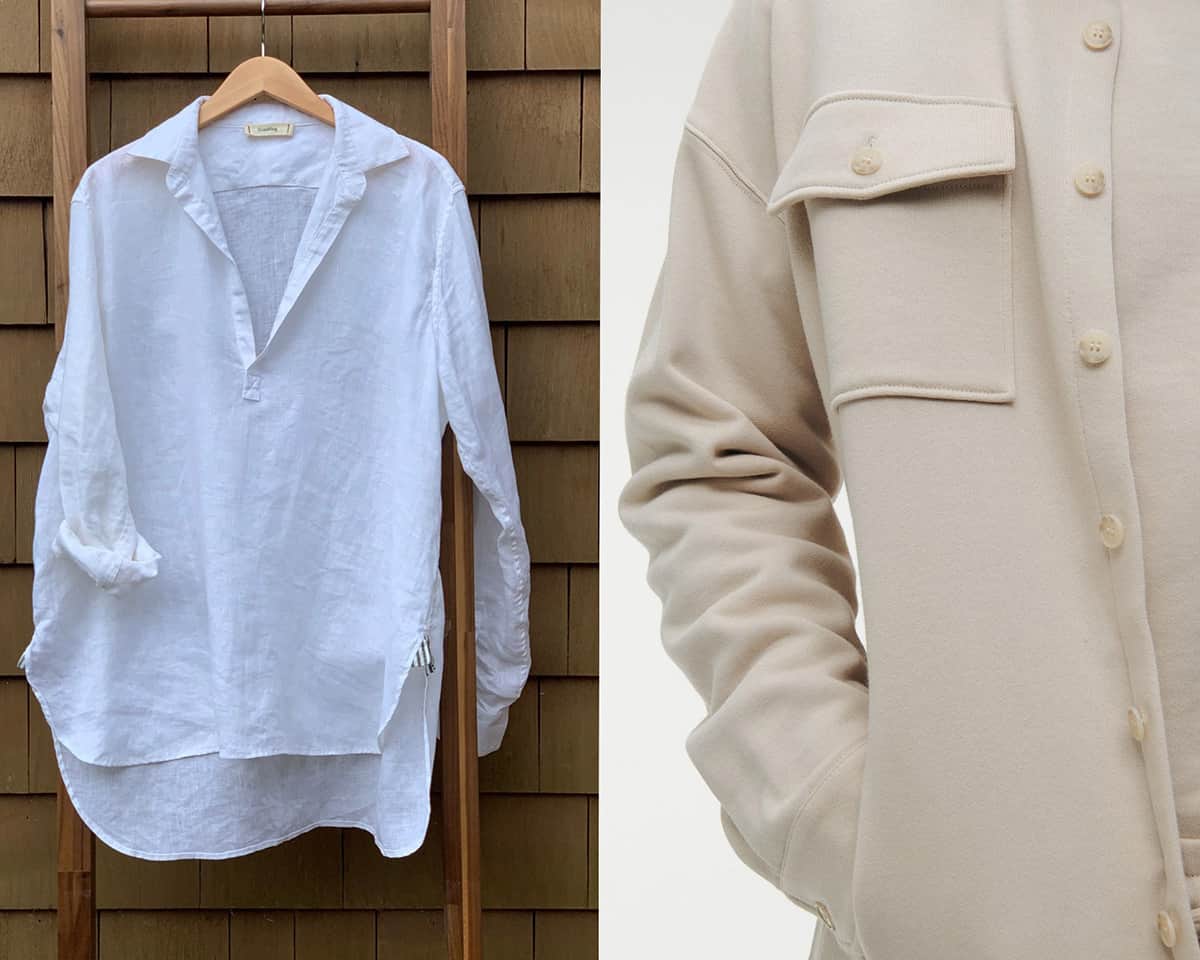 Left: thesalting, Right: NAADAM
When work and done and it's time to workout, brands like Tailor Vintage have great options like the look here that combine technology and sustainability to keep you looking good while doing good.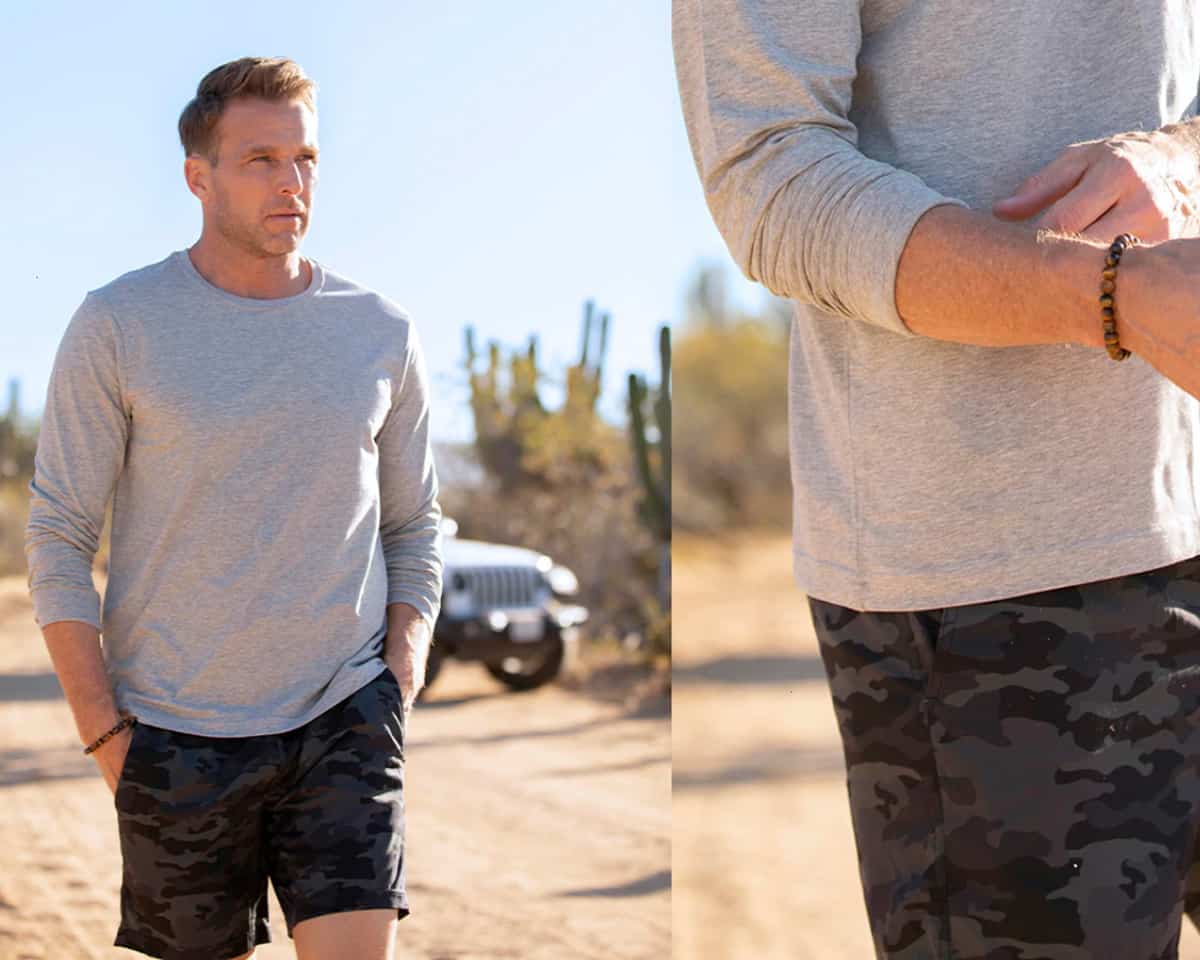 Tailor Vintage
Accessories and swimwear are where men get to have fun and express themselves. They are the easiest (and least expensive) ways to inject some color and spirit into a neutral wardrobe. Like sailing? Pick up a pair of this fun, but not kitschy nautical socks from Dion 1967. This knit tie from Vandoma is the perfect option to wear under the cream  NAADAM shacket. Signet rings are having a moment, but here's where you buck tradition, and instead of the expected silver or gold version for the black matte ceramic and Tiger's Eye version offered by Tateossian, we also love his lucky symbols ring, because who doesn't need a little extra luck every day? Luigi Borrelli takes a classic foulard tie pattern and blows it up for a fun bathing suit print that will keep you sunny and sartorial. Finally, when trekking back and forth to the office again we know that the backpack is the most convenient style of bag for commuting, but do yourself and your fellow travelers a favor and upgrade to a chicer, sleeker version like this suede J.L. Rocha option.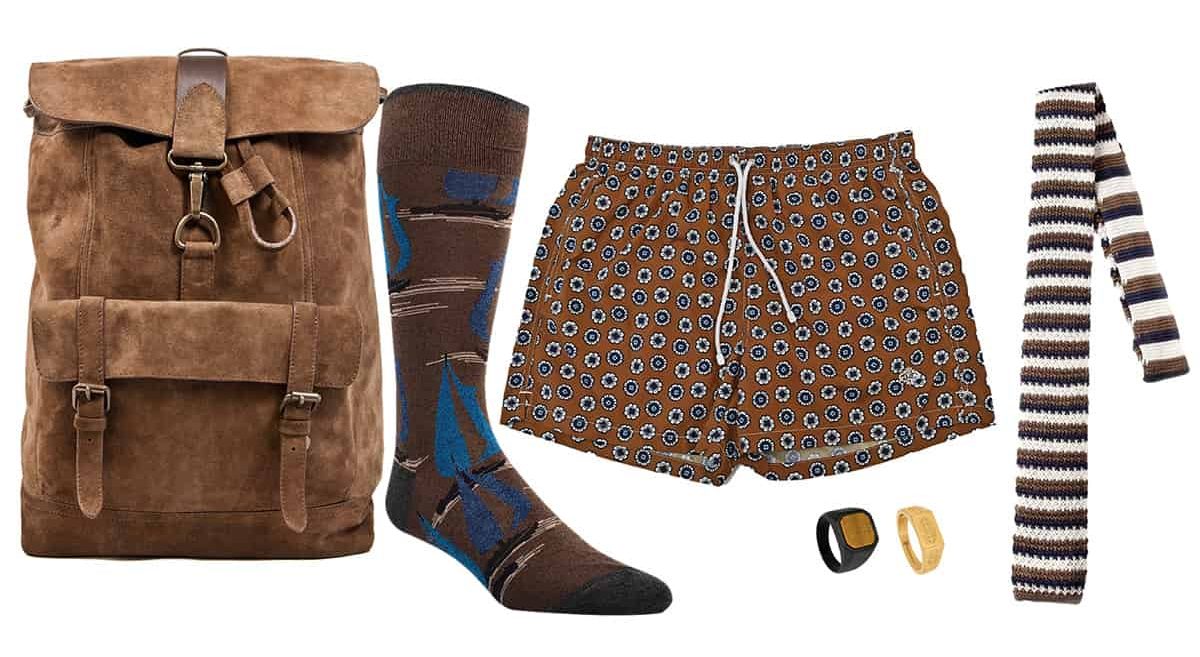 Left to Right: J.L. Rocha, Dion 1967, Luigi Borrelli, Tateossian and Vandoma
To check out these brands and many others, log on below and register to attend the SOCIETY show, being held July 17th and 18th at the Metropolitan Pavilion in New York City.
To inquire about exhibiting at SOCIETY, please contact Coleman McCartan at coleman.mccartan@wainscotmedia.com