THE MORE THINGS CHANGE, THE MORE JEANS REMAIN THE SAME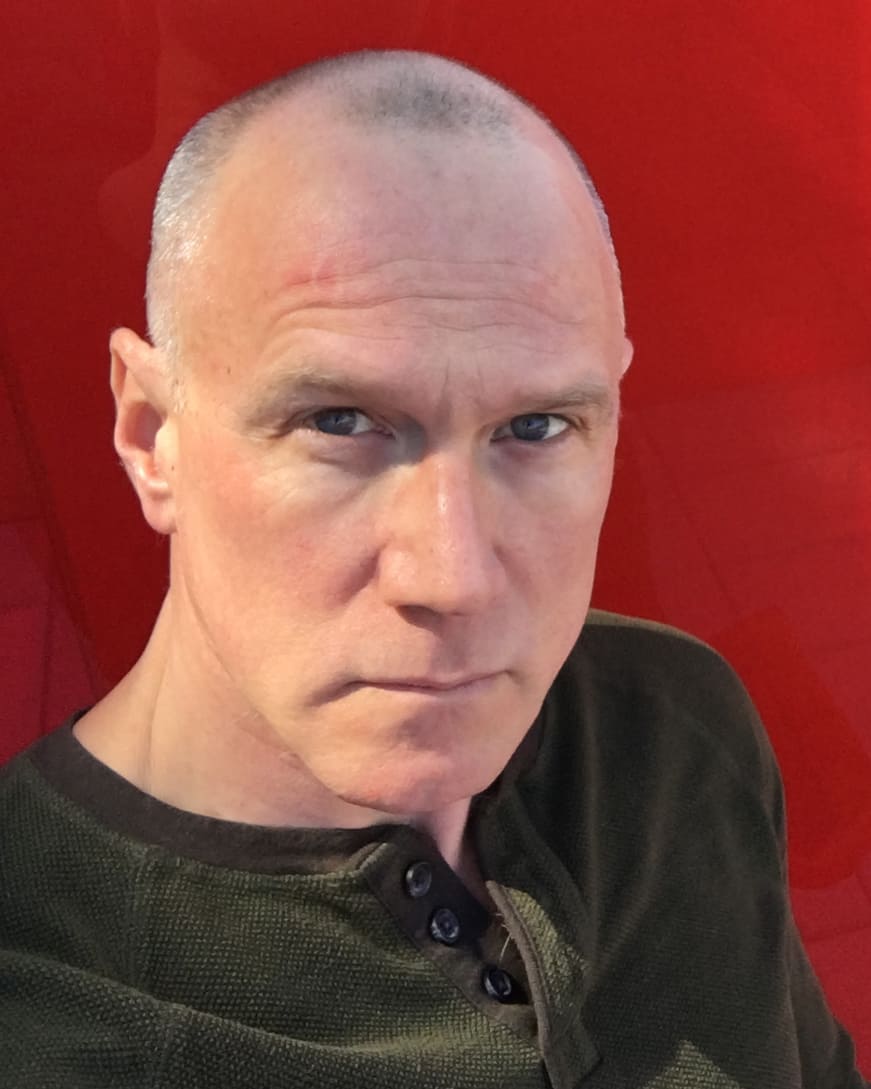 The entire MR team is proud to present our August 2023 issue. Haven't gotten your copy, yet? Feel free to page through a digital copy at Issuu, and we'll continue to post individual stories on MR-mag.com. If you haven't been getting MR in print, be sure that you are on our mailing list for future issues by completing this form.
Somehow it seems fitting that, in the year Levi's is celebrating the 150th anniversary of its iconic 501 jean, that the leading silhouette in the men's bottom business is a 5-pocket model in a dark wash and a classic cut. Is the move towards volume and wider silhouettes that we've been seeing on the runway hitting the denim market? Apparently not yet.
Trey Templeton at George Sherman in Starkville, Miss. says he's still selling a narrower cut, but he's seeing interest in a slightly wider bottom opening. "We're still selling a lot of 5-pockets: it's the pants guys are wearing with vests and even sportcoats."
Michael Engel at The Foursome in Plymouth, Minn. concurs. "We're continuing to see 5-pocket denim pants dominate the bottoms business in general. It offers versatility with a sportcoat or for a casual look. We're also seeing a shift back to lighter washes after so many years of dark. There was a little interest in colored denim, especially in Spring, but it still doesn't mean as much. Our customer is slightly more conservative. It's all about comfort." When asked about silhouette, Engel says, "We never went overly skinny — our guy wants more room in the thigh — but we're looking at an updated bottom opening: 16 to 16 1⁄2 inches. Some customers do want trimmer, but nobody is looking for wider."
At Lansky's in Memphis, Tenn. Hal Lansky says, "For us, 'dress pants' equals denim. Even older guys want 5-pocket jeans now. Black is the number one seller in both sport shirts and jeans, and, in either case, it's hard to sell unless they have some stretch. We're not selling flare or boot cut; we're still at a smaller leg opening. We're also seeing interest in whites and fashion colors, especially reds or 'rosé,' more of a pink wash, that matches their sport shirts. 34 Heritage is our number one brand. They stretch, and they're comfortable."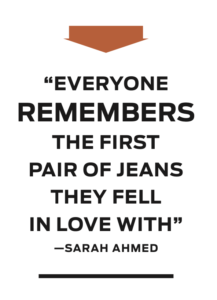 Jason Meyer at Milworks in Milwaukee, Wisc. says, "We're seeing a move towards volume but it's gradual. Styles and fits are opening up. It hits the Japanese brands first then trickles into American, but even there we're not seeing a full swing of the pendulum, yet." Although Milworks is known as a denim store, "we're seeing a push towards a non-denim 5-pocket model. Generally, our guy is looking for an authentic workwear look. For example, we sell a classic chino from RRL so well we can't keep it in stock, but that's the exception to the 5-pocket rule. We're also known for selvedge denim, so our customer typically likes the wash very raw and dark. But over the last few years, we've seen a drift towards a dirty rinse, something to take out the starchiness and lighten it up a bit. LVC [Levi's Vintage Clothing] from Levi's for example. We do carry the 'Dad jean' in a light stonewash, but that's been a slow seller. It's almost more for window dressing. We expect to see more washes in the next few seasons, but it's tricky. Clean, dark denim and a sport shirt are what's considered acceptable in the work environment, so we'll be keeping our eye out for 'work-appropriate' washes."
Brand Stand
Denim brands are maintaining and growing a focus on those classics, continuing to create products with an emphasis on comfort and sustainability.
At 34 Heritage, Richard Binder emphasizes the company focus on sustainability. "Our expansion and growth with denim this season is driven by our use of eco-friendly materials and manufacturing processes that use less water, chemicals, and energy throughout the production process.
"Urban is our signature, mid-weight stretch denim that we are offering in new wash treatments paired with breathable, sustainable Tencel for a silky, soft hand with superior stretch and a flawless drape. Refined features deeply shaded and textured fabrics that boast a combination of Tencel and viscose. Based on the success of our Verona High-Flyer slim chino — our ultimate everyday performance pant — we're offering this style in our Refined denim for spring, too. Organic offers a sustainable, medium-weight denim made from premium organic cotton and recycled materials. This latest addition to our design line-up is as authentic and premium looking as it is good for the planet.
"Rounding out our sustainable offerings, the 34 Heritage Selvedge capsule continues for Spring '24 and is designed in organic cotton. With minimal stretch and a time- less appearance, it has the makings of a true classic."
At Mavi, Volkan Ureten says the company is "on a mission for our entire denim line to be part of the sustainable All Blue collection by 2030. Sustainable design and innovation are cornerstones of the brand, and the Spring '24 collection keeps us moving forward on this journey with a long-term commitment and investment in processes that use less water, energy and chemicals.
"We're really excited for the launch of Recycled Blue," Ureten says. "Working with our partners at Lenzing, this new sustainable collection gives a second life to pre-and post-consumer materials, which would otherwise be sent to a landfill. Paired with breathable Tencel fibers through a process called Refibra, these '90s inspired styles showcase an authentic denim look and feel using eco-friendly materials."
Mavi will continue with its top-performing Organic Vintage program, as well as Feather Blue, an iconic group of jeans that are built to last with a blend of Tencel and recycled cotton. For true denim heads, Organic Selvedge is designed in a premium, mid-weight fabric with minimal stretch and a dense weave. The breathable, structured feel is finished in a rich indigo hue reminiscent of original denim.
"One of our favorite stories surrounds our Natural Dye group, with its innovative sustainable approach using all natural clay dyes and sustainable technologies," adds Ureten. "Designed in earth-toned hues, metal accessories are replaced by biodegradable nutshell buttons, recycled materials for woven labels and threads, and a back label made from olive seeds. The hang tag also contains basil seeds that can be planted and nurtured to life."
Mark D'Angelo at Liverpool Los Angeles is also seeing that his customers— both wholesale and retail — are staying with 5-pockets in cotton twill and denim for spring/summer (although the chino pant is becoming very important). Heading into next season he's seeing a lot of unique washes with a coastal California vibe (the brand is based there), featuring silvery-blue undertones in his denim.
"Call it 'coastal blues' or 'blues before sunrise,' it's like a reflection of the ocean, with bluish grays. The collection is moving towards the lighter side, with darker washes taking a back seat for spring/summer 2024. Color denim is driving sales, too. We're getting into more autumnal shades, then spring gets soft, with crystal clear pale gray to soft green. It is not overly distressed! This guy wants easy and clean. If we get too whiskered, etc., we get push back!"
Ugur Caymaz, who recently joined DL1961, sees men's as a missed opportunity for the brand, so upon arrival he and Sarah Ahmed jumped right into shopping the market to flesh out the offering. "We're combining denim with both performance and luxury," says Caymaz. "We see the move in the market towards both denim and non-denim, in technical lightweight twills. And are building on the company's existing platform of sustainability."
"We're not going for a yoga pant, says Ahmed. "We want our jeans to be functional, but luxurious, so we're experimenting with wool and cashmere blends in denim, utilizing a knit fabrication we've developed that has superior retention and won't get baggy after a few wears. We also have a vintage capsule where recycled jeans and cotton are woven into the denim, so it's new jeans made from old materials."
Top images courtesy of L:LVC Levi's Vintage Clothing and R:34 Heritage